History of the Internet: Part 9 – The First Social Media Platforms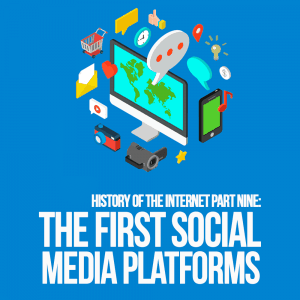 Welcome to Part Nine of our "History of the Internet" series, a journey through the past to learn more about how the Internet has evolved and the effect it has had on our lives.
We are now halfway through our series, and have journeyed from the birth of the Internet and the World Wide Web through the first Internet browser war and the birth of Google, up to the year 2004.
In the 1990s, there were several early attempts at creating popular social networks. Sites such as theglobe.com, geocities.com, and tripod.com allowed users to interact with each other through chat rooms as well as facilitating the production of users' own personal webpages with easy-to-use publishing tools. Mark Zuckerberg created his first website in junior high school using Geocities.
Classmates.com was the first social network designed to help people reunite with their old school friends, and this was launched in 1995. Sixdegrees.com was the first service which mapped real relationships between users, using their real names. Founder Andrew Weinreich invited hundreds of people to its launch party at the New York Puck building, and urged them to upload their personal data:
"It no longer makes sense for your Rolodex to live on your computer. We'll place your Rolodex in a central location. If everyone uploads their Rolodex, you should be able to traverse the world!"
Word of SixDegrees spread quickly using an innovative recruitment method: users would enter their friends' email addresses, and their friends would receive invitations to become members as well. The public quickly recognized this software could help keep them in touch with their friends, and they felt a sense of privilege with being on an exclusive invite list.
However, SixDegrees arrived before it was viable for a critical mass of users to upload and share photos on a social network. Users wanted to see photos of the people they were connecting with, but during the 1990s, digital cameras were prohibitively expensive for the mainstream. Unfortunately, SixDegrees became one of the many technology companies to suffer the year 2000 dot-com crash.
In 2001, Canadian entrepreneur Adrian Scott created Ryze to link business professionals together. Member's profiles focused on their professional accomplishments, and it quickly became a popular networking tool in San Francisco. It failed to achieve the same popularity elsewhere, but served as an inspiration for others to follow.
A former engineer at Netscape, and an early member of the Ryze community, Jonathan Abrams was inspired to create his own social network. Friendster would be praised as a revolution and international sensation.
Friendster
Friendster is a portmanteau of "friend" and Napster, which was (at the time) a controversial peer-to-peer file sharing service, whose popularity Abrams wanted to emulate. The social network service launched in March 2003, when digital cameras were becoming widely used—unlike with SixDegrees, users were able to easily upload their photos onto Friendster, making the new social network much more successful.
Another technical barrier to global success for social networks and many other websites was the speed at which users could download individual web pages. Downloading images was typically a slow grind on dial-up modems, but the introduction of broadband Internet connections made web surfing a much more enjoyable experience.
In 2003, the percentage of Americans with broadband access rose from 15 percent to 25 percent, and the social networking gold rush began.
There were glowing articles written about Friendster in publications such as Time, Esquire, and Vanity Fair, and Jonathan Abrams even appeared on Jimmy Kimmel Live! making him a well-known name at the time.
Jonathan Abrams was offered $30 million for his company by Google, and he must now regret refusing the offer. However, previous Silicon Valley spectacular success stories like Yahoo's founders refusing millions from AOL before becoming billionaires, and the rise and rise of Google, gave him hope of becoming a gigantic success without Google's help.
There was a big problem, however. Friendster was so popular that it became a victim of its own success: its servers struggled to handle the hefty load of its 3 million users, and users were left waiting for up to 20 seconds for each page to load.
In order to solve the technical challenges of scaling the service, Abrams took $13 million in further investment from Benchmark Capital and Kleiner Perkins Caufield & Byers.
Friendster also had trouble with fake accounts: many users created accounts with bogus names and photos, and the media branded them as "fakesters." This was against Friendster's policy, and the company battled to identify and remove more than 2,000 of such accounts, but thousands more sprang up.
One person, using the pseudonym Roy Batty, grew so annoyed with Abrams's aggressive approach to users who wanted to remain anonymous that he organized a pro-fakester group called the "Borg Collective." This group created the "Fakester Manifesto" based on the Declaration of Independence: "We hold these truths to be self-evident, that all fakesters and real people are created equal."
The group irritated the Friendster founder, creating dozens of fake Abrams profiles on the site. While Abrams's team was working to resolve both the technical challenges of delivering a performant service and how to deal with the "fakesters," a new competitor emerged.
MySpace
Tom Anderson, a former computer hacker and musician, was one of the millions of Friendster users who became frustrated with the service. He walked into the office of his business partner, Chris DeWolfe, at ResponseBase and proposed that they build an improved version of Friendster.
DeWolfe initially thought that it was a wacky idea, but he began to reconsider it the next day after receiving friend requests from Friendster and LinkedIn and realizing how effective the marketing is. He pitched the idea to Brad Greenspan, the CEO of his parent company, eUniverse:
"Friendster is truly a revolution. Over 1.5 million active users without a penny spent on advertising. Active is an important distinction. One is hard-pressed to find a user on Friendster who has not been on the site within twenty-four hours. No wonder the site is painfully slow."
Greenspan enquired whether Friendster was interested in selling or partnering, but Abrams declined. So Greenspan agreed to allocate a budget for building a competing product.
DeWolfe suggested they charge users a fee for the service. Brad Greenspan overruled him on the grounds that a free service was a necessary ingredient in building a successful community.
DeWolfe had bought the rights to the myspace.com domain for $5,000 two years ago and had finally found a use for it. The site was programmed by Duc Chau using Perl, and Gabe Harriman created the database.

Anderson and DeWolfe took a very different view of the "fakesters"—that users should be free to create any identity that they wanted. MySpace would allow its users to either enter their real names or pseudonyms. It did not even verify users' email addresses. Fake identities proliferated.
The site launched officially in early 2004. Unofficially, it launched on August 15, 2003. A month later, Duc Chau left the company for a job at Strongmail Systems, and nobody else at ResponseBase knew the Perl language. DeWolfe offered Harriman a $2,000 bonus incentive to work nights and weekends rewriting the web application in ColdFusion, and rehired contract programmer Toan Nguyen to help.
Both developers forgot to write security code to process the users' submissions. The users' profile uploads were made by typing into a textbox, and the program allowed any HTML included in this submission. Soon the product manager, Kyle Brikman, noticed users' unusual-looking profiles and said, "somebody hacked into our site."
But they decided to call this a feature rather than a bug, because many users liked having the ability to customize their pages however they wanted using HTML, and this was an area where MySpace distinguished itself from more closed platforms like Friendster. They did, however, need to block JavaScript code from being uploaded after an attack in December 2003 deleted half of its members' profiles.
The team was also rapidly adding new features to the site. Some of them were rip-offs of existing websites. For example, a feature of rating MySpace profile photos between one and 10 was called "Hot or Not," until HotOrNot cofounder, James Hong, complained and MySpace renamed the section "Hot or Cold." MySpace also upset blogging site Xanga by using its terms "props" and "blogring." MySpace agreed to pay Xanga $40,000 in damages and to change its site design to avoid any similarities with Xanga.
MySpace quickly ran into the same kind of technical difficulties that Friendster did. Anderson wrote on his blog, "Within a week (or maybe even less time, hard to remember), we realized that this network concept was really hard to scale."
But instead of throwing huge amounts of money, and engineers, at the problem, MySpace went for the simple solution. The feature that took the longest to calculate was called "degrees of separation," and this was an indication of how close members were to other members. This involved a lengthy computation. MySpace decided to simply remove it from the product. Most users did not even miss it, as they already had a sense of which members they felt closest to.
At the beginning of 2004, there were five popular social media platforms: Friendster, LinkedIn, Tickle, Spoke, and Tribe.net. MySpace was up-and-coming, with almost a million users.
Hollywood Marketing
Anderson and DeWolfe took a novel approach to marketing their site. Every week, they went to the Viper Room in Hollywood, and once inside, they would get talking with the many musicians who frequented it. They told them that a MySpace profile could be free online marketing for them.
By March 2004, through word-of-mouth, 5,000 bands had set up MySpace profiles. Anderson issued a press release, gloating, "MySpace is fast becoming what mp3.com should have been: a place for fans to find music."
In July 2004, MySpace added a music streaming service to its product, and invited all the musicians to register their profile as "bands" so that they could use the service. MySpace also had a music ranking system where members voted for their favorites, and the best songs on the site were quickly identified.
Corporate Difficulties
ResponseBase had a complex arrangement with its parent company, and this made DeWolfe uneasy. ResponseBase had been paid $3.3 million cash by eUniverse, with an additional $3 million in bonuses pledged for the the top executives if performance targets were met. There were disagreements over how much additional money the executives were owed and when they should be paid.
There was also the issue of eUniverse's association potentially damaging the image of the MySpace brand. The parent company was focused on appealing to older women, and made millions selling anti-wrinkle creams. MySpace contrasted by aiming itself toward a younger audience.
To distance MySpace from eUniverse, DeWolfe was interested in MySpace being bought out by an outside investor. "MySpace is not a direct marketing company. We are trying to be a vehicle for self-expression of individuals. We have a different DNA and a different culture that needs to be set free."
At the next board meeting, eUniverse had recently been renamed Intermix Media. The company directors debated whether or not it was in their interest to sell MySpace.
DeWolfe reported that, since MySpace was enjoying spectacular growth, they would need to double their 30-person staff in order to deliver all of the new features and improvements that they wanted and to attract more big-name advertisers.
The new Intermix Media CEO, Richard Rosenblatt, felt that developing another social network aimed at an older market would be more profitable. Although MySpace was highly popular, it was not making any profit.
Market research showed that older women were much more likely to click on advertisements. Grab.com was to be a new site aimed at the 25-to-55 female market.
He decided to assign many of the MySpace staff the additional responsibility of supporting grab.com. The already-scarce resources for developing MySpace were now cut to just 15 dedicated staff. DeWolfe became even more convinced of the need to spin MySpace off into an independent company.
MySpace's Reach and Influence
On November 2, 2004, MySpace signed up its 5 millionth account. It also became profitable for the first time in the fall of 2004. Despite being widely derided as just another Friendster rip-off a year earlier, MySpace had now overtaken Friendster and was the new hot property on the Internet.
With so much buzz around social networking sites and social media at this point, many new startups were created to capture a slice of the market. The most notable of these is Facebook.
Join us in Part Ten for the Facebook story.