Inversion of Control Course Published on Pluralsight
Just published my 4th course for Pluralsight, Inversion of Control.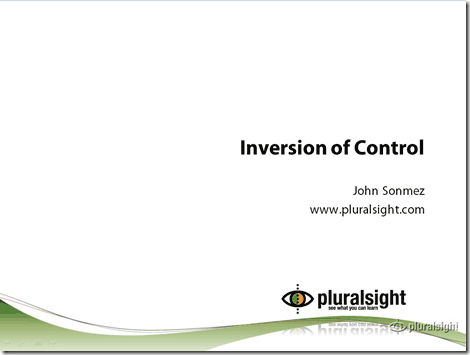 I was pretty excited to get the opportunity to do this course, because there is a large amount of misunderstanding out there about:
Inversion of Control
Dependency Injection
Dependency Inversion Principle
Inversion of Control Containers
I cover each of these topics in this course and then we even build our own IoC container.
If you liked the Back to Basics series, you'll like this course.  I go and dive a pretty deep into the real meat of the patterns and principles behind IoC containers.  Then I cover using Unity and Castle Windsor.
I think it is pretty important that we understand clearly why we are using a particular technology or pattern and what problem it is trying to solve.
I see too many people jumping on the bandwagon of so many popular technologies without really taking the time to learn the background about the technology to understand why it is an effective solution to a problem and what problems it attempts to address.
As always I welcome any feedback or suggestions for future courses.