So You Want To Quit Your Job (How To Do It)
This is the 3rd post in a three part series about quitting your job and working for yourself. Check out the first post about why you should want to quit your job, and the second post about the fantasies and realities of quitting your job.
I want to start off by saying that I, myself, have had several false starts and I've witnessed countless others who think that they are going to quit their job and live their dream only to wash up, shipwrecked on the shores of reality.
I've already talked about the harsh realities of working for yourself. If that part didn't scare you at least a little bit, or you think that what I said doesn't apply to you, there isn't much point reading any further, because this advice won't help you either.
But, if what I said earlier made you sweat just a little bit; made you just a little bit more unsure of your brilliant plan, then you'll probably find the advice I offer here immensely useful (I wish I would have had this, advice when I started out.)
Transition into working for yourself
Too many people, myself included at earlier points in my career, want to just make a big leap from working for someone else to working for themselves.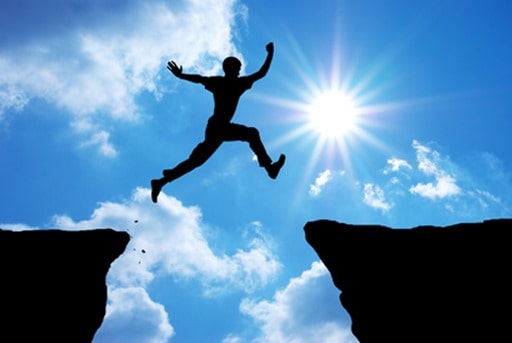 Now, for some people this ends up working out. These are the people you hear of that quit their job to follow their dream and then they created some startup company that got purchased for millions of dollars. Some people also win the lottery and others, unfortunately, get hit by lightning.
But, what you don't hear about is all the people who quit their jobs to follow their dreams and end up wasting a year or two of their life eating up all the savings they have accumulated from the past 10 years while they suffer from a bout of writer's block that never ends up being cured.
The truth is, working for the man is quite a bit like slavery or prison. You can't just be set free and expect that you'll adapt comfortably to your new life and start fulfilling your dreams. It is a bit like when you get off that 6 week diet you were on and say "ok, I'm just going to pig out a little as a reward, then I'll get back to 'normal eating.'" What ends up happening is this instant transformation from the shackles of a restrictive diet to "free eater" doesn't land us in the comfortable norm of "normal healthy eater" like we'd expect. Nope, instead we take a 1 way ticket to pig-out land until we eventually come crawling back to the comfortable diet prison that we hated, yet required.
The same happens to software developers, and other professionals who go from working for the man to being the man– they can't handle it! They go nuts, and waste lots of time being unproductive without the structure of a workplace and someone cracking the whip on their back. Eventually, they crawl back to their cruel masters and begrudgingly reenter the rat race.
The problem is that working for yourself requires self-discipline. More than you've got right now. Yes, I know that your parents and friends have commented on how self-disciplined you are because you have excelled at your job by actually showing up to work each day and doing your job, but there is a huge difference between doing what you are supposed to do because you are supposed to do it and doing what you are supposed to do, because there are immediate and dire consequences if you don't.
Stop shaking your head for a moment and listen to me. I know you think you are better than that, but you aren't. Take a deep breath, dig deep and realize what I am saying is true. If you really want to succeed on your own, you are going to have to learn this skill as well; seeing an unfiltered view of reality.
The demons
In order to be ready to be successful on your own, without a boss, without a formalized structure and system of consequences, you are going to have to exorcise a few demons.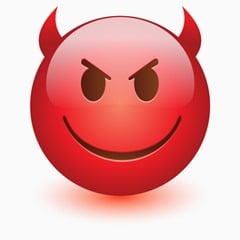 The best place to perform this religious rite is at your current workplace, in your current job. You will use this as a transition period and training ground to prove yourself, before you cut loose your chains.
The first demon: productivity
In my last post, I talked about the fantasy and reality of working for yourself and really what it focused on was the most critical component: productivity.
These days, productivity is like a drug; lots of people are peddling productivity hacks and productivity tools as if productivity means more than just working hard on what you are supposed to.
The trick is that it is much easier said than done. As I highlighted in the last post, most of us are spending very little time actually working productively at work. And, you will probably be in for quite a shock when you lose your shackles and find out that you aren't getting nearly as much done as you thought you were– oh, and now you aren't getting paid for goofing off.
So, my advice is: before you quit your job, you need to actually be able to put in a 6 hour day of hard work. No better place to practice doing that than in a paid learning environment.
How do we get there?
It isn't going to be easy. But, nothing ever is, right?
I use a productivity technique called the Pomodoro technique to both measure and help me achieve a high level of productivity. The idea behind this technique is pretty simple. So simple that I actually overlooked it the first time I had been introduced to it and only later came back to it when a friend of mine, Josh Earl, mentioned how much success he was having using it.
The idea is that you set a timer for 25 minutes. During this time, you work on one focused task without interruption. After you are done, you take a 5 minute break and repeat. Nothing magic here. The magic is actually in the measurement. You see how many of these you can get done in a day and you track them. You can actually then plan out your work and estimate your work in terms of Pomodoros, which it turns outs, is extremely useful.
I'd recommend getting this book, Pomodoro Technique Illustrated (Pragmatic Life), to learn more about this deceptively simple seeming productivity tool.
I'd recommend starting to put this into practice at your regular job. Try to achieve 8 Pomodoros a day. This would represent close to 6 hours of productivity. And only count time that you are actually being productive. This means producing something of tangible value. You are going to end up not replying back to lots of emails and dismissing yourself from a bunch of meetings.
The second demon: gold-plating
On someone else's dime it is pretty easy to forgo pragmatism. But, something I had to learn really quickly when I struck out on my own is that good enough really is good enough.
Don't get me wrong. I'm not saying do shoddy work. And you already know that I'm not advocating not working so hard. What I am saying is, if you want to be super productive, you can't make every piece of work you do a masterpiece. You have to find the right balance of time and effort.
Take this blog post, for example. I'm putting quite a bit of work into this post and the series of blog posts it belongs to, but I could actually spend weeks or months writing and rewriting parts of this post. If I did this, I might end up with a true work of art at the end of the process, but I'm not going to do that. Instead, I'm going to ship it when it gets to the 80-90% effectiveness mark and not worry about squeezing out that extra 10% of quality for another 300% cost of time and effort.
Don't take this as an excuse to do s!*# work and ship a bunch of crap. That is easy, anyone can do that. Instead focus on being pragmatic. Get to the point where the work is good enough and let it go, then move onto the next thing. This is much harder than you might think– it is a delicate balance.
The third demon: consistency
Success is usually not the result of a glorious fight with a single dragon which you vanquish in a fierce battle, instead the road to success looks much more like running around Midgaard naked, killing rats over and over again.
Working hard and being pragmatic is completely worthless if you can't do these things consistently week after week month after month. It is like starving yourself for a day and thinking you are going to lose weight, or running a marathon and sitting on the couch for the rest of the year.
So, how do you learn consistency? Simple, you cut out all the excuses. Make being consistent a matter of life and death. Don't act like failure is an option. Pretend like just missing a single day or skipping a beat is the end of the world.
Eventually, you'll be able to use your judgment to decide what you should do and when to make exceptions, but for now make rules for yourself. Rules that you will not break under any circumstances. Learning to live by rules like this will be a huge benefit to you. Everyone is weak-willed, no one can resist temptation; if you want to be successful, avoid judgment calls and decision making. Make your decisions ahead of time and codify them as rules that you follow every day.
I'll give you an example, before I wrap up this post, because it is already getting quite long. Right now I am learning Spanish. I am using an app on my iPad called Doulingo to do this. I have a rule that I do this app at least 30 minutes a day, every day– no excuses. What do you think will happen if I obey this rule every single day for a year? I think I am going to be pretty good at Spanish. Unless I stick my finger in an electrical socket and fry my brains, it will be pretty hard for me not to succeed, so long as I follow my rule.
The hard part
If I haven't lost you yet, you must really be serious. Good. You are going to need to be serious to stomach what I am going to tell you next.
At this point, if you start right now, you are probably still at least two years out from the point where you are going to be able to quit your job and not end up coming crawling back to the rat race battered and beaten.
I see far too many people come up with the ill-conceived plan of saving up perhaps 6 months to a year's worth of living expenses and then quitting their job to pursue their dreams of starting their own business. (I've entertained this idea myself several times in my career.)
But, let me tell you why this is a very bad idea and then give you a much better one– a plan that will actually work and isn't likely to leave you homeless or broke.
The reason why saving up a bunch of money and quitting is a bad idea is, because if you do this, you will be constantly racing against time. Instead of time working for you, you will have time working against you. You'll make bad choices, you'll feel panicked, you will not be operating under ideal conditions and you won't be giving yourself room to fail– which you will inevitably do.
Here is a better plan. Instead, of thinking in terms of saving up X amount of dollars, think in terms of earning X amount of monthly income from a side business. Whatever business you plan on creating once you quit your job, start doing it now. Start building you future business while you are still working for the man. If you can't get something going on the side without the stress and pressure of potential financial ruin, you aren't going to succeed when you go it alone and add all the extra pressure and stress that comes with being self-employed and not getting a pay check.
Sure, it will take you longer. Sure, it is going to be hard to essentially work two jobs, but the question is, how bad do you want it? If you don't want it that bad, fine, I'm not going to try and convince you otherwise– to each his own. But, if you really want it, and you are willing to both work and wait for it, then do it the smart way; build your business on the side while you are still getting a regular paycheck.
Parting words
Well, I hope this series was helpful to you. I'm not an expert by any means on the subject, but I can speak from personal experience, and I've talked with enough other people who have made the transition to know that what I am telling you here is not my advice alone.
When I first quit my job, I was shocked at how different life was from how I had imagined it would be. I had to make some big adjustments really fast, because I wasn't prepared. Hopefully, after this advice, you won't find yourself in the same situation, or at least you'll have a rough idea of what to expect and how to deal with it.