Vertical monitors allow you to see a lot more lines at a glance without having to scroll down. This makes them a perfect addition to your coding monitor setup.
Once you've experienced the efficiency boost you can get from using portrait mode, you'll never want to go back.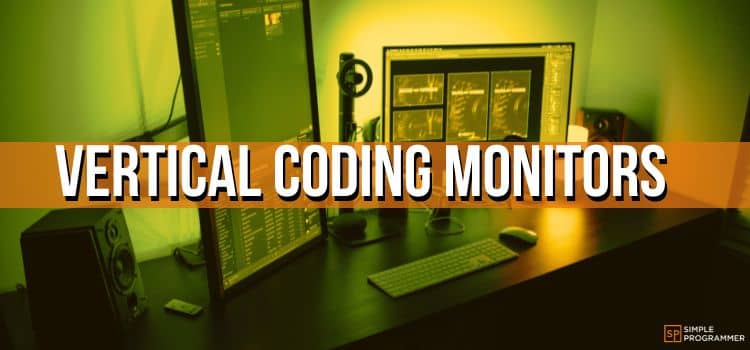 There's a number of different models of vertical monitors out there. And of course they're not all created equal. 
Let's review the options you have, rank them based on size, ergonomics, image quality, and price, and allow you to pick the one that perfectly fits your desk setup for coding as well as your requirements and goals.
Why trust this review?
I'm reviewing the monitors from my point of view as a veteran Software Developer. My 10+ years spent coding on all kinds of different screens taught me what to look out for in a programming monitor.
I learned the pros and cons of different brands and setups. It's why I'm able to discern a model that's of high quality from one that isn't.
Quick guide on what to look for in a vertical monitor for coding
What are the vertical monitors you can best use for programming?
Corsair Xeneon 27QHD240
Alienware AW2723DF
ASUS ROG Strix XG27AQ-W
LG Dual Up
Dell UltraSharp U2722DE
LG UltraGear 27GP850-B
ASUS ProART PA278QV
BenQ PD2700Q
Best in class for coding – vertical monitors with OLED panel
Why OLED panels are great for programming
OLED screens offer excellent low-light performance. The big advantage over IPS-paneled vertical monitors is that they're much better in dark rooms—which many coders prefer working in.
An investment for professionals
They're also much more expensive than regular monitors. But if you're a high-salaried Software Engineer, you might not mind investing this kind of money into increased efficiency and performance in your career.
Few OLED options
You'll find more screens using this technology in the 34"+, 4K resolution category—but for sub-32", QHD (2K, 1440p) displays, there's not much choice when it comes to OLED monitors.
Here's my top pick for a vertical coding monitor with OLED technology:
Corsair Xeneon 27QHD240
The Xeneon 27QHD240 is the 27″ model OLED monitor just released by Corsair. Like many performance hardware components, it's built with gaming in mind.
But its bright display, ergonomics and option for vertical orientation make it an attractive choice for coders as well.
That's if you're open to spending considerable money on your work equipment—because this monitor is anything but cheap!
Corsair Xeneon 27″ – Quick Review
Image: A major selling point of this state-of-the-art display is the OLED screen, offering stellar brightness (1000 nits at peak) for any lighting condition, as well as looking equally good from almost any angle.
Colors look beautiful on the Corsair XENEON thanks to its excellent color gamut range and the super-high contrast you get with OLED panels. The high refresh rate of 240Hz is perfect if you're a coder who's also into gaming.
Build quality: Corsair's high-end vertical monitor is well-built and gives off a professional feel. Note though that apart from the stand, most of the display is made of plastic.
Ergonomics: With a stable frame and a multitude of options for adjustments (swivel, tilt, and of course pivot to vertical), this monitor belongs to the highest category when it comes to ergonomics.
Best IPS panel monitors with portrait mode for both programming and gaming
Another category of interest when it comes to vertical monitors for programming is that of the hybrid coding and gaming monitor.
Many programmers are also avid gamers, and would enjoy one of these: If you're ready to fire up a game, you can turn the screen back into horizontal orientation and play your favorite titles at a sky-high refresh rate—thanks to fast IPS panels.
As a bonus, the high refresh rate also makes for a smoother experience when you're scrolling through source code or websites.
best coding/gaming hybrid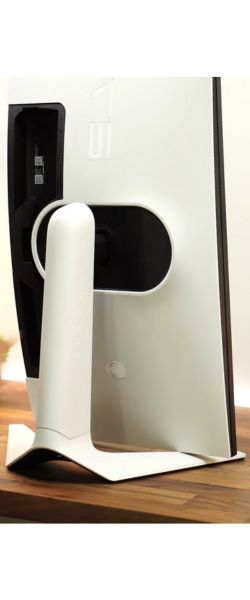 Alienware AW2723DF
Released in late 2022, the Alienware AW2723DF is Dell's high performance gaming monitor—easily set up in vertical orientation—in the 27″, 1440p category.
With its off-white color scheme the screen stands out from its competitors.
It also sports one of LG's Nano IPS panels, which (apart from OLED panels) are the highest quality you'll find .
Alienware AW2723DF – Quick Review
Image:
Dell's Alienware AW2723DF has reasonably wide color gamut and viewing angles. It's impressively bright for an IPS panel as well—up to 600 nits. The 240Hz refresh rate, overclockable to even 280Hz, makes playing games and scrolling text ultra-fluid.
Main downside of the display is the lower contrast and poorer black levels the IPS panel provides compared to OLED.
Build quality: While the Alienware monitor is made out of mostly plastic, it does look and feel nice and valuable—which you could say is to be expected at this price point!
Ergonomics: The monitor stand is solid, and the screen is easy to adjust to vertical, as well as tilt and swivel. It also has two RGB lights in the back if you like adding some cool optics to your programing workspace.
ASUS ROG Strix XG27AQ-W
ASUS' 27″ monitor with vertical option, called ROG Strix XG27AQ(-W), offers fast refresh rates for gaming. It launched to the market in early 2021.
But it could also be of interest to programmers looking for high performance, excellent brightness and image quality for a work station screen.
The ASUS display is a good choice for someone who just wants to code, or who wants to do both coding and gaming, with very few negatives.
ASUS ROG Strix XG27AQ-W – Quick Review
Image: With the ASUS Rog Strix you'll be getting quality visuals, with accurate colors, and decent color gamut range. Smooth scrolling and gameplay are possible due to high refresh rates from 144Hz up to 170Hz (overclocked).
Contrast and black levels are okay (as is usually the case with IPS panels) – which means it's fine, but not amazing for working in a dark room. Peak brightness is good for IPS, but lower vs some competitors like the Dell Alienware (max 400 nits).
Build quality: Build quality on this monitor is solid, providing a professional feel.
Ergonomics: These are impeccable on the ASUS: It pivots, swivels, tilts, and adjusts height effortlessly. This makes it perfect to use as a vertical monitor for coding as well as other tasks in any desired orientation. Viewing angles are wide—no matter which position you put it in, you'll be able to see the image clearly.
16:18 vertical monitor for massive space – LG Dual Up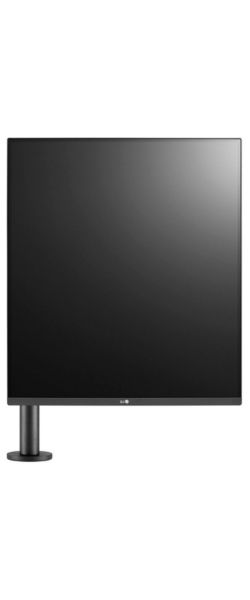 LG DualUp
In the world of coding monitors—even vertical ones—this monitor truly stands out.
Its 16:18 aspect ratio (2,560 x 2,880 pixels) qualifies it as a portrait mode monitor—but it offers more than your standard model. With the LG DualUp, you get more space vertically and horizontally!
Which means you can see 80+ lines of code at the same time, and still comfortably show other windows on the same screen, if you so choose.
LG DualUp – Quick Review
Image: The DualUp's image quality is good, the colors are lively and accurate. At a maximum of 300 nits, its brightness is not amazing. It also isn't made for competitive gaming with its 60Hz refresh rate.
Build quality: Build quality is decent, but could be better. It feels more plasticky and not as solid as some of the other models.
Ergonomics: The included mount is fully adjustable. The stand features cable management clamps, making it easy to keep your space tidy.
Best Options for Dedicated coding and office Work
What if you don't need your new monitor to double as a high-end gaming display with its amazing refresh rate—you just need it to be great for programming and general tasks? Then there's still a number of vertical screens for you to choose from.
Best of all, they'll be considerably cheaper than the decked-out gamer monitors! Check out four of your best options I've reviewed: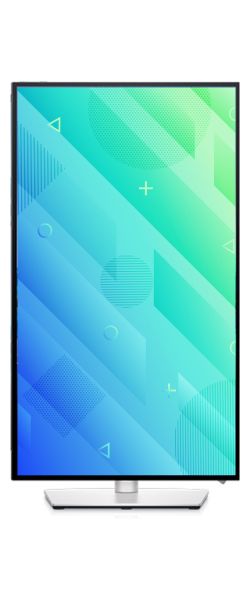 Dell UltraSharp U2722DE
The Ultrasharp U2722DE is Dell's 27" QHD (1440p) productivity monitor, which was released in early 2021.
As a 60Hz refresh rate model, it's of course not a perfect screen for gaming, but the beautiful IPS panel does very well if you're using the UltraSharp as a (vertical) programming monitor.
Dell Ultrasharp U2722DE – Quick Review
Image: The screen produces a beautiful image, with nice and wide color gamut. Viewing angles are wide so you'll be able to see screen contents well from any direction.
The Dell is rated to 350 nits of brightness, but only reaches 300 at maximum in practice.
Build quality: Build quality on the Dell is excellent and everything about it looks and feels professional.
Ergonomics: A fully adjustable stand that's also really sturdy makes it super easy to pivot to vertical, tilt, swivel, and change the height of the display.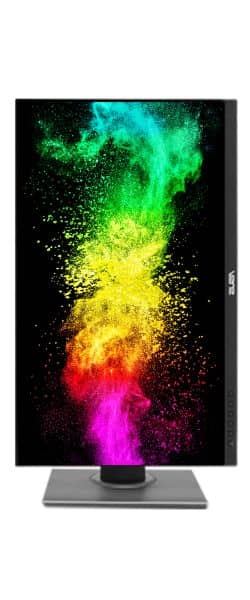 ASUS ProART PA278CV
This vertical screen from ASUS was released in early 2021 and is made for creative professionals.
With a quality 27″ QHD IPS panel, it produces an excellent image, and has the perfect pixel density for an efficient programming setup.
ASUS ProArt PA278CV – Quick Review
Image: The ProArt PA278CV has good image quality and color accuracy along with wide viewing angles. Its brightness goes up to over 400 nits, and coupled with the matte screen that makes it great at fighting glare from outside light sources.
Build quality: Although it's plastic, the ASUS' build quality is good. The stand is solid (albeit a bit vulnerable to scratches).
Ergonomics: Ergonomics are excellent on the PA278QV. You can easily pivot it to vertical and back, and it can swivel very far, as well as tilt a decent amount. It also has a cable management feature at the back of its stand.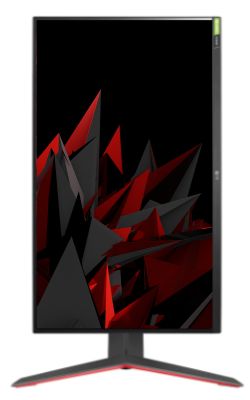 LG UltraGear 27GP850-B
Just like the aforementioned Dell UltraSharp, the LG Ultragear 27GP850-B is a 27" QHD vertical option monitor released in March 2021.
It's aimed at gamers, but you can put it into vertical orientation to use as a programming monitor.
With its fast, overclocked 180Hz refresh rate, both games and code or text scrolling will look super smooth.
LG UltraGear27GP850-B – Quick Review
Image: The LG's Nano IPS panel scores with great color gamut and wide viewing angles. Brightness is rated at 400 nits—brighter than many similarly-priced competitors.
Build quality: The monitor is made out of almost all plastic. Considering this, the build quality is okay.
Ergonomics: The Ultragear 27GP850-P is slightly limited in its ergonomics: While you can pivot it to vertical as well as adjust height, tilt range is limited, and you can't swivel it at all.
As such it's best if you're looking for a stationary setup, and not looking to change the monitor's orientation around a lot on the fly.
BenQ PD2700Q
The BenQ PD2700Q is an older model that was released in mid-2016.
It still offers competitive performance as a coding monitor, though.
Its price is the most affordable of any vertical screen reviewed in this article.
BenQ PD2700Q – Quick Review
Image: Being a designer monitor, the BenQ PD2700Q has great color coverage. The brightness levels are good (up to 350 nits), with a flicker-free backlight, reducing eye strain during long programming sessions.
For an IPS panel, it's doing well with showing accurate black and gray colors. Overall, the image looks great on the BenQ PD2700Q.
Build quality: The BenQ's chassis appears strong and durable.
Ergonomics: The stand is solid, and you can adjust the screen by ways of pivot to vertical, tilt and swivel. Although the adjustments don't go as far as some other coding monitors', they're useful enough for most situations.
Buyer's Guide for a Vertical Coding Monitor
Here are the specifics of what you should look out for when buying a vertical monitor for programming.
Size & Resolution
Not too big, not too small
When you're using a 19″ screen as your vertical monitor, you're leaving screen real estate on the table that could make you even more productive.
On the other hand, I consider a 32″ display the maximum for a vertical monitor. Beyond that, you'll have to move your eyes and head too much to see some of the contents. It'll also be heavier and harder to adjust.
A resolution that's crisp, but not excessive
FHD resolution is fine. But upgrading from 1080p means you get more space to work with while everything still looks good.
Most programmers feel that native 4K resolution is too high, and you need to scale your screen output to work with it from a normal distance.
Because scaling doesn't always work perfectly, and you're now paying for resolution you're effectively not even using, I recommend QHD/1440p as the sweet spot for any reasonably-sized vertical coding monitor.
Adjustability & Ergonomics
The perfect vertical programming monitor will have a solid stand that allows pivoting to vertical with ease, as well as swivel/tilt into different angles you're working at. This is also useful for showing your work to others at your desk.
Everything should be intuitive, easy to reach, and durable.
Image Quality
Although as programmers we don't need the same color quality as designers, a display that:
has reasonably wide color gamut
is bright enough for low-light situations
offers good contrast so that blacks look natural
is still preferable.
The IPS panels I've reviewed produce a beautiful picture, beyond what cheaper TN models can do.
There's differences between IPS models as well, so pick one that has the specifications you need:
Does it need to have a high refresh rate because you're into gaming?
Is peak brightness very important to you?
Do you need the most accurate colors and highest native contrast?
When it comes to image quality and brightness, OLED panels are in their own league – but they're also very pricey. Consider whether investing that much makes sense for your goals.
Price
For around $300, you can get a good 27″ vertical coding monitor at QHD resolution that will serve you well. Only if you really need a high-end device should you be looking to spend between $600-$1000 on the most expensive devices we've reviewed.
FAQ
Can any monitor be used vertically?
Not all monitors can pivot into vertical orientation using their original stand. But, if you get a separate wall mount, you'll be able to use them vertically as well.
With MacOS or Windows 10+, you can easily put your screen into portrait mode.
How exactly do I put my monitor into portrait mode?
The standard hotkey in Windows for putting your screen into portrait mode is Ctrl+Alt+Left or Right Arrow Key. To reverse it, use Ctrl+Alt+Up Arrow.
If this doesn't work, just go into your Windows display settings, and under orientation, select Portrait Mode.
Likewise, in MacOS, go into your display preferences, and set the rotation to 90°.
Which resolution is best for a vertical coding monitor?
QHD resolution on a 27" vertical monitor makes for a pixel density of 100+ pixels per inch. You're getting a nice and sharp image, but the screen contents don't become so small that you have to use scaling.
Scaling doesn't work well across all applications.
This makes working with a lower, but still sharp resolution a better bet than going for the absolute highest resolution available.
The goal is to find the sweet spot between image sharpness and readability at native scale. A 27" vertical panel with QHD/1440p/2K resolution (2560 x 1440 pixels) fits into that sweet spot.
As a bonus, 2K monitors are also generally more affordable than 4K models.