A Brief Glimpse Inside the World of Chip Design Engineering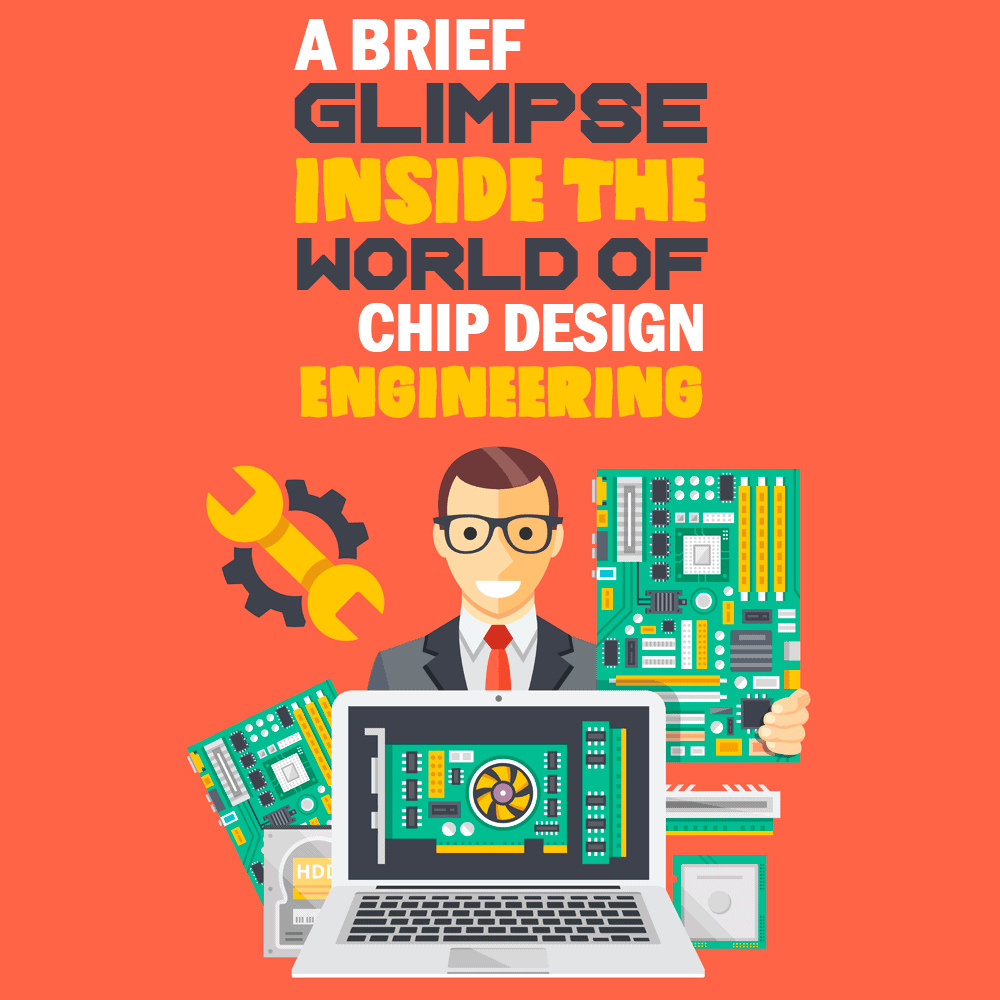 Most people know that computer chips continue to get smaller and smaller, but have you ever thought about all of the components involved and who is responsible for making them all fit? That's the life of a chip design engineer.
In short, chip design engineering is the branch of computer engineering that makes the internal parts of a computer more efficient.
Microprocessors are incredibly complicated machines, and many engineers who have worked the gamut of computer engineering jobs consider chip design one of, if not the most complicated. Hundreds of programmers work together on something smaller than a dollar bill, and most still take at least a year to complete.
Teamwork between members of the computer science side and the computer engineering side is paramount for keeping the long jobs on track, timewise. In the majority of chip design settings, goals are kept very small, to keep the team feeling accomplished, as working for so long on something so physically small can often leave teams feeling the opposite.
Whether you're interested in a career in chip design engineering, or just stumbled across this article out of interest, here's a closer look at the qualifications, skills, and day-to-day activities of a chip design engineer.
Personnel
Most chip design engineers (also called IC designers for 'Integrated Circuit') have a master's degree, as advancement is very difficult without one.
Bachelor's degrees are the required minimum for these jobs, so everyone you would potentially work with as a chip designer would be college educated. Most engineering degrees that are tech-related would qualify someone for a chip design job, but it would be ideal to get your master's degree.
Variety
Many individuals in the field point to the variety in day-to-day activities as one of their favorite parts of the job. This is true for many different focal points within IC design.
For instance, computer memory systems like RAM, ROM, and flash drives are all designed by chip designers, as are all hardware components that make your computer or device work more efficiently.
Even individuals who only work on one aspect of a large project each day, encounter many different challenges. To these issues, they have to exercise creativity and discover efficient ways to connect the overly complex puzzles that exist within each aspect of the chip design.
Skills
Some chip designers focus on project conception, but these are generally individuals who have been in the field for a few years. Those who actually do the circuit design utilize previous designs, current trends, and ideas from the conception teams to layout where input signals, output signals, computers, and power will all fit into a given microprocessor.
Familiarity with CAD software is a must for IC engineers, but all formal education paths will include lessons on CAD. After the creation of the chips, testing processes are numerous and subsequent tweaks and troubleshooting processes are conducted next.
Another aspect of the job is teaching the public how to use the microprocessor, and engineers with a flair for writing may enjoy being specification documentation writers, though all IC designers will be involved in the creation of these documents.
Job Outlook
Though education requirements are quite demanding, paying off the loans is achievable fairly quickly, as the median salary for chip designers is a touch over $100,000 per year, according to the Department of Labor Statistics.
Individuals who like stability have many options in the field, as all major hardware companies staff corporate chip designers. However, if you are looking for a smaller office atmosphere, there are plenty of options for that as well.
With the growth of technology continuing to expand, IC design jobs will start flourishing. If you're interested in a higher pay, some of the jobs will require higher levels of education.
Here is a great resource for anyone interested in getting in the field.
Is Chip Design Right for You?
Chip design engineering is an ever-evolving field, and for anyone interested in a job that also evolves, it offers a lot of other great aspects, too. The pay is good, the work is innovative, and the demand is high.
Most engineering jobs do require a master's degree, but affordable and flexible options are available for individuals who are interested in the unique field of computer engineering.
If you enjoy variety and different challenges in your day-to-day activities, from working with CAD software to writing chip design documentation, then this could really be a work for you.