To master your Computer Science studies as efficiently as possible, you'll want to get yourself the best tool for the job.
The right device will allow you to run all the programs you need, with good image quality, and portability for when you're hopping between dorms, cafeterias and lecture halls.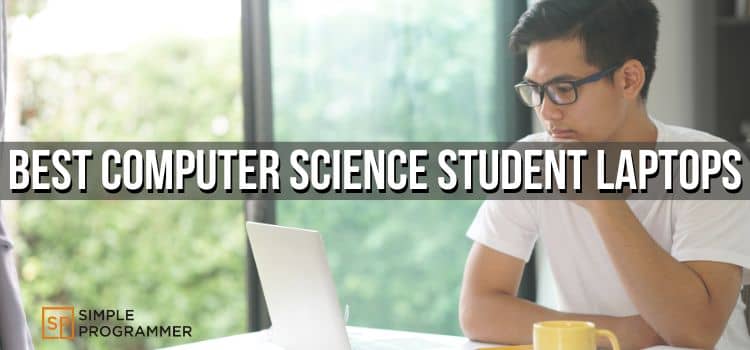 Whether you opt for a more affordable model or invest in a high-performance machine depends on how much processing power you'll actually need during your studies, how much gaming you'll be doing, and of course the budget you're working with.
Let's compare the current laptops best suited to Computer Science majors. I'd love to be able to help you make an informed decision, and find one that you'll be happy with – not only during your degree, but possibly for years to come in your career as a Computer Scientist.
*This post has affiliate links. Should you decide to purchase something through a link, I'll be paid a small commission – at no extra cost to you.
The 14 best Computer Science student laptops
What are your needs?
The laptops you can buy to support your Computer Science studies lie on a spectrum when it comes to performance, portability, and price.
Which category you end up picking depends on your exact requirements, and how much you're willing to spend. The most performant models will cost $2000+, while a budget option might be less than $1000 (with plenty of choices in between).
Which specs are important for a CS major?
Display
Processing power
Amount of memory
Hard disk space
Graphics card (for 3D applications / design)
Size, weight, and battery life
Price
Best performance
If you're going for the utmost power for your daily tasks as a CS student, these three laptops will deliver:
Samsung GalaxyBook 3 Ultra
• 16″ 3K OLED • Intel i9 • 32GB RAM • 1TB SSD • GeForce RTX 4070 • 3.9lbs
The GalaxyBook 3 Ultra is Samsung's top end laptop.
If one isn't put off by the very high price point: This is a machine that would serve any Computer Science student well for anything you'd encounter in your studies –
and for years after, during a career in a tech field that requires high-performance equipment.
Quick Review of the Samsung GalaxyBook 3 Ultra
Performance: Intel's Core i9-13900H powers the GalaxyBook Ultra for the most demanding programming tasks. And with the dedicated Geforce RTX 4070 graphics card, playing newer games, editing 4K video, or extensive use of 3D modeling software are also possible.
Display: A 16-inch OLED display with 3K (2880×1800) resolution and tall 16:10 aspect ratio delivers a beautiful image. It reaches a peak brightness of almost 400 nits, which is great if you want the screen to 'pop' when in a dark room studying Computer Science.
If you're outside fighting glare from the sun, it doesn't perform as well, because the GalaxyBook comes with a glossy (vs matte) screen. The option for competitive gaming (as well as smooth scrolling) is provided by the display's fast 120Hz refresh rate.
Build quality: The GalaxyBook 3 features a solid build with a high-quality aluminum chassis, which is stiff enough to flex very little. The design is functional – not as eye-catchingly attractive as that of a MacBook, for example.
Although some might love the minimalistic optics of this laptop, which comes with graphite (gray) and beige color options.
Battery & portability: For a 16" model, the Samsung is lightweight at 3.4lbs (1.6kg). It offers decent battery life at around 10 hours in lower-load scenarios.
Keep in mind that heavy code compilation or 3D rendering tasks will deplete the battery much more quickly.
But in most college scenarios, you'll get enough life out of the battery to get you through a few lectures or study sessions during the day.
Dell XPS 15 9530
• 15.6″ OLED • Intel i9 • 64GB RAM • 2TB SSD • GeForce RTX 4070 • 4.3lbs
For Computer Science majors looking for maximum performance, the Dell XPS 15 features the latest heavy-duty hardware components.
What's more, it comes with a beautiful OLED display, which is great for working in dark mode (a coder's favorite) and situations with either low light or glare.
If price isn't a concern, this machine is one of the best and most powerful programming laptops a student can own.
Quick Review of the Dell XPS 15
Performance: With Intel's Core i9 chip and a Geforce RTX 4070 graphics card, the Dell sports close to the fastest laptop specs possible today.
Depending on the exact configuration you choose, it has between 16 and 64GB RAM – which means it's prepared to run even the most memory-intensive Computer Science-related applications without slowing down.
Display: The 15.6" touchscreen display has a 16:10 aspect ratio (at 3456×2160, or "3.5K" resolution), meaning there's more vertical space for you to view many lines of code at the same time. Its OLED panel also beautifully produces a wide range of colors, with high levels of brightness (over 400 nits).
Build quality: Dell's premium model does not disappoint when it comes to a professional appearance and quality build.
Battery & portability: The XPS 15 weighs in at 4.3 lbs – quite heavy for a Computer Science student laptop. You do get over 14 hours of battery life doing lower load tasks. Despite its processing power, it can hang with weaker, ultra-portable models when it comes to longevity.
Apple MacBook Pro M2 Max 16"
• 16.2″ Retina • 12-core CPU • 32GB RAM • 1TB SSD • 38-core GPU • 4.8lbs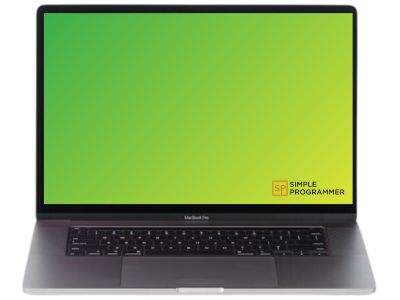 Apple's flagship MacBook is one of the top choices if you're want high performance and attractive optics combined with good portability for your Computer Science studies. 
Aside from its signature, sleek design, professional build quality, and solid processing power, the biggest MacBook wins when it comes to battery life.
This means it's near-perfect for on-campus learning.
Quick Review of the Apple MacBook Pro
Performance: The M2 Max chip built into the MacBook Pro is fast, although still lagging a bit behind Intel-powered machines.
It sports a quite powerful integrated GPU, which blows other integrated graphics cards out of the water – and can even compete with mid-range dedicated GPUs.
Although not aimed at elite gaming, it does handle games, 3D rendering and 4K video editing, all at decent speeds.
Display: No OLED screen for Apple, yet – but its IPS panel with mini-LED backlighting technology is coming close to the former's image quality, and has even better brightness.
The 16.2" screen with 3456 x 2234 resolution (16:10 aspect ratio) is super sharp and gives you a lot of space for viewing computer science documents, code editors, and more, even side-by-side.
Build quality: Product quality and style are what Apple prides itself on. And the MacBook Pro M2 Max does deliver on that front.
Battery & portability: The Apple laptop is the ultimate in efficiency. You're able to get 15 hours or more of battery life in low- to medium-load scenarios. And there's no device out there able to match its performance/endurance ratio.
Best ultra-portable models for Computer Science students
As a student, your laptop's portability is of prime importance. When you're switching locations often, as well as working in cramped environments, you want your device to be as long-lasting and lightweight as possible.
The following three models win when it comes to battery life and light, compact build. But, just because they're not heavy as bulky doesn't mean they're slow at all:
Microsoft Surface Pro 9 – Best Tablet laptop for CS
• 13.3″ • Intel i7 • 16GB RAM • 1TB SSD • Intel GPU • 1.9lbs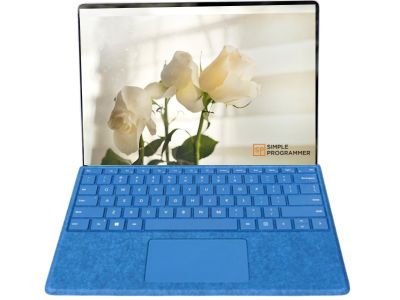 This is the lightest, most portable machine you can get for your computer science studies. At the same time, it packs a good enough punch for programming tasks.
You can use it as a tablet, with its responsive touchscreen, or with the optional Surface Pen.
If you add the keyboard cover, it turns into a legit productivity workhorse for building code, wrangling spreadsheets, or writing assignments and papers.
The MS Surface Pro 9 has enough processing power for all computer science-related tasks, while providing the ideal mobile experience and a long-lasting battery.
Quick Review of the Microsoft Surface Pro 9
Performance: With an Intel Core i7 CPU and 16GB of RAM, the Surface Pro is strong enough for any programming task.
Because it doesn't have a dedicated graphics card, it's not great for gaming (or 3D rendering, for that matter), though, so if you're into playing high definition games at good framerates (and want to fully benefit from the Surface's excellent 120Hz display) —
you'd have to look into using a cloud gaming service.
Display: The Surface comes with a bright (up to 450 nits), colorful 13" IPS panel with a high resolution of 2880:1920. 
The 3:2 aspect ratio is great for programming, because you get more vertical space compared to a 16:9 or even 16:10 ratio. This means you can see more lines of code at the same time without having to scroll.
The display has a refresh rate of 120Hz, meaning that scrolling through code, documents or web browsers will be extra smooth.
Build quality: Microsoft's tablet-laptop is built excellently, with a professional look and feel. It's a joy to handle and work with.
Battery & portability: Under normal conditions, you can get 8-10 hours of use out of the Surface Pro's battery – which is much more than what most other laptops in this review could manage.
Of course, if you crank up the brightness and perform very intensive tasks, you'll deplete the battery much faster.
ASUS Zenbook S13 OLED
• 13.3″ OLED • Intel i7 • 32GB RAM • 1TB SSD • Intel GPU • 2.4lbs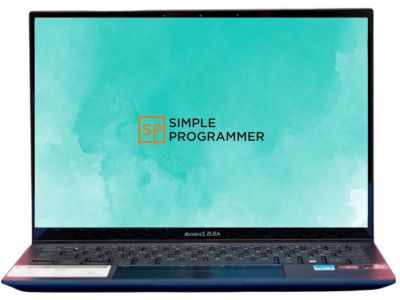 The Zenbook is decently fast, certainly perfect for all programming tasks. It's not great at gaming or 3D rendering because of its integrated graphics chip.
Quick Review of the Zenbook S13
Performance: The Zenbook is decently fast, certainly perfect for all programming tasks. It's not great at gaming or 3D rendering because of its integrated graphics chip.
Display: The ASUS' OLED display offers excellent colors, contrast, and brightness levels (up to 550 nits).
Build quality: While it doesn't quite have the luxury feel of a MacBook, build quality on the Zenbook S13 is decent, and especially the styled lid is an attractive feature. 
Battery & portability: You can get a lot out of the battery – around 8 hours in normal use, and up to 18(!) in light use. 
MacBook Air 13 – Computer Science on the Go
• 15.3″ Retina • 8-core CPU • 8-24GB RAM • 512GB SSD • 10-core GPU • 2.7lbs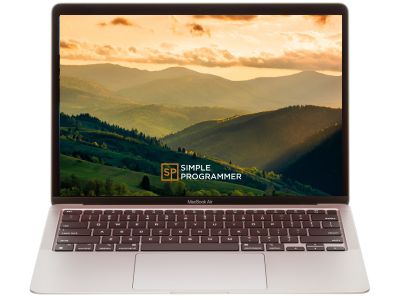 Apple's MacBook Air 13 with the new M2 chip is one of the best ultra-portable laptops available today.
Its superb battery life, and the unique fanless cooling system make it an ideal choice for students.
Yes, there's even faster laptops out there.
But if you want a stylish device that isn't as beefy – and save more than half over one of those larger, high-end models – take a good look at the new MacBook Air 13.
Quick Review of the MacBook Air M2 13
Performance: Equipped with the new M2 chip, and up to 24GB of memory, the MacBook Air 13 offers good performance for Computer Science tasks like compiling complex code, working with databases, or opening dozens of browser tabs for your research.
Display: Although it doesn't have an OLED panel, the MacBook's display is beautiful and impressively bright at up to 500 nits. The tall, 16:10 aspect ratio is ideal for programming and reading.
With a resolution of 2560 x 1664 it produces a super-sharp image. This display is not ideal for gaming, though, because it only has a 60Hz refresh rate and a slower response time.
Build quality: Apple stands for superb build quality – which holds true for the MacBook Air 13 as well. It should last you for many years of working in Computer Science, and looking stylish and professional while doing so.
Battery & portability: One of the MacBook Air's top selling points is how much life you can get out of its battery. I've mentioned the fanless cooling system – coupled with Apple's ultra-efficient M2 chip, it makes for best-in-class longevity.
If you'll be working and studying at different locations throughout the day—some of them without power outlets—you might appreciate this feature of the MacBook Air.
Mid-range Options
If the top-of-line models seem overkill for studying Computer Science, or you're okay with spending a good, but not an excessive amount, take a look at these mid-range options.
They'll still run you over $1000 – but that expense might still be fine as an investment into your education and future career. And it's ways away from the $2500-$4000 some of the high-end laptops are commanding.
Lenovo Slim 7i Pro X
• 14.5″ IPS • AMD Ryzen 6900HS • 32GB RAM • 1TB SSD • GeForce RTX 3050 • 3.2lbs
This device lives at the intersection of light weight, good screen real estate, fast performance, and well-below-$2000 pricing. 
If you're apprehensive about carrying around a heavier 16" laptop to your lectures – but still want to have a bit more screen size to work with than a 13" model provides – the 14.5″ Lenovo Slim 7i Pro X is a good in-between model.
Quick Review of the Lenovo Slim 7i Pro X
Performance: Lenovo offers a dedicated GPU option for the Slim 7i Pro X, which enables you to play modern games at decent speed – as well as do 3D rendering or 4K video editing, if you're doing that as part, or outside of your studies.
Display: Equipped with a 14.5" IPS panel with 3072×1920 (16:10 aspect ratio), display-wise the Lenovo is a good option for coding.
400 nits of brightness means it's good in low-light situations, like working on a programming project at night. Scrolling happens smoothly because of a 120Hz refresh rate.
Build quality: Lenovos are known for their strong build, and despite its light weight, the Slim 7i Pro X is no exception. Its aluminum chassis looks and feels high-quality.
Battery & portability: While the Lenovo is highly portable when it comes to its size and weight, its battery life is lower than that of a MacBook Air and other 13" models mentioned in this article.
As such, I have to rate it as decent, but not amazing for working while moving around campus. Don't expect it to last all day without a power source, especially if you're having it perform heavy computing tasks on the regular.
ASUS VivoBook 16x (2022)
• 16″ OLED • i7/Ryzen 9 • 16-32GB RAM • 1TB SSD • GeForce RTX 3050 • 4.3lbs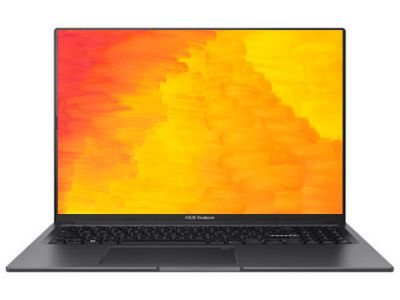 For its mid-range pricing, the ASUS VivoBook 16x features an exceptional display:
It's a 16-inch, 4K OLED model, with 16:10 aspect ratio giving you even more vertical space to work with. 
If image quality and brightness are of utmost importance for you, but you won't be needing a dedicated graphics card for your Computer Science studies –
and you want to save some money vs a top-of-line model – the VivoBook 16x might fit you well.
*AMD version
Quick Review of the ASUS VivoBook 16x
Performance: With an Intel i7 chip and 16GB of RAM, the ASUS isn't the fastest laptop you'll find.
It also isn't slow, either. For almost anything you'll do during your time at university (except demanding games and 3D applications), it should perform more than well enough.
Like with the Lenovo Slim 7i, there's a Pro version which does have a GeForce RTX 3050 Ti, should you need more graphics processing power.
Display: The beautiful OLED screen offers amazing image quality, great contrast and high brightness (up to 400 nits).
With a 120Hz refresh rate, scrolling through code or reading material from one of your Computer Science classes goes more smoothly than with other displays – not to mention its superiority when playing games.
Build quality: Being made out of almost all aluminum, you'd expect the laptop to feel fairly solid. And apart from some lid flex, it does.
Tolerances on the body also aren't perfect. All in all, the VivoBook has decent, but not amazing build quality.
Battery & portability: Sporting a 96Wh battery, the ASUS gives you excellent longevity for when you want to work on your courses but don't have the option to be plugged in.
In light-use scenarios, you'll get over 11 hours out of a single charge.
*AMD version
Microsoft Surface Laptop Studio 14.4"
• 14.4″ rotating touch display • Intel i7 • 16-32GB RAM • 512GB SSD • GeForce RTX 3050Ti • 4lbs
The Microsoft Surface Laptop Studio is an upper mid-range laptop with innovative ergonomics.
Unlike with the MS Surface Pro, you don't remove the keyboard to transform it into a full-on tablet.
But you can use it in three different modes, which does make it versatile for studying, presentations, and after-class entertainment.
Quick Review of the MS Surface Laptop Studio
Performance: This machine is just as powerful as a regular laptop. It comes in different configurations, all of which should suit a Computer Science major well.
The top end being an Intel i7 model with 32GB of RAM and a GeForce RTX 3050Ti. This can be considered an upper- mid-range laptop, offering great performance at a price well below the $2000-mark. 
Display: The Surface Laptop Studio's 14.4" touchscreen display has an IPS, not OLED panel – but it's colorful, very bright (over 500 nits), and fast (120Hz refresh rate).
At a 2400×1600 resolution, which translates to a 3:2 aspect ratio, you get a lot of extra vertical space compared to a traditional 16:9 screen. This is useful for students reading long documents, or looking at a lot of code from one of your Computer Science assignments.
Build quality: Like on all their business laptops, Microsoft went for a minimalistic design with the Surface Laptop Studio.
The aluminum chassis is well-built and looks professional. Mind you there is a gap in the top where it hinges to switch to tablet-like mode.
Battery & portability: The 3-mode feature has this laptop compete with other ultra-portable models. Unfortunately it's relatively heavy at a full 4 pounds.
Battery life on the Surface Laptop studio is excellent – you can get over 12 hours of low-level use out of it.
Unless you have to do a lot of high-intensity tasks, the battery should last you for a full day on campus without having to plug in to recharge.
The best budget laptops for Computer Science majors
Do you need a $1200+ laptop to be effective in your Computer Science major? You do not.
There are budget models out there that perform perfectly well for most of what you'll be doing during your degree: Reading, browsing the web, and developing small- to mid-sized applications.
Take a look at the 3 best portables that'll serve your studies without breaking the bank:
Lenovo IdeaPad 5 Pro
• 14″ • AMD Ryzen 5 • 16GB RAM • 512GB SSD • AMD Radeon GPU • 4.4lbs
With the IdeaPad 5 Pro 14" laptop, Lenovo has created an excellent lower-end option that should tick many boxes for someone studying Computer Science on a budget.  
If you're super price-conscious, you could even go for the non-Pro version, which has a slightly weaker processor and only a 1080p screen.
This would still be a decent setup for a student – one of the most affordable options out there that make sense.
Quick Review of the Lenovo IdeaPad 5 Pro
Performance: The AMD Ryzen processor coupled with AMD Radeon graphics and 16GB of RAM makes for plenty of performance for office and coding work, with some entry-level 3D rendering capabilities.
Display: At the IdeaPad's affordable price point, the 14" IPS touch display's quality is impressive. It has high 2K resolution (2240×1400) and reasonable brightness (300 nits) thanks to LED backlighting.
Build quality: Lenovo is known for solid build quality – and this extends to the IdeaPad 5. The chassis is mostly made out of aluminum, with only slight flex. The keyboard is nice with plenty of travel.
The only quips about the IdeaPad's build are that the display hinge isn't the strongest, causing some screen wobble if you're hitting the keys with more intensity.
Battery & portability: The IdeaPad 5 is quite light at 3 lbs, and has a compact size as well. The 56Wh battery can supply around 8 hours of power at light use.
If you take these features into account, Lenovo's budget model can rightly be called a great ultra-portable option for students (whether that be Computer Science or other).
MacBook Air M1 13" (2020)
• 13.3″ • 8-core CPU • 8GB RAM • 256GB SSD • 7/8-core GPU • 2.8lbs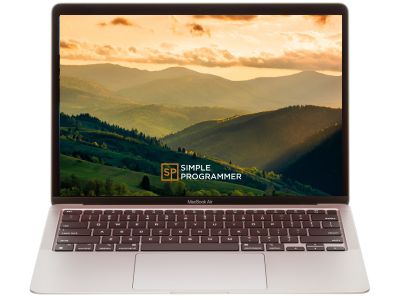 There's no question that Apple products are popular among Computer Science majors.
MacBooks are a complete package of style, portability and performance – which makes them ideal candidates for a student laptop.
But what if you're on a budget? Rest assured that you don't need a MacBook Pro with the latest M2 Max chip to do everything effectively to get your degree: A mid-range 13" MacBook Air will do just fine.
And you get the same attractive design, user experience and battery life – at a fraction of the cost.
Quick Review of the MacBook Air M1 13
Performance: For all but high-end games, graphics design, or huge databases and apps, the older MacBook Air 13" (2020) with the M1 chip will be more than powerful enough.
Display: The MacBook Air has a 2560 x 1600 resolution display (16:10 aspect ratio for more vertical space). It produces a beautiful and sharp image, and also has good brightness levels at over 350 nits.
Like most other IPS panels, its contrast and ability to display true blacks aren't amazing.
Build quality: If you're looking for the professional and stylish build quality Apple is known for, you'll find them with the MacBook Air as well.
Battery & portability: You'll be able to move around different university buildings without having to plug in all the time: The laptop provides between 8-10 hours of battery life in a mixed use scenario.
On top of that, it's super thin and light (just over 3lbs including charger), so it'll fit into even a small bag (as well as on top of cramped lecture hall tables), and you won't notice its weight at all while carrying it around.
HP Envy x360 15
• 15.6″ • AMD Ryzen 7 • 16GB RAM • 1TB SSD • AMD GPU • 4.2lbs
Another option for a more budget-oriented student is HP's 2021 model of the Envy x360.
The 15.6" device has a touch screen that hinges back fully, so it can double as a – to be fair, somewhat bulky – tablet.
The components built into the HP make it into a full-fledged developer laptop, though.
With a quality display and long battery life, you won't miss out on much if you go with this machine vs one of the pricy options.
Quick Review of the HP Envy x360 15
Performance: For its lower price point, the HP Envy x360 offers impressive performance. AMD's Ryzen 7 5825U is fast, and the integrated Radeon graphics are better than its Intel competitors at 3D applications.
16GB is a good amount of RAM for almost all applications. For most use cases during a Computer Science degree, this laptop will perform very well.
Display: The HP's display produces a nice image, and is quite bright at around 400 nits of brightness.
One drawback is the resolution – the Envy x360 features only 1080p FHD (1920×1080). The 16:9 aspect ratio might feel slightly cramped if you've ever worked with a 16:10 screen.
Build quality: There's nothing to complain about when it comes to the Envy x360's build – it's solid. Design-wise, it looks functional, not especially exciting.
Battery & portability: In spite of the smaller 51Wh battery, you can get a lot of use out of the HP without being plugged in: Over 10 hours under low load – thanks to the efficient AMD chip.
Unfortunately the HP is slightly heavy at over 4lbs, which hurts its portability score.
Computer Science plus gaming devices
If you're into computers, that often means you're an avid gamer as well. And when it comes to 3D performance, some of the machines I've mentioned unfortunately don't do super well for their lack of a stand-alone GPU.
Which is why I'd like to also list two beastly, dedicated gaming laptops at the end. Their raw power will be fun in modern games, but also useful for any other demanding application you're using as a CS major:
#1 Computer Science + Gaming
Razer Blade 15
• 15.6″ OLED • Intel Core i9 • 16GB RAM • 1TB SSD • Force RTX 3070Ti • 4.4lbs
For a Computer Science student who's also longing for high-end gaming performance, the Razer Blade 15 is a great choice. I've named it one of the top game development laptops available today.
Not only is it lightning fast, ready for any sophisticated programming task and the most recent 3D games – the Razer is also a pure joy to work with thanks to its brilliant OLED display.
Quick Review of the Razer Blade 15
Performance: As a gaming-specific model, with its state-of-the-art Intel processor, ample fast and upgradeable RAM, and powerful GeForce RTX graphics, the Blade 15 blows most regular Computer Science laptops out of the water when it comes to processing speed.
Display: The optional OLED display creates a beautiful range of colors, at high contrast and brightness.
Being a gaming laptop, the Razer Blade's screen options range from 144Hz to a lightning-fast 360Hz. This means games and other content will display in super-smooth fashion.
Build quality: The laptop features a strong, all-metal build that looks attractive and exudes quality.
Battery & portability: Unfortunately, the Razer's high-performance components cut into its battery life – it'll last a bit over 5 hours in a medium use scenario.
The weight is fine at 4.4lbs. Do know that when you're going for such a powerful machine, you'll inevitably be sacrificing some portability for the excellent gaming ability.
#2 Computer Science + Gaming
Lenovo Legion 5 Pro
• 16″ • AMD Ryzen 7 • 16GB RAM • 1TB SSD • GeForce RTX 3070 • 5.7lbs
Another option for a hybrid gaming and Computer Science laptop is the Lenovo Legion 5 Pro.
It's much more affordable than the aforementioned Razer Blade, making it ideal for when you want good gaming performance during your time as a student, without having to spend top dollar to get it.
Quick Review of the Lenovo Legion 5 Pro
Performance: An AMD Ryzen 7 chip and GeForce RTX GPU make for fast performance in games, graphics design, video editing, and all kinds of demanding programming applications.
Display: The Legion's 16" 2K (2560×1600) display with 16:10 aspect ratio gives you a lot of screen space to work with. As a laptop for gamers, the Legion 5 Pro comes with at least 165Hz refresh rate.
Image quality is good, with outstanding brightness (over 500 nits), and high contrast. Even the black levels aren't bad, considering this is an IPS panel.
Build quality: The Lenovo is built very solidly (which also results in it being quite heavy). It doesn't flex much, has good build tolerances, and is overall constructed to a high standard.
Battery & portability: Relative to the Legion Pro's high performance, its battery life is surprisingly long at over 7 hours of office-style use.
It is quite bulky and does weigh 5.6lbs, making it one of the less portable laptops for aspiring Computer Scientists in this review.