I first heard of Dan Martell when I used his on-demand mentoring service, Clarity. A while later I started seeing a few of his videos showing up on YouTube and I knew I had to meet the guy. I emailed Dan and asked for some of his time and I was amazed that he answered with a "yes." Dan, immediately gave me some advice that I changed the way I run Simple Programmer and helped me reach the scale that it is today. Anyway, Dan is pretty awesome. He's started several companies with some really big exits, including Flowtown and Clarity, and he's also an active and successful angel investor. Dan has some deep programming roots as well.
Check out the video interview with Dan Martell here. Below is the Q&A I asked Dan put together to share on the site.
For a programmer wanting to create a software business, what are the most important steps they should take to get started?
There's 3.
Learn how to sell … but I'm not talking about sleazy salesman type stuff. I'm talking about transferring of enthusiasm. Great sales people are communicators, they get you excited about their solutions. That's what all founders need to start learning BEFORE starting on the product.
Build a clickable prototype. Don't BUILD. Put the keyboard down… well not really, but you get the point. Don't waste your time by building something no one wants. The best approach is to build a clickable prototype and show it to customer.
Get pre-orders … or revenue. Before you quit your job, I suggesting getting to $1000/month in revenue for your product, or find 10+ customers to pre-buy your solution (with estimate to get to that level of monthly revenue once it's done being built).
So to recap, 1) learn to sell, 2) build a prototype, 3) get pre-orders.
If you want to learn exactly how to do those steps, I have a course online here: www.ideatoexitonline.com that goes over these.
What is an authority engine? And why should developers care about building one?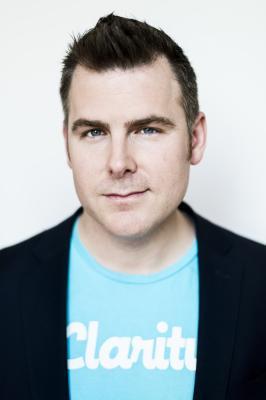 The authority engine is a process for creating content that your customers WANT to read and helps you build your personal brand.
It's a systemized way to create content and repurpose it.
If you look at my YouTube videos, you'll also noticed that I write a blog post each week from them AND use that same content for my newsletter email AND upload to Soundcloud for audio listeners AND report on Medium, Quora and LinkedIn.
I also use that content exclusively to build my Twitter & Facebook following.
The key to the content is starting from your customers perspective.
Email them and ask "Whats the top 3 biggest challenges you're having in your business right now?" then look at the ones you can help with, shoot a video (or a blog post with the solution) and share it with them.
Overtime you'll build an Authority Engine that helps drive massive amounts of traffic to your website or company, and builds a loyal community of buyers.
Why is is important to think about an exit strategy when you first start building a business?
If you don't know where you're going, then any road will get you there.
Stephen Covey said "Begin with the end in mind."
If you start a business, it's usually because you have aspirations to build financial & personal freedom. That can only happen if one of two things happen.
You get acquired by a big company, generate a financial windfall and hope that amount provides enough money to live of the interest and retire.
You build the business in a way that you can afford to hire a CEO (or COO) to run the business so you can travel the world.
If all you do is build a big company that requires you to work in it, then essentially you've got a high paying job. There's a big difference between being a business operator AND business owner.
That's why it's so important to decide from the beginning which option you want.
What typically happens is 1) they fail or shut it down once it gets hard, 2) they work on it their whole life and shut it down and hope to retire on their savings.
Having a plan for a positive outcome will help you make better decisions today (and everyday after) towards that vision.
I've got a great idea, but I have no idea how to get traction and market it. Can I hire someone to do that for me?
You could, but you'll need to do some work first.
For example, you'll need to research and discover who your ideal customer is?
You'll also need to ensure your business model supports investing in marketing to grow (most don't).
Any marketer can setup Google / Facebook / LinkedIn ads, but does it attract the right customer … and do you make enough money from them to pay for that help?
I would suggest learning enough to manage someone else .. so that way you don't get taken advantage of.
What is Idea To Exit? And who is it for?
Great question :)
www.ideatoexitonline.com is a course that teaches someone who's looking to start a software company, or one that's been building one but can't seem to find their stride, on all the steps to start, grow and (if they'd like) sell their business.
I go over some key areas in this course
No cost product development
True customer validation
How to build a Growth Engine
3 phases of fundraising
Exiting and the 21 people you need to know.
I also share some strategies for dealing with reject, a few killer tips on getting traffic to your business or crowdfunding campaign and how to meet potential investors that guarantees a response.
It's everything I've learned over the past 15 years building 5 technology companies, investing in 30+ others and help thousands of entrepreneurs build technology companies (SaaS, Mobile, Social, Marketplaces, etc.).
What books would you recommend that any potential entrepreneur should read?
Inline with my feedback above, I'd recommend
The Ultimate Sales Machine by Chet Holmes
Purple Cow by Seth Godin
Unlimited Power by Tony Robbins (Marc Benioff / Founder of Salesforce business coach).
That will give you a great well rounded understanding of the major areas of business you'll need to master to succeed.
Be sure to checkout www.ideatoexitonline.com for the software specific aspects.