5 Front-End Tools To Ease the Web Development Process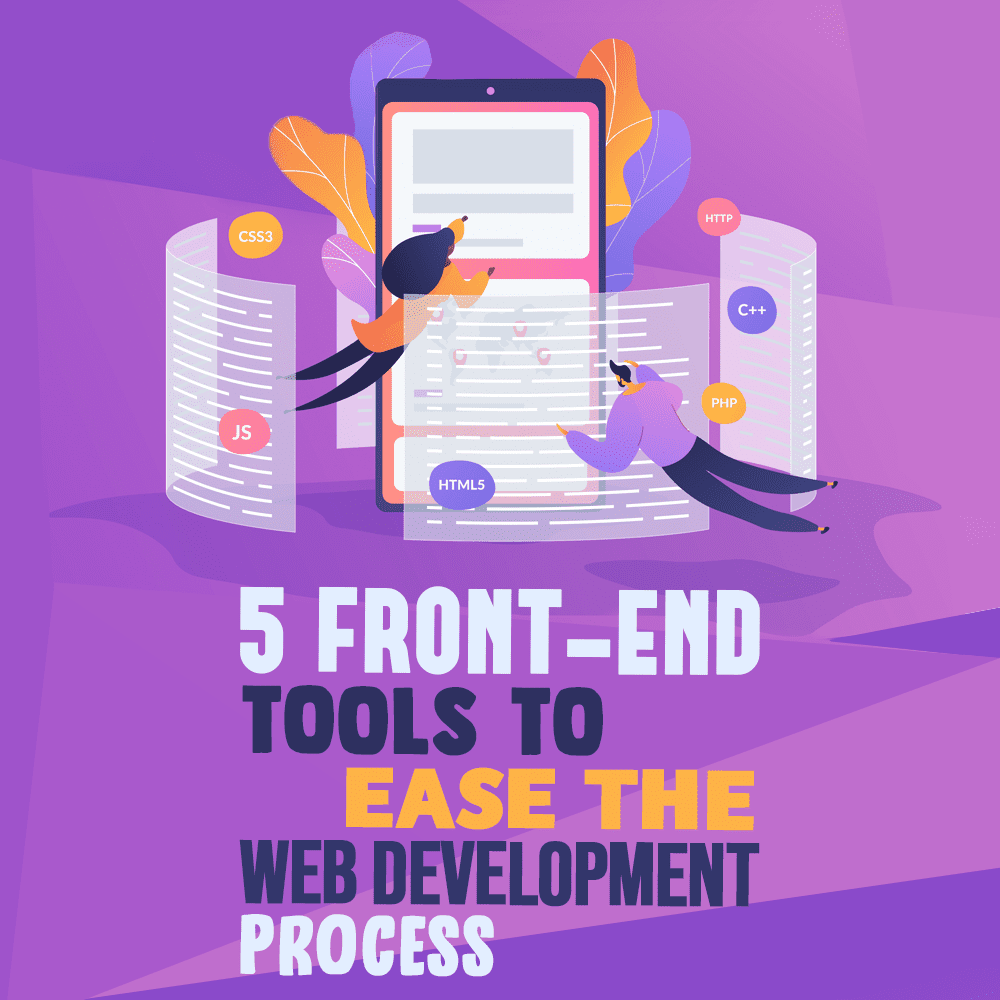 Being a web development writer for over two years, I have been part of many web development communities in order to stay updated with the trends. The most common conversations I have come across have always been about how to ease the process of web development.
Some programmers are on the lookout for tools that allow them to write less code, while others need help with quicker testing. So, I decided to write a blog post featuring the top web development tools that help you do just that.
However, one blog post will not suffice if I have to mention both the front-end and back-end tools in detail. I'll cover the back-end tools in my next post. For now, here are the five most useful front-end web development tools that will enable you to create more with less.
Atom—for Quicker Code Editing
Whether you are a fledgling developer or a veteran, you need a high-performing code editor to increase the efficiency of your coding process.
Atom is currently one of the best code- and text-editing tools in the web development ecosystem. It was launched by GitHub and thus, is owned by Microsoft. The best part about it is that it is completely open-source and you can use it as an integrated development environment (IDE) for building web applications.
In addition to having features like finding and replacing text/files, Atom is also developed to provide smart suggestions for auto-completion in the coding process.
Atom is pretty easy to use, and it supports cross-platform development. The only downside to Atom is that you need to use CoffeeScript if you want to write packages in it.
Chrome DevTools—for Quicker Debugging
Chrome Developer Tools is one of the most prominent web development tools that help you test and debug a webpage directly on the Chrome Browser. Not just that, these tools can also help you edit the Style and DOM of a webpage.
Two special features worth a mention are the tools Device Mode and Sources Panel. The Device Mode in Chrome DevTools helps you test how responsive a webpage or a website is. On the other hand, the Sources panel enables you to perform numerous tasks like viewing page files, debugging JavaScript code, creating JavaScript Snippets, and setting up Workspaces for file sharing and editing.
However, note that Google Chrome gets feature updates every six months. So if you want to get the most out of Chrome DevTools, ensure that you stay updated with all their new upgrades.
Bootstrap—for Customized CSS and UI Development
Bootstrap is arguably the most popular front-end UI framework globally, and it has remained so for over four years. It's in fact a whole UI kit that enables you to design mobile-first sites pretty quickly. Bootstrap consists of HTML and CSS design templates for numerous UI elements like typography, boxes, labels, buttons, etc.
The major advantage of Bootstrap, that has attracted the attention of a large number of web developers, is its customizability. All the grids, components, and layouts in Bootstrap are very easily customizable. It's also easy to offset and nest columns in Bootstrap grids regardless of the type of web application.
Did I mention how simple it is to integrate Bootstrap on both new and existing websites? Plus, you can leverage a number of third-party tools to customize your UI with Bootstrap.
Bulma—for Easy CSS and UI Development
Just like Bootstrap, Bulma is also a front-end UI framework that comes with pre-built components. However, when you want to work with Bulma, you can start right away without any prior knowledge of CSS. So that's a huge plus.
Bulma is very easy to use, and it creates very lightweight CSS files if you do build one with Bulma. It is based on Flexbox, which means you can create responsive columns for your website in just a few clicks.
What I love about Bulma is the flexibility it offers for building the UI of your website. Bulma comes with a modular architecture, so you only have to use and work with the elements that you need in your website. There's no need to get acquainted with every feature of the framework if you are just beginning your Bulma project.
Svelte—for Building Modern Web Apps That Work Faster Than Traditional Web Apps
Svelte has been a revolutionary component framework since its launch in 2018. While most traditional frameworks like Vue and React do most of their work on the browser, Svelte takes the opposite approach.
When you use Svelte for front-end web development, the code gets compiled at build time itself. So there is no need for Virtual DOM diffing, and the app performance increases drastically.
Of course, JavaScript, HTML, and CSS are some of the major components of Svelte. They can be found in the form of .svelte files in the framework toolkit. The best part? These components are boilerplate-free in Svelte, so you get a lot of work done by writing fewer lines of code.
Just like other front-end frameworks, Svelte can be integrated with other tools and technologies to build the aesthetic, efficient UI of your web app with the least possible effort.
Web Development Tools Can Really Help Your Productivity
These and other front-end web development tools have gained massive popularity among the developer community because of how easy they make it to build web applications.
While Atom is great for code- and text-editing, nothing beats Chrome Devtools when it comes to debugging. Bootstrap and Bulma are super useful frameworks for creating a user-friendly web design with their pre-built design components. Lastly, Svelte has entered the web development landscape with a revolutionary approach to how a front-end framework should work.
In the end, web development tools provide you with a ready-to-use structure, or at least components, that eliminate the need to build everything from scratch. And this can do wonders for your productivity.