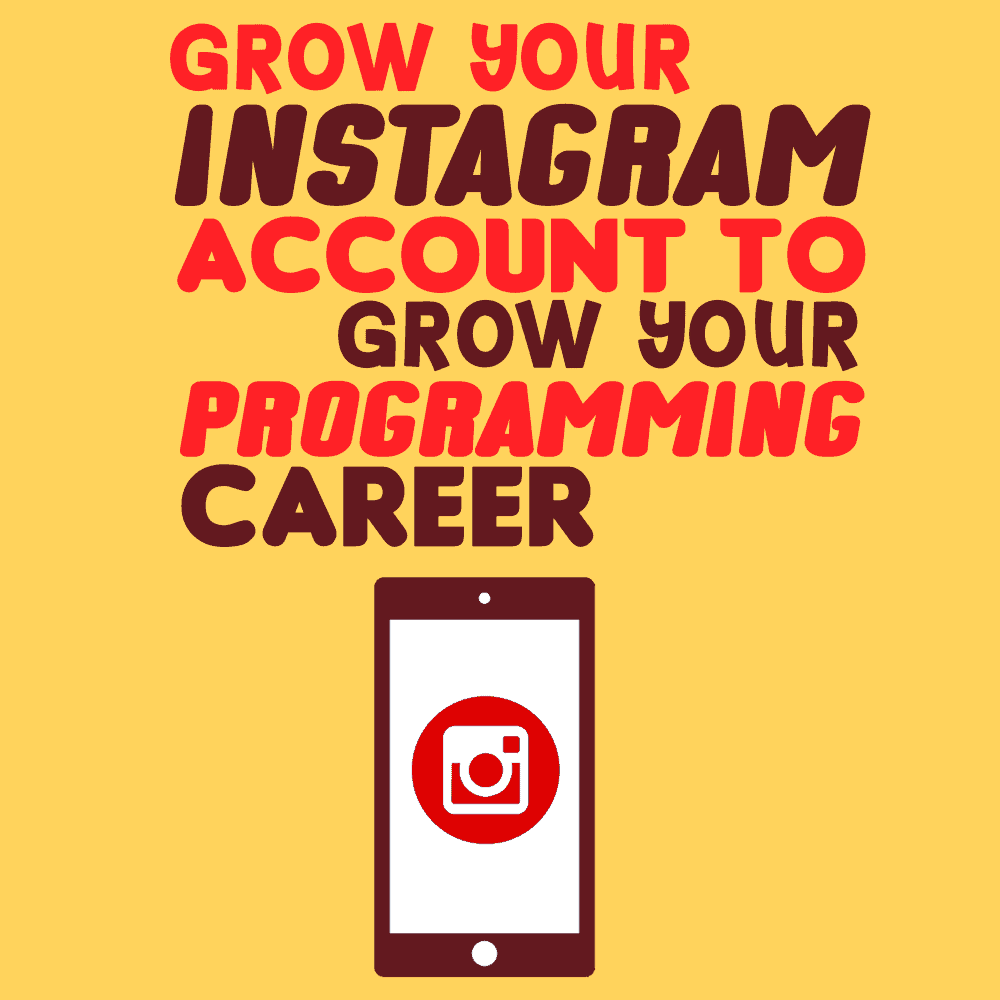 If you're running an agency or working as a freelancer, you know that it can be hard to stand out when pitching to clients. You have low-priced development talent from across the globe vying for small jobs, and then you have large agencies with years and years of experience competing with you for large projects.
A number of young programmers and entrepreneurs are working to differentiate themselves and increase their discoverability by growing their following on social media. Nowhere is this easier, or more evident, than on Instagram.
While it's true that Instagram is highly saturated with photos of models and stale memes, there is also a vibrant and highly engaged community of programmers and user interface/user experience (UI/UX) designers sharing their photos and comments.
Instagram is different than Twitter, Facebook, or LinkedIn because you have to up your visual game to get followers interested. The platform relies on discoverability through hashtags and the "discover" page. This means that you can engage with the programming community in a direct, personal way by offering a curated window into your work.
Getting started with Instagram is easy, but it takes some practice to find good ways to engage and the right kinds of images to post. Once you have an active and engaging Instagram feed, you'll find it's easy to build and participate in a community, which can lead to new career opportunities for you.
To help you get started, here's a guide to what you should post on your Instagram account and how you can grow your follower count.
Benefits of Instagram for Programmers
When you browse popular programmer accounts on Instagram, you will often see that their bio is a promotion tool. Some Instagrammers promote their web development agency, some promote their YouTube channel, and others promote a piece of software that they've developed.
By leveraging their Instagram following, these programmers can quickly drive free traffic to whatever it is they're promoting. It's a great long-term customer acquisition strategy and a good way to build a professional brand.
One example is Andres Vidoza (@andresvidoza), a web developer from Canada.
In just two years, he has built a following of over 55,000 users and has founded a branding agency off of the back of that popularity. He regularly is exposed to potential clients as they're scrolling through their search page or their favorite Instagram hashtag. He has grown an impressive list of clients in UX and ecommerce despite still being a university student.
 

View this post on Instagram

 
@andresvidoza has become known for his creative use of doodles in his posts.
Another benefit of sharing your programming photos on Instagram is the supportive and diverse community. Unlike sites like Reddit or Stack Overflow, the Instagram coding community is overwhelmingly positive and uplifting toward other members. It is common to see developers sharing a breakthrough that one of their friends have made, sharing screenshots of video calls together, and leaving motivational comments on other coders' posts.
Dhanish Gajjar (@dhanishgajjar) helped to create the Instagram hashtag #buildupdevs. The purpose of this hashtag and initiative is simple: to encourage and uplift other developers.
Better yet, it's so simple to make yourself a part of this community.
Simply add the hashtag #buildupdevs to your posts and feel free to leave positive and helpful comments on other posts within the community. Just like that, you're part of a network of established developers that can help you when you need it!
What Should You Post on Instagram?
Instagram is all about the visual, so posting pictures of your work setup, finished projects, or selfies are all great content. Your audience is looking for a window into what makes you such a great programmer; you can share your routines, tips, and recommendations to start a great discussion.
It helps to inject as much of your own personality into your posts as you can, but there are also some visual tricks and trends that you can use to quickly rack up likes and comments.
Epic Setups
Desktop setups have long been a staple in the gaming and tech communities, but programmers do it a little bit differently. Instead of crazy neon lighting (though there is still some of that), the programmers of Instagram focus on clean, minimalist setups, primarily focused on functionality.
A few years ago, you would see a lot of programming setups with three or more monitors. Now, an ultrawide screen full of code is the trend. A huge screen has proven to be an engagement magnet. Combine that massive screen with a great view? You've got yourself a trending post.
 

View this post on Instagram

 
Despite being a relative newcomer on Instagram, @mia.codes gets thousands of likes on her posts because of her beautiful view and desk setup. 
Plan Your Backgrounds
Tech YouTuber Mike Wat says that the secret to desktop pics all comes down to a great wallpaper. If you don't want to shell out for an expensive ultrawide monitor, or you just prefer to work on multiple screens, simply find an attractive wallpaper on Google and use that same wallpaper across all your different screens. The consistency looks great in photos.
 

View this post on Instagram

 
Photo by @themikewat
Add Interest With Peripherals
Another fast and easy way to add interest to your setup photos is to add some interesting toys or collectables to your shot. Rubik's Cubes, action figures, and even limited edition soda cans all inject some personality into popular posts.
 

View this post on Instagram

 
@astronomer_amber stays very on-brand with her space-themed desk accessories
Another thing to keep in mind is that the Instagram algorithm rewards posts that get a lot of comments. One way to generate these comments is by showcasing a mouse or keyboard that nobody has ever seen before. People are bound to ask whether you recommend it!
 

View this post on Instagram

 
@girlknowstech always generates a lot of comments when she posts with her stand-up ergonomic mouse.
Light up Your Station
Extreme LED lighting is an idea borrowed from the PC gaming community (check out the #RGBallthethings community to see this done to the extreme). Nanoleaf produces fully customizable lighting strips that are used by a lot of popular YouTubers and tech Instagrammers.
 

View this post on Instagram

 
Video via @spegiu
Know Your Angles
If you really want to take your Instagram game to the next level, you need to move beyond just taking photos on your iPhone. @chau_codes has set up a photography rig in his home office so that he can take some really impressive overhead shots. With these unique angles, his account following is growing very quickly and his posts have been shared all across Instagram.
 

View this post on Instagram

 
@chau_codes puts in the extra effort to get unique angles like this.
Get in the Frame
Finally, to get some more engagement, put yourself in the shot. It may feel a little uncomfortable to post your selfies onto the internet, but this is Instagram, after all—selfies are proven to work! People are much more likely to interact with you when they can visualize the person behind the username.
 

View this post on Instagram

 
How To Quickly Grow Your Instagram Account
Want to speed up your account growth even more? Put in a little extra effort and deploy these proven methods to grow your following.
Engage With the Community
Instagram is a two-way street. You need to engage with other people's posts if you want them to engage with yours. Famous entrepreneur Gary Vaynerchuk champions his "$1.80" model: Leave your two cents (feedback or opinion) on 90 posts daily, and you will very quickly begin to see results.
Engage with Instagram accounts that inspire you, with popular posts in hashtags that are relevant to you, or even with celebrities. Leave thoughtful comments that can start a conversation, not just something generic like "nice pic." Put some thought into what you comment.
Instagram has an issue with bots and low-effort posts, so just putting a little time and effort into your engagement can have a huge impact, and people will quickly take notice.
Use Instagram Stories
Instagram Stories are ephemeral videos that disappear from the platform after 24 hours. Because these posts are temporary, you can be more informal here. Share what you snack on while you work, or your favorite music to code to. You can tell a "Story" through multiple story posts about an exciting project you're working on. The more your Instagram audience gets to know the real you, the more they will continue to engage with your account.
 

View this post on Instagram

 
@estefanniegg recently used her Instagram stories to encourage other Instagram makers to pitch in by creating and donating 3D-printed face shields to frontline healthcare workers. 
Hashtags
Spend some time researching hashtags to give your posts more exposure. Obvious hashtags like #programming are often swamped with low-quality content from around the world. You will usually get the best exposure from specialty hashtags that take a little more time to discover.
The best way to discover great hashtags is to look through what other programming Instagrammers are using. Take stock of what is being posted under each hashtag: Is it relevant? Are the posts high-quality? Curate a list of good, relevant hashtags to use with each of your own posts.
A good example is #100daysofcode. People use this hashtag to document a 100-day learning journey. Every day for 100 days, they journal about what they've learned and any struggles they're having through the process. Many Instagrammers who complete their #100daysofcode journey find themselves with a few thousand followers by the time they reach day 100.
Consistency
As with anything worth doing, consistency is key to growing your Instagram following. You aren't going to grow a following of 50,000 other programmers after just 10 posts. You need to post consistently high-quality photos, engage with others in the community, and genuinely enjoy being a part of the social media world.
The best rule of thumb for post frequency is to post as often as you can without seeing a reduction in the quality of your content. For some people, that is three times each day; for others, it is as infrequently as once per week.
Start Growing Your Instagram Today
Every month, programmers with brand-new Instagram profiles are building prominence and gaining traction. There's no reason you can't do the same thing. As your Instagram presence grows, so will your professional network and your career opportunities.
Take interesting, high-quality pictures and post them consistently. Use well-researched, relevant hashtags and engage positively with the online programming community, and you can watch your account grow week to week.
You will gain a supportive network, make some new friends, and you may even be able to leverage your social influence to gain new clients or secure a new job. Instagram is fun and can benefit your career, so go create an account and take some setup photos!