In this era of ever-evolving technology and a new technological advancement every minute, mobile-phone applications are not only the present but also the future.
However, with so much demand for apps, more and more developers are coming up with new app ideas. But it cannot be enough for you to just create a good app and sit at ease. If you want your app to gain popularity and success among its target audience, you will have to continuously keep track of your app, its utility, and the bugs, too.
This post will highlight the reasons why your users may be losing interest in your app.
For More Memory Space
According to TechCrunch, nearly one in four people abandon mobile apps after only one use. This is quite alarming and troublesome for app companies. The reasons behind users' uninstalling or deleting these apps lie on a very large spectrum. People tend to switch to whichever option offers them better utility. If the user finds a fitness app that loads faster, has fewer ads, and has a larger variety of workouts compared to your app, for example, they will switch to it.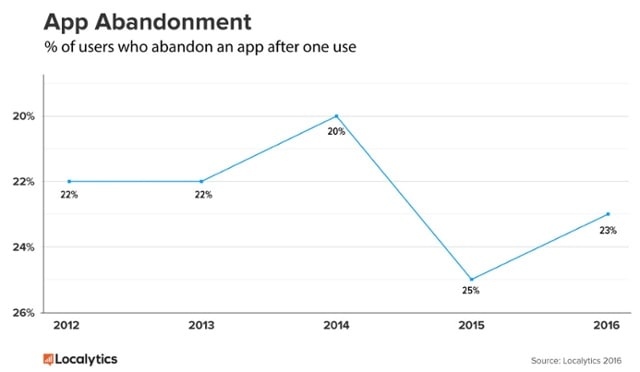 The phones of your users are already brimming with innumerable pictures and uncountable songs. The last thing they need is a heavy app. They will automatically start looking for alternative apps if yours takes too much of their precious memory storage. So, it is advisable to design an app of an appropriate size.
An interesting statistic on app usage by TechCrunch: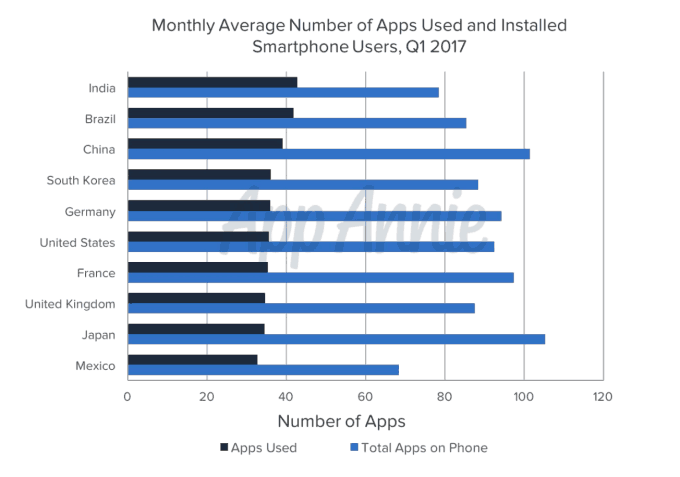 Which means a successful app is one that users open on a daily basis because they are genuinely interested in what it has to offer. Keeping the following things in consideration will help you build an app users don't lose interest in:
Easy onboarding – Too many sign-up steps can lead the user to abandon your app.
Push notifications – As long as you send useful notifications and send them smartly, without pushing the user too much.
Personalization – Design a more unique, relevant experience for the users.
Offering an incentivization program – Give users incentive to use your app. It could be anything from mobile-specific rewards, specialized content access, coupons, special promotions, and other offers to help drive conversions and encourage engagement.
Encouraging two-way communication – Ask your users for feedback.
Inefficient Service
It is actually the little things that determine the quality of your app and people's interest in it.
If you want to provide your customers with a pleasant experience on your app, make sure it solves the users' problem and that it runs flawlessly. This will not only keep the users interested but will also attract new customers.
To make sure your app runs flawlessly, keep in mind that when you are putting your app in the market, you are providing a service to your users and customers. A service is only welcomed when it is done right, and an app is only welcomed when it delivers what it promises. Make sure that the execution of your app is smooth. If it is not, you will lose users. In order to keep people engaged in your app, you must ensure that:
Errors do not pop up every five minutes.
The app is fast, not sluggish.
Lack of Market Research
If you want your app to not only become successful at the time of its launch but also stay in the market for the longest time possible, thorough homework is your best bet. Here, homework means doing market research for your app beforehand. This enables you to get a vivid idea about what exactly the users are looking for.
As a result, you will design an app they were all in need of, and they will frequently engage with your app because it will be an accurate reflection of their demand. Lack of market research can render all your hard work and efforts useless because it will not be of much use to your users. Consequently, they will have almost no interest in your app.
Below are some examples of apps that solve certain problems and hence are rendered useful and engaged with on a regular basis:
Problem: Keeping track of classwork is complicated.
Solution: Remind is a tool to make staying on top of schoolwork easier. Not only does the app send across messages in real time, but it also lets you use the delivery receipts option to see who's reading your messages; this helps teachers ensure their messages have been communicated to every student/parent on time.
Had the developers not kept this in mind while creating the app, the teachers would be able to send messages, but they would keep worrying about whether or not their messages were received. This would have caused delays in the students' homework, and hence this fault in the app would make the users lose interest in it.
Problem: Keeping track of a fitness routine is tedious.
Solution: MyFitnessPal is a free calorie counter that makes managing a fitness routine quicker and easier. Not only does it count the calories that you take in, but it also subtracts the calories according to the exercise you do.
Had it only been a calorie counter, the fitness enthusiasts would only know the exact number of calories consumed. For a fitness app to be effective and useful to a fitness enthusiast, it is important for it to tell you both the number of calories spent AND consumed.
Problem: I can't pay a friend when I don't have any cash on hand.
Solution: Venmo is a digital wallet that lets you easily pay friends back when nobody has cash.
Not only has it simplified peer to peer payments, but it is also accepted at over 2 million locations (almost as much as PayPal). If it were not accepted at so many places, its utility would have lessened, and it would not have gained so much popularity.
Stagnancy
Owing to globalization, in addition to other factors, world trends are shifting all the time. It is extremely important to keep changing with the world around you because people's preferences and choices begin to change as well. You can create a great app and attract a lot of users, but you will lose most of them if you fail to evolve with time. If you do not offer the users something in coherence with their preferences AND the current trend, you will lose them.
Remember how Facebook was a decade ago and how, gradually, minute (almost negligible) changes have been made every now and then to it? In 2013, the news feed started to look more like a digital newspaper, filled with information tailored to each user. The company gave you more ways to decide what you want or don't want to see.
Later, the company expanded these tools to let you choose the friends and brands whose posts you want to see first. That means a newshound can choose to highlight news articles, for instance. You can also unfollow a specific friend's posts while still staying connected on Facebook; you can decide to follow that person again later.
Well, no wonder the app has become such an important part of our lives. It truly knows how to evolve!
So, one of the reasons why your app may be losing users is that you are keeping your app stagnant and not letting it grow with world trends.
According to Sara MacQueen, an expert in mobile tech and business, here are five things that your organization should include as part of your mobile app maintenance plan:
Design and feature enhancements.
Yearly app audits.
Code maintenance and security updates.
Performance monitoring.
App store listing maintenance.
Dull Interface
There is a theory that the first seven seconds your user spends on the app pretty much determine the future of your app on their phone. And a bright, clear, and positive interface will go a long way toward extending that first impression period.
According to StoreMaven Academy, you have roughly three seconds to explain to visitors what your app does. In those few seconds, visitors will exhibit one of two behavior types:
Decisive visitors will decide to install or leave without ever engaging with the page.
Exploring visitors will choose to browse through available content on an app store page.
Endless Notifications
Notifications are important; they inform your users about the functionality of your app and keep them updated about it. You must fully understand the different kinds of notifications and messages before developing your app.
There is a difference between good and bad notifications. According to Medium, here are some examples of what we consider good notifications:
Favorite soccer team just scored a goal.
A startup just got acquired.
Barack Obama just started a tweetstorm.
In simple words, notifications from publishers can either be very useful or very annoying. There are only two properties a notification needs in order to be good. It should be:
Contextual.
Time-sensitive.
And these properties answer these two questions:
Contextual – Why did I get this notification?
Time-sensitive – Why did I get this notification now?
If the answers to these question are clear within the split second that we got the notification, we immediately get the value. Otherwise we start wasting brain cycles to determine if we should open it or not, and that's where it starts to get annoying.
Nobody likes to be continuously bothered by app notifications. If you think you are losing your users, look at your notifications routine. If the alerts and notifications are too frequent and useless, there is your answer. Most people do not like random notifications popping up on their phones all the time. Moreover, a lot of people have their anxiety triggered if they receive an endless amount of notifications every day on their screen.
Feeding On the Mobile Data
Almost no one has an unlimited data plan. They have a very calculated amount of data they can use for mobile apps. Some apps are notorious for using too much of users' mobile data. You will have to come up with an app that doesn't do that. Users are inclined to delete the apps that use too much of their data.
Snapchat, for example, is notorious for using too much data. One way you can prevent data drain is by making sure your app asks for permission before it updates. Another is by giving the enable/disable option for autoplaying videos (Facebook gives that option).
The above-mentioned reasons are why your users may lose interest in your app. In order to keep your users and attract more, try to increase utility and avoid useless elements, and if you are stuck on any of these, work your way out of them. Also, make sure to do your research and determine which platform(s) you are developing your app for first.