Soft and Interpersonal Skills for Developers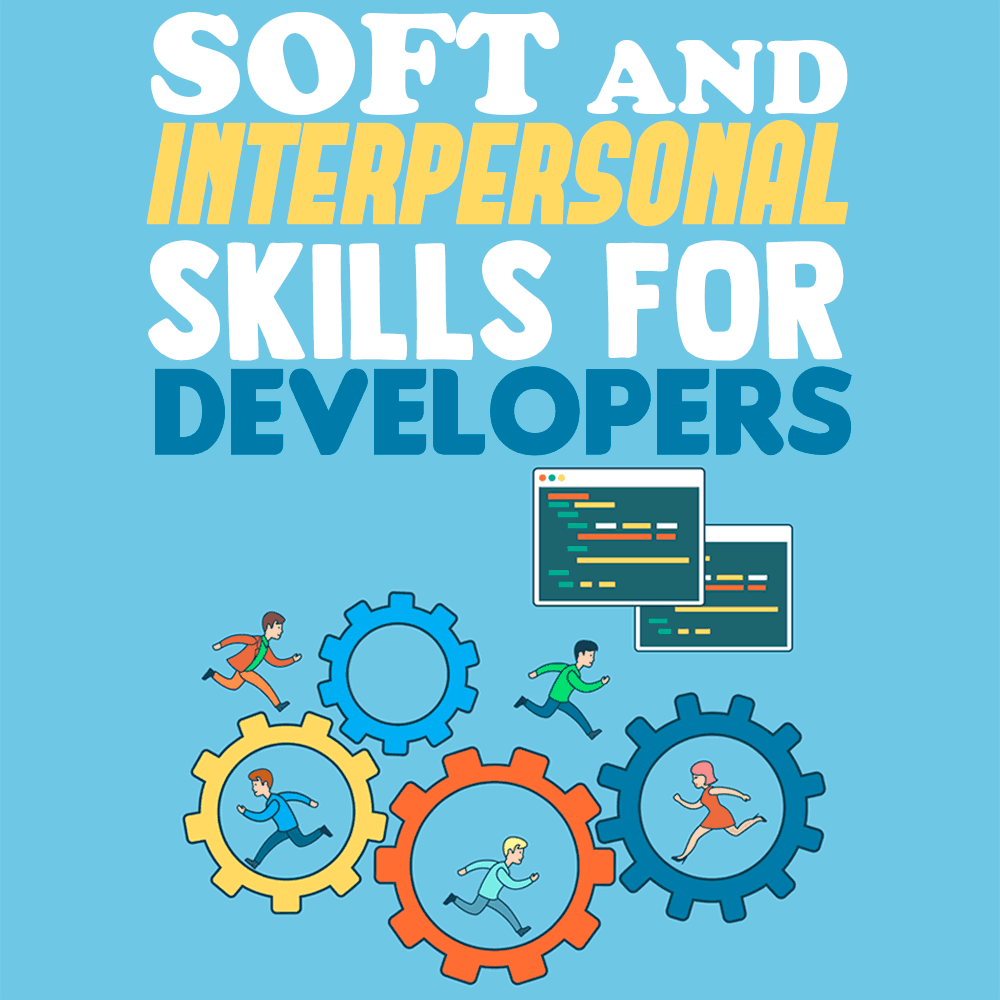 As a developer, you can likely do a lot on your own. Most developers I have come across in a custom software development company have analytical thinking. They tend to be good at picking up new information and understanding it. And with the unlimited resource that the internet is, programmers can not only go without relying too much on others in their work, but they can also thrive.
Until they don't. Yes, you can do just about anything yourself, but that puts a cap on your personal development—both as a professional and a human being. After all, even developers are a part of society. That is why you should advance not only your technical skills but your soft skills as well.
Soft skills is defined as "personal attributes that enable someone to interact effectively and harmoniously with other people." However, it has become a wide umbrella term that can refer to many different things, from being a good, active listener, to possessing empathy and a good radar for how you are being perceived. It can also mean sharpening your intuition toward more subtle interactions and becoming more comfortable speaking openly and being a part of discussions. Different people may want to build different aspects of their skillset.
Communication Is Key
In this article, I will be focusing more specifically on interpersonal skills, as being able to communicate properly is a foundational skill that will drive your career further. So here are a few reasons why you should consider paying more attention to the commonly neglected soft skills.
Companies prefer team players.
Working as a part of a team introduces you to new ideas and a different point of views.
Working with others allows you to finish projects quicker and add more functionalities.
Leadership positions rely heavily on interpersonal skills.
Building relationships (personal, professional, or friendly), depending on your ability to connect with people. And as humans are social creatures, we feel better when we build connections.
There is so much more you can achieve in your career if you widen the skillset you invest in. After all, it is so easy to neglect the importance of soft skills when you are focused on building technical expertise to do your job.
How Do I Build Soft and Interpersonal Skills?
Yes, there are people who are intuitively good conversationalists and feel much more comfortable in social environments. They are also more in touch with expressing empathy, compassion, understanding of others, etc.
However, as it is a skill at its core, the ability to communicate well with people can be built up over time. Whether it comes naturally to you or not, there are always challenges when it comes to interpersonal skills. And there are also certain ways you can take the initiative to improve over time.
Pick Up a New Skill
You could say that trying to improve your interpersonal communication is a skill in itself. But the key ingredient to do that is to be introduced to more situations where you are surrounded with people and interact with them.
So choosing a skill to pick up can serve as a bridge to more human interaction. It can be an art class, a spinning class, a jogging group, climbing, a book club, or classes to learn how to cook and learn to make pasta. There are so many other things you can do as a hobby that have the potential to be a social experience. Just pick something that you feel comfortable with, and look for groups you can join. If you want, you can go to your local community center and see what groups they have—in any field you are interested in. You can start with something you have dabbled in and are fairly comfortable with. Or a completely new skill that you are passionate about.
Volunteer for Team Projects
Regardless of the specific project you are developing at work, you probably need to cooperate with teammates a fair amount. Perhaps you already work on team projects, and you don't have to go out of your way to find more.
But if your work is more individual, then perhaps you should approach your manager and ask for more team-oriented work. You can also volunteer to start or join a club at work. You can organize a team building event, or you can simply approach your colleagues and ask them to gather up and share lunch. On the other hand, depending on the company you work for, you might come across a new project. If you are a good fit for it, you can ask to be a part of the team and collaborate closely with other developers, designers, marketers, or contractors.
Another way to apply your technical knowledge in a team is by starting a side project on your own or with a friend/colleague who has a skillset that is suitable for your project idea. Picking up a passion project outside of work allows you to build up your technical expertise by challenging yourself to carry it through on all levels. But it is also a wonderful way to connect with like-minded people and build partnerships.
For example, I am a full-time content marketer as well as being a web design student. At the moment, I am building my own website from scratch so I can then share independent content. To make that possible, instead of using WordPress or Wix, I approach front end developers I work with and ask for advice or help when I need it. You do not have to create full-on partnerships, but learning to lean on and talk to other people has helped me tremendously, both with my project and personally.
Attend Events
Personally, I prefer small groups of people. I feel better with a small circle and am more comfortable participating in a discussion when I feel I have a better shot at being heard in a conversation.
For me, big events are not something I participated too much in. A couple of days ago, I attended the ABLE Activator event hosted in our Dreamix office. The event had around 40 participants, six of which were speakers who came in to talk about their struggles and successes when building their business and to share valuable advice. In addition, the event had a pizza dinner that encouraged everyone to gather up and have discussions at the end.
Throughout the experience, I was able to receive advice on topics I had thought about. But being in direct contact with and talking to people who have gone through the experience of building a business makes a much stronger impact than reading it online.
The advice I heard was not revolutionary in the context of something that has never been spoken of before. But it was a great opportunity for me to talk to those people and ask questions that come up on the spot and receive a direct response.
I stepped a little outside of my comfort zone and ended up enjoying myself and participating in a few interesting conversations. Of course, the pizza dinner didn't hurt my enjoyment of the process.
You can nitpick what events you go to. Start with ones that directly align with your interests or you are knowledgeable about. Applying this approach will help you start or participate in conversations much easier.
When you feel more comfortable, you can easily branch out toward events that relate more to what you want to learn and improve on as opposed to ones you are already good at. Who knows, maybe in 10 years you will find yourself leading a TED Talk.
Ask Someone You Admire To Be Your Mentor
In the ABLE Activator event, one of the oddest things I heard about was seeking out a mentor. Not that the concept of having a mentor is odd. But the idea of walking up to someone you admire and respect for their achievements or skillset and asking them to be your mentor was different for me. You can approach them about their business achievements or their technical expertise or simply ask to pick their brain about a project idea you have over coffee. Asking them to be your mentor, focusing on any skill you want to obtain, simultaneously builds up your social skills and confidence along with building a social circle.
The idea was introduced by our CEO from Dreamix, Todor Gigilev. He admitted that when he first approached someone, they were so startled by the seemingly random request that they felt flattered, if not surprised, and agreed. As a result, Todor has learned a lot and gained long-lasting partnerships with his mentors.
Even if you are not bold enough to walk up to someone you barely know as he did, most companies have some sort of mentorship programs and in-house training that you can sign up for. Trying this approach allows you to build a work-specific experience while simultaneously training your interpersonal skills working with a partner. You might be shocked by how much you stand to gain!
But choose wisely, as once you commit, pulling out of a mentorship makes a really bad impression. Once you commit, you have limited time, so choosing another mentor won't work out either. Also, you should find someone who is a good fit for you for the best chances for success.
Be Patient
No one learned to sing or dance, or paint, or cook in a month or even a year. Those are all skills that take years of intentional effort to build up. Chances are it took you years to even get to the level of technical expertise you possess currently. So be patient when you are building up interpersonal and soft skills as well. As long as you are putting yourself in situations where you can exercise them, you will become better and better at it.
Sometimes it will go well, and at other times, you will get embarrassed or make someone around you feel uncomfortable. Progress and setbacks go hand in hand whenever you build a skill, so as long as you get back on track and try to expand your options rather than feel defeated, you will continue to grow as a person and a professional. Before you know it, you will get past feeling uncomfortable in social situations; you will thrive on them!