The job market for programmers has arguably never been more competitive. While the demand for programmers is high, remote work and access to a global workforce has provided companies with a larger pool of potential employees while at the same time driving down labor costs..
This means that if you want to land your dream programming job, you'll need to go above and beyond. Getting a great job is no longer just about having the skills needed for a position but also about how you present those skills, and yourself, to a prospective employer.
This is where LinkedIn can help. In this article, I'll show you how the world's largest professional networking platform can help you land your dream programming job.
Why You Should Consider LinkedIn To Find Your Next Programming Job
LinkedIn is a social media site for professional networking. It has over 700 million users and, according to Omnicore Agency, 90 million of those users are senior-level influencers. A further 63 million are in decision-making positions. Over 50 million companies all over the world use LinkedIn.
If you're searching for your next programming job, the people who make the hiring decisions are probably on LinkedIn. According to Jobscan, 87% of recruiters use the platform to find job candidates. That's more recruiters than all the other major social media platforms combined!
Having a strong presence on LinkedIn puts you right in front of these recruiters. After all, they can't consider you for your dream job if they don't know you exist. By optimizing your profile, you can give yourself the best chance of getting noticed and getting hired.
Now that you understand the importance of having a strong presence on LinkedIn, let's look at how aspiring programmers can make the most of the site.
How Programmers Can Build an Awesome LinkedIn Profile
Perhaps you already have a LinkedIn account or have vowed to create one as soon as you finish reading this article. However, simply having a presence on the platform is not enough to get job opportunities. Programming is a highly competitive industry, so you'll need to stand out to get recruiters' and employers' attention. And for that, you need an awesome LinkedIn account.
Here are five easy steps you can take to maximize your chances.
Complete Your Profile
You should complete every section of your profile. A complete profile not only looks good to recruiters and decision-makers who want to see as many details about a candidate as possible but also fares better in LinkedIn search results. In other words, you're more likely to be discovered by the right people.
If you have the following in your profile, LinkedIn will consider it complete:
Profile picture.
Geographical location.
Industry.
At least three skills.
Past employment experience.
At least 50 connections.
Education details.
If you're fresh out of college and have limited work experience, don't panic. Did you have a part-time job while you were studying? How about an internship or a placement as part of your course? If so, list that experience and the skills you gained from it. You should also include any voluntary experience.
The things I mentioned above are just the minimum requirements. The more details you can add, the better!
Optimize
To further boost your LinkedIn search results ranking, you need to optimize your profile and include the relevant keywords. In other words, what terms do you want people to type in to find you?
Since you're looking for programming jobs, you might want to include terms like "programmer," "web developer," or "software engineer."
Here's what I see when I search for programmers in my state:
If you specialize in a particular field or programming language, use those keywords, too. You shouldn't keyword-stuff (artificially inflate the number of times you mention the words), but do include your target words several times organically.
Complete Your Summary Section
The summary section of your profile is an opportunity to show recruiters and decision-makers who you are as a person and why they should hire you. For example, explain what you love about programming and what your career goals are. You can also describe your work ethic and personality. Just remember to avoid meaningless buzzwords!
Write in the first person ("I am …" as opposed to "Ian is …") and use simple language. Don't cram in technical language and jargon for the purposes of impressing potential employers. Remember, the recruiters and hiring managers for the roles you want might not be programming experts.
Show Work Examples
Show, don't tell. In other words, back up what you say. You shouldn't claim to have a skill that you have no way to demonstrate because employers and recruiters need to see evidence of your abilities.
Fortunately, LinkedIn offers plenty of ways you can showcase your work by uploading relevant pictures, documents, videos, and presentations. You can also include links to past work, a portfolio, your programming blog, or CodePen. You don't need to include everything you've ever done, of course. Just choose the strongest examples—the ones that are most likely to get you hired.
Include a Call To Action
Calls to action (CTAs) aren't just for marketing communications. You can also include one on your LinkedIn profile. If you do it right, it will help you land that programming job.
In the context of looking for a job, your CTA should invite recruiters and potential employers to contact you about opportunities. "Drop me a line on [email address]" is more than sufficient. Include your CTA within your summary.
Ideally, conclude with it once you've outlined your skills and the kind of work you're looking for. This is because your profile has done the heavy lifting of getting the recruiter or hiring manager excited about you as a candidate. Now all they need to do is drop you a line!
Terrible LinkedIn Mistakes To Avoid
Now that you know how to create an awesome LinkedIn profile, let's discuss the all-too-common mistakes you must avoid.
Not Selling Yourself
Always remember the reason you're on LinkedIn: You want to land your dream programming job. But you can't do that if you don't show you're a worthy candidate. Many people are reticent about selling themselves as a candidate, fearing that they will come across as "bragging" or full of themselves.
However, that's how you land a job. As long as you are honest and authentic, there's nothing wrong with seeing your LinkedIn profile as a sales pitch for your skills. Therefore, you need to use that space to show why you're the best candidate for your prospective employers' needs.
As you write your profile, keep this goal in mind. Choose your words carefully, and make sure they accurately reflect the impression you want to make.
Here are a few pro tips to help you sell yourself more effectively on LinkedIn:
Recruiters and employers like people who get things done. Use action words, and focus on results. In other words, don't just say what you did. Say what you achieved.
Be specific. If you can give exact figures (revenue you brought in, client projects you completed, new customers you referred, and so on), then do.
Speak in the active voice ("I did X" rather than "X happened").
Finally, don't forget to check your spelling and grammar before you post your profile. Poor spelling or stray typos will undermine your professionalism.
Not Reaching Out to People for Recommendations
Don't disregard the Recommendations section of LinkedIn. This works in much the same way as gathering client testimonials: It shows that other people endorse your skills. Therefore, you need to get a couple of great recommendations on LinkedIn if you want to give yourself the best chance at landing your dream job.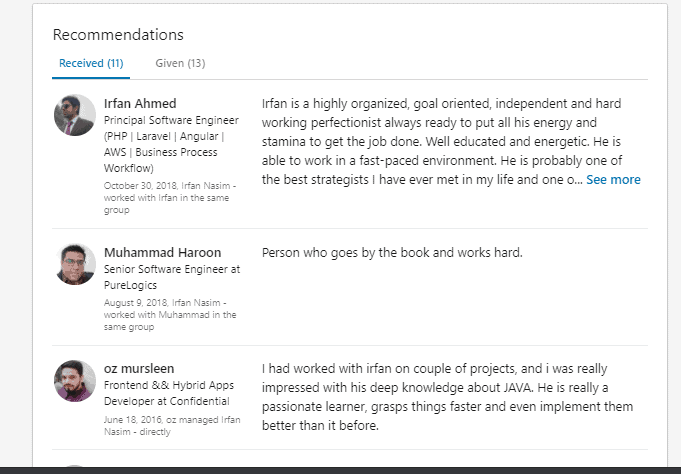 But don't wait for people to give you recommendations. You'll need to ask for them! So don't be shy. Reach out to former clients, your current or previous manager, and past colleagues with whom you worked closely. Even just two or three recommendations can make a substantial difference.
Of course, you should offer to return the favor and write a recommendation for them, too.
Too Little Activity (or the Wrong Kind of Activity)
If you want the right people to notice you on LinkedIn, you need to engage actively on the platform. This means posting, commenting, and reacting to posts.
However, not all engagement is good engagement. Don't post meaningless content or respond to posts for the sake of it. And while you can be somewhat self-promotional, don't do so too much—and certainly don't use other people's posts as a platform for self-promotion.
When you post, keep your goal in mind. You're on LinkedIn to land an awesome programming job, remember. Therefore, why not share industry news, write a blog post about web development trends, or list your top tips for new programmers? There are so many possibilities. Just make sure your content is relevant.
There's also such a thing as too much: If you're spending hours posting and commenting every single day, prospective employers may have concerns about your productivity.
Finally, remember to be unscrupulously professional. While you can of course disagree with what other people say, LinkedIn is no place to get into heated arguments with strangers. Keep your tone polite and your language SFW (that's Safe For Work!). Remember, your future employer might just be watching you.
How To Apply for Programming Jobs Using LinkedIn
You don't need to just sit around and wait for prospective employers to contact you. You can also apply for programming jobs on LinkedIn if you see one you're interested in. I recommend subscribing for relevant job alerts so you never miss an opportunity.
To search for a job on LinkedIn, use the search function at the top of the page, type "programmer" or a similar phrase, and set the search parameters to show you jobs. If you select "All," you'll see everything related to programming and have to sift through the list manually to find jobs.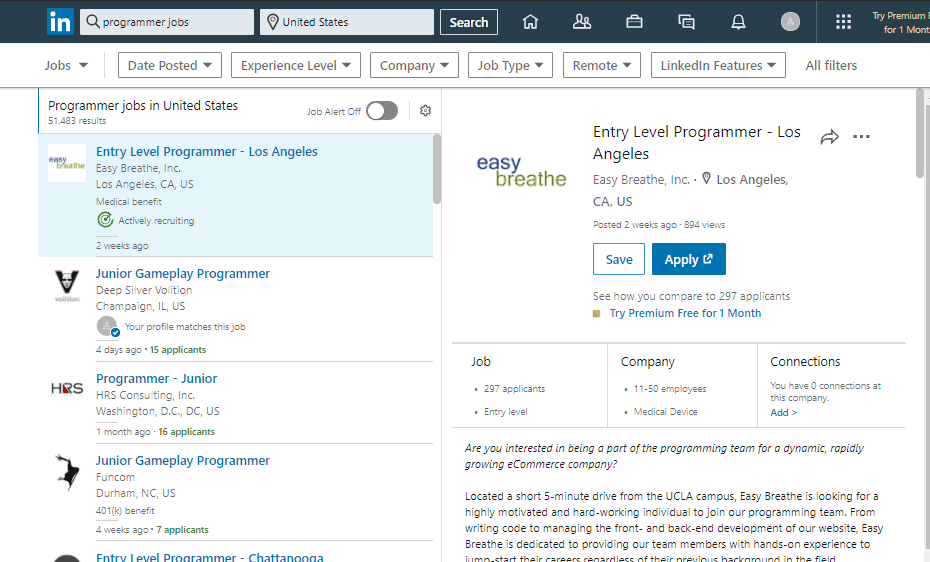 Right beside the main search bar, you'll see a location bar. Enter your geographical location or the region in which you're looking for work. In the above example, I filtered for programming jobs anywhere in the United States.
You will now see a list of potential jobs you could apply for. If you're interested in a listing, just click on it to see the job description. Read the listing in its entirety before applying. Employers don't like to receive applications from candidates who didn't read the full listing, and it's usually really obvious. If you like what you see, click "Apply."
Make sure that you've completed your profile before you start applying for jobs. Applying with an empty profile is like applying without a resume—there's no point and your application will go straight in the trash.
The Key Is Having a Strategy
LinkedIn is a great platform for new and seasoned programmers alike to search for jobs. High-level decision-makers tend to be active on LinkedIn, and recruiters also use the site extensively.
I hope these tips will help you take advantage of LinkedIn to land your dream programming job. Remember to approach it strategically: Create a great profile, engage with others meaningfully, and always be polite and professional.
Here's to your next programming job—I'm rooting for you!