5 (More) Remote Side Hustle Ideas Specifically for Programmers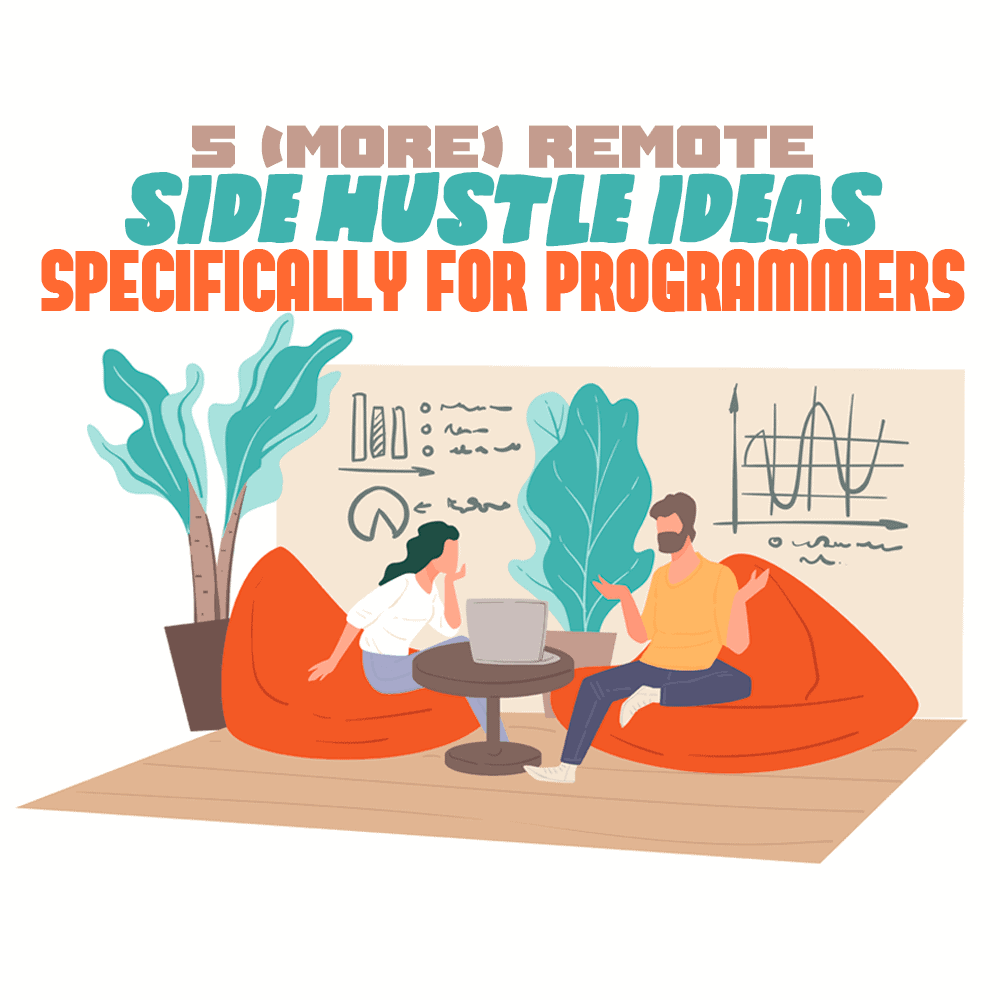 Side hustles are a great way to get extra money for all kinds of activities and products: vacations, takeout (life is so much easier when you do not have to spend time cooking), new devices, or software.
However, it is not only about that. By doing side gigs, you get a diversion from your routine job so you do not get burnt out too quickly. It is a way to meet new people and get experience in different spheres but still be engaged in programming. You can improve your personal image and get a raise or more interesting offers too.
As it happens, there are a lot of side hustles that are tailored for programmers only. Last time, I offered five side hustle ideas, and now it's time to explore the world of extracurricular activities even more. Here are five more remote side hustle ideas.
Become a Tutor or Instructor
Knowledge sharing is extremely beneficial to all parties. Your students get to learn something new and make the programming world a better place. But there are benefits for you as well—teachers can also learn from their students.
You can refresh the basics and get additional experience in what you love to do. Moreover, you can pick up new tendencies and get life hacks that have never come to your mind due to routines established long ago. Of course, you get money for it as well.
You can open an online school, create an online course, or do tutoring via Skype. It is better to choose your approach to teaching based on how much time and effort you can or want to invest in it.
If you want to start an online school, you need a lot of resources. You have to build the platform, advertise it properly, and make sure that everything works properly non-stop.
An online course takes quite some time to develop. If anyone says it takes about a week, they probably do not have great content or it is not about something as difficult as programming. You also have to develop tasks, moderate chats, and give feedback constantly.
Developing an online course is not as difficult as creating an online school, though. You do not have to teach every student or group. You record lessons once and do some adjustments once in a while to keep them up-to-date.
Teaching one-to-one or for a group is very exciting. It is the best way to get benefits like refreshing your basic knowledge, getting additional experience, and learning new tricks from students, and your soft skills go way up.
So choose the method that works best for you and have fun!
Make a Plugin or Theme for WordPress
WordPress has become an astonishingly influential CMS. In fact, 35% of the web is powered by WordPress, which is huge, considering that is more than 350 million sites. It is a good place to start for small blogs. It is a solid base for big blogs like one of Forbes's. So there is no sense in doubting the power of that CMS and how extremely beneficial it can be for those who help people to use it.
Many users need numerous plugins to work less, or not get too deep into site development. They also seek customized themes for brand identity or better customer experience.
You can make your work premium, charge per user, use ads monetization, or set up your own Patreon. If you make some free plugins or themes at first, you may gain more popularity quickly.
Public Speaking
It is hard to speak about all the benefits of public speaking because there are just so many. You have an opportunity to build your personal image, promote your other side hustles, grow as a person, and meet a lot of cool people with the same interests as you have.
You will have to do some volunteer work at first. Go to some local events, test your skills, develop them if needed, and become a perfect speaker that gets invitations to big forums. You can get merch, get accommodation, and have travel expenses paid.
Consequently, you will be able to travel around a lot and network with leaders in the niche which could positively influence your career. Free education and experience exchange, anyone?
Design Tech Merchandise
Every community has its clothing brands that define who they are. Merch that is designed for programmers only, for example, is a way to showcase who you are without saying it out loud. It helps you get connected with other programmers without needing to figure out what they do first, and it gives you something to wear that lightens up your mood.
The best merch comes from representatives of that specific profession. As a programmer, you know inside jokes and pain points. That makes these clothes relatable to your target audience, so there will be an urgent need to buy something that describes the life of a programmer so perfectly.
It is also a great way to establish a like-minded community and meet a lot of cool people, thus changing your networking game.
Start an Online Store
Setting up an e-commerce shop is incredibly simple and super profitable. However, you have to put in quite some effort if you want to start an online store that will be successful.
First of all, you have to define what products you want to sell. Is it something programming-related? Do you want to try something entirely different and sell carpets? The next task is to understand who your target audience is and how to attract them.
You need a lot of creativity and additional knowledge in marketing. In order to get the latter, you can find online courses or buy marketing-related books. I would recommend going for courses since your progress will be assessed and tracked.
It feels good to try and learn something different, though. You may notice that it is becoming your main job if the shop becomes more profitable than your office job.
You can house your shop on Shopify, for example, or create your own website. It is good to remember that this kind of gig usually takes quite some time and effort in researching the market. You might even find it challenging to combine it with your main work. However, it is profitable and exciting as well.
Hustle Your Way to Fun and Profit
There is a whole range of side hustles and every programmer can choose something suitable. Focus on how much time and effort you want to put into gigs and go from there. It is also good to define what you want to get from the experience: personal growth, a vast network of acquaintances, additional experience in programming, or trying something completely different.
You can become a tutor and pass your knowledge to younger generations, sell plugins or themes for WordPress that are needed today, engage yourself into public speaking and get access to the best professionals in the programming world and their knowledge, design merch and create a community of fellow programmers, or start your very own shop.
The main task is, however, to not be afraid and actually start doing side hustles. Why not get started right now?