Around the mid December 2014, I decided to launch a completely free blogging course that would be delivered via email over 3 weeks.
I had no idea how popular and successful that blogging course would turn out to be. (Here's a good book to check out)
At the time of writing this post, almost 3,000 software developers have signed up for the course and 100s of developers have created new blogs or resurrected their existing blogs.
Every day my email inbox is filled with emails from programmers who have signed up for the course and are taking action!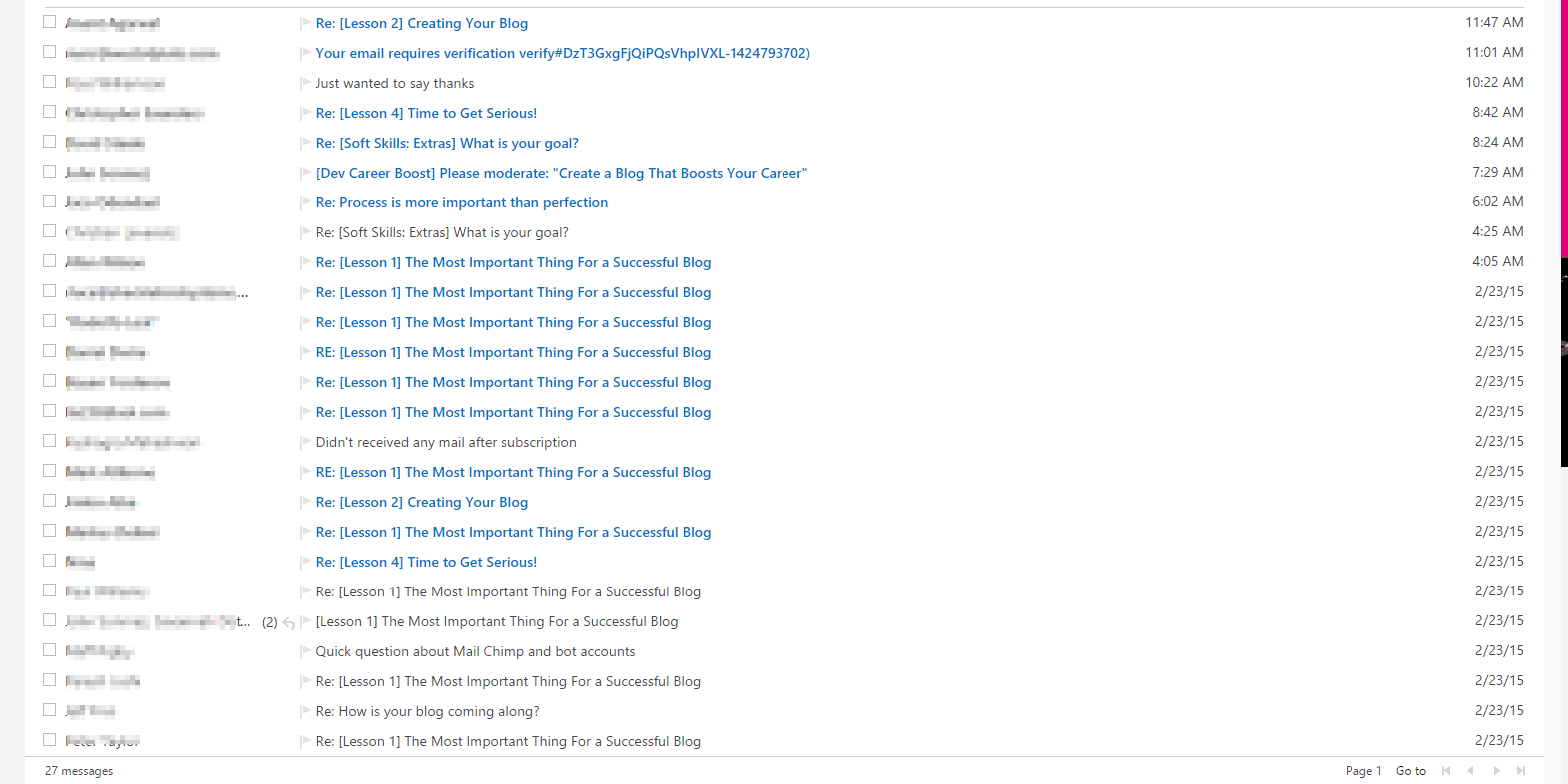 For me, this is a huge thrill!
Creating this blog was one of the best things I ever did in my life.
No, seriously. I'm not even kidding you.
Here are some of the opportunities this blog opened for me:
My life has completely changed because one day I decided to sit down and start writing on this blog regularly.
That was over 5 years ago.
When I first started this blog, I got 44 page views the first month and 373 the second month.
This month alone, I have over 240,000 page views. (In part due to hitting it pretty big with my Simple Programmer test post.)
Overall, since I started writing, I have had almost 3 million views on this blog. (Next month, I'll pass that 3 million mark.)
I've written a total of 436 blog posts, which works out to about 1.5 blog posts every week.
Yes, it took a lot of work and commitment.
Yes, I don't always feel like writing a blog post.
But, the rewards far outweigh the costs.
What if everyone starts blogging?
I know a lot of you reading this post are thinking that the world is a small place, that there is only enough room for so many software development blogs.
But, let me tell you. The world is a huge place.
There is plenty of room for you to start your own blog—especially if you follow my advice and niche down to a specialization.
There are millions of programmers out there, and the number is growing every day.
If this blogging course was wildly successful and got 100,000 software developers to start a new blog, there would still be enough room for you.
Having a blog—that you update regularly—would still put you in the top 1% of software developers out there, as far as marketing yourself.
But, the reality is that it is even better than that.
Not only is it very unlikely that anywhere near 100,000 developers will sign up for my blogging course, but even of the ones that do, perhaps only 10% of them will actually create a blog and only 1% of them will actually maintain that blog and keep it active.
So, what does this mean for you?
It means there is plenty of opportunity.
This lake is not all "fished out" and it won't be—ever.
We'll never be at the point where every software developer has a blog that they update once a week.
It just won't happen.
So, stop using that as an excuse for not starting your own blog—seriously.
There is plenty of room for you to achieve the same results I have and to even do better, because you'll be learning from my experience.
If you haven't already signed up for my free, 3-week course on how to create a blog to boost your career, do it now.
Don't wait around and make excuses. (A good book on how to stop making excuses)
Trust me, it will be worth it.
Check out all the blogs from developers who graduated from my email course
In my email course, I promise that if you create a blog post that talks about the email course, I'll create a link from my blog to yours.
I've been waiting until there were enough blogs to link to, but now I have a pretty big list that I plan to keep updated.
I'm super-excited for these developers that not only signed up for the course and created new blogs, but also took the extra step of committing to write regularly—which is one of the major keys of success.
You can also get an idea of what I talk about in the course, by reading some of their blog posts.
So, check out the list, and be sure to leave a comment to let them know you read it—it will mean a lot.