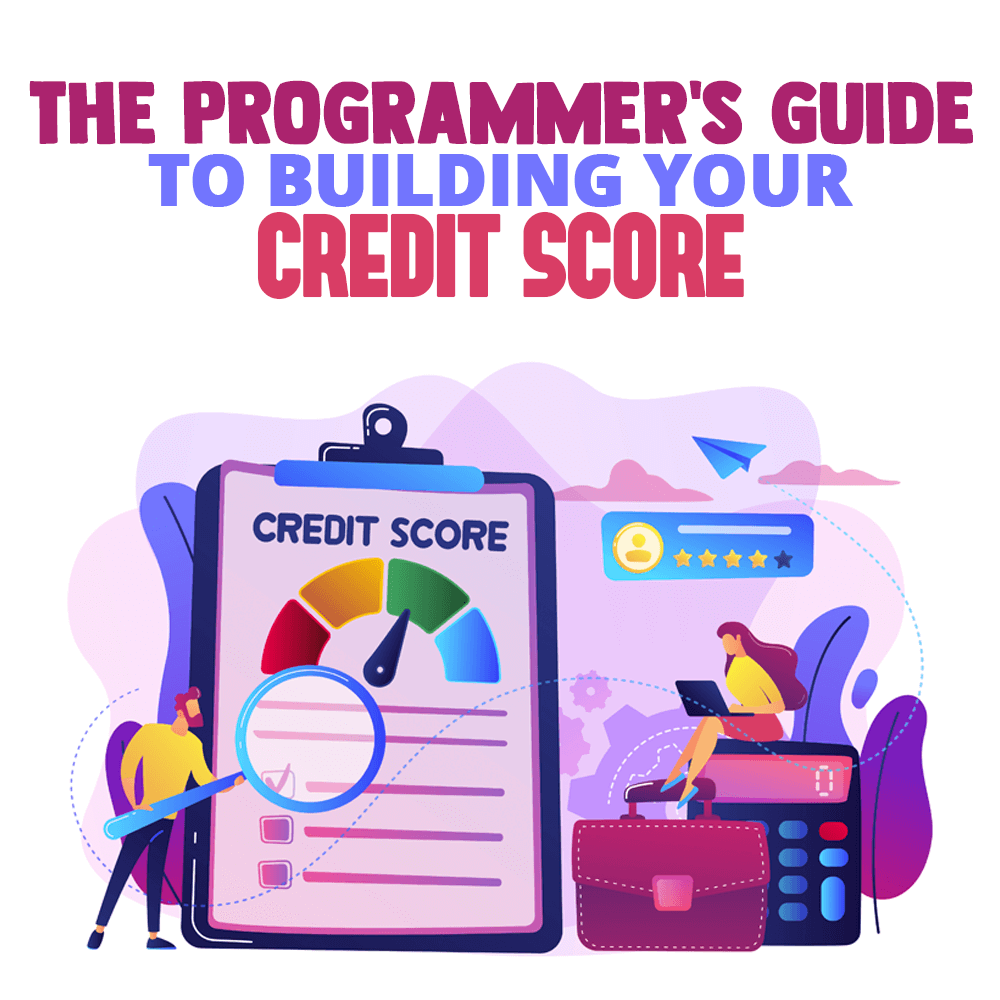 A credit score is an important financial metric to track. For programmers who love analysis and numbers, diving into how credit scores are calculated will likely be a fun exercise for you. For those not as interested, it's still important to at least understand credit scores from a high level, which this guide will provide.
As highlighted in our index investing guide for programmers, having a high salary is a great first step to securing your financial freedom. However, a high salary does not guarantee a good credit score, and you don't want to miss out on the benefits that a good score provides.
Among others, a good credit score makes it easier to qualify for loans, access lower interest rates, get cash back rewards credit cards, and even enjoy lower car insurance premiums.
As a programmer, you likely have a high income and will look to buy expensive assets such as houses and cars. Maybe you're even seeking a loan to build your own company or design the app you've always dreamed of creating. Having a good credit score ensures that you get the best rates when getting loans to accomplish these goals.
Before diving into how to check and build your credit score, we'll break down the details of what makes up your credit score.
How Are Credit Scores Calculated
Credit scores are made up of five components, with each component having a different weight in how important it is to your overall score:
Payment History [35%]
Utilization [30%]
Length of Credit History [15%]
New Credit [10%]
Types of Credit [10%]
Payment history is the most important component within your credit score, while new credit and types of credit are the least important. Here is a brief definition of each component:
Payment History: How reliable you are in terms of paying back your debts in full and on time.
Utilization: The ratio of how much debt you have outstanding vs the total available credit you have access to.
Length of Credit History: Measures the ages of your accounts.
New Credit: Looks at how many times you have opened a new account in the near term.
Types of Credit: The variety of debt you have (for example, credit cards, student loans, and mortgages are all different varieties of debt).
These five components get weighed together, and you are assigned a score from 300 to 850. The higher your score, the better.
Below is how Experian (a reputable credit bureau) grades each score:
800-850: Exceptional
740-799: Very Good
670-739: Good
580-669: Fair
300-579: Very Poor
If you are in the very good or exceptional range, then you're sitting in a good spot and will likely reap all the benefits of having a good score.
If you are in the very poor or fair range, you have some work to do in order to build your credit score into a good score (or better).
How To Check Your Credit Score
You have more than a few options to check your credit score.
The most basic option is to head to AnnualCreditReport.com to get your free report. It's a tried and true method but rather old school as well.
If you want to see your score in a more modern and sleek interface, Credit Karma and Credit Sesame are both great credit monitoring services.
The most important thing to do after you check your score is to check for any unusual or false activity. If you see anything incorrect that is hurting your score, you can dispute the errors to get them wiped from your record.
5 Ways To Build Your Credit Score
After checking your score, if you find yourself in a spot where you want to improve, there are still things you can do to build your credit score.
Most high salary individuals, including programmers, already have a good credit score, though even if you have a strong credit score right now, implementing these five credit building tips will help ensure that your score stays strong into the future.
And please note: Like with most things in life, improving your credit score will take time. You should be skeptical of anyone or any company promising quick fixes.
Pay Bills on Time, Consistently
As mentioned earlier, payment history is the most important factor that goes into calculating your credit score. The best way to make payment history work for you is to pay your debts and loans off on time and in full, every month.
Just because you bought a new laptop or cellphone on your credit card doesn't mean you should delay making payments on it.
If you already have a credit card or loan, then this should be easy. Simply pay back your debts on time, all the time.
If you don't have a credit card or a loan to start building payment history with, then you can open a new credit card to help you do so. If your current credit score is low, you might need to open a secured credit card to start building your credit. If you already have a decent score, then you could opt for a more premium card.
Action: Pay your debts on time and in full.
Improve Your Credit Utilization
Credit utilization is the second biggest factor that impacts your credit score.
Utilization is best understood through a credit card example:
Let's say you have one credit card. This credit card will give you a credit limit, or the max amount of money you can spend in a month before you have to start paying it back.
If your credit limit is $5,000, and you routinely spend $2,500 a month, then your credit utilization would be 50%.
A good rule of thumb is to keep your credit utilization at around 30% or lower. So if you need to lower your utilization, you could ask for a credit limit increase, open a new card with a credit limit, or simply decrease your monthly spending.
Action: Reduce your spending, ask for a credit limit increase, or open a new credit card.
Avoiding Opening Too Many Cards
New credit is a small but important part of your credit score.
A few of the tips above involve opening new credit cards, but it's important to note that opening a new credit card results in a hard credit check. This is simply a bank or institution requesting to check your current credit score to ensure you are a reliable consumer before giving you a loan.
This hard credit check will result in a short-term decline of your credit.
That's because if you were going around to every bank in town asking for a loan, you would look desperate, and that would raise some suspicion. The assumption would be that you are either an irresponsible consumer or other lenders keep turning you down.
So it's best to limit the amount of times your credit is checked in a short time period.
Action: Try not to apply for multiple credit cards or loans within a six-month period.
Create Variety
Type of credit is another, smaller piece of your credit score, but still important.
The one caveat here is that you should not go into new debt simply to create variety on your credit report. However, if you have a student loan or a mortgage, but not a credit card, then opening a new card can be a smart way to improve your credit score over time.
It's good to know that going into debt isn't necessarily a bad thing. It can actually help your credit score if done responsibly.
Action: Be mindful of the types of debt and loans on your credit score.
Don't Close Credit Cards
Last, but not least, your credit length history is the third most important piece of your credit score. This looks at the age of your oldest credit account, the age of your newest account, and the average age of all accounts.
It's important that you only open good credit cards (and avoid ones that aren't worth it) so you don't waste a hard credit check on a card that you end up closing.
You'll also want to be mindful of the numbers of cards that you have with and without annual fees. An annual fee credit card might be great in year one because of a sign-up bonus, but if you close the card in year two, then you will eventually have that card disappear from your credit history—which would negatively impact your score.
You should have your oldest card be a no annual fee card so that you can keep it open forever, and make sure as you open new cards, it's a good mix of ones you will keep open for a while.
Action: Ensure that your oldest card does not have an annual fee and that you don't close too many cards too often.
Improve Your Credit Score Today
Before you can improve your credit score, it's important that you know what it is and that you ensure it is accurate.
From there, you can take steps to improve each of the five components that make up your credit score:
Payment History
Utilization
Length of Credit History
New Credit
Types of Credit
Just like investing and budgeting, building a strong credit score is an important step programmers should take when securing a strong financial foundation. Whether you want to build your own company one day or just enjoy your programming day job, having a strong credit score is important either way.