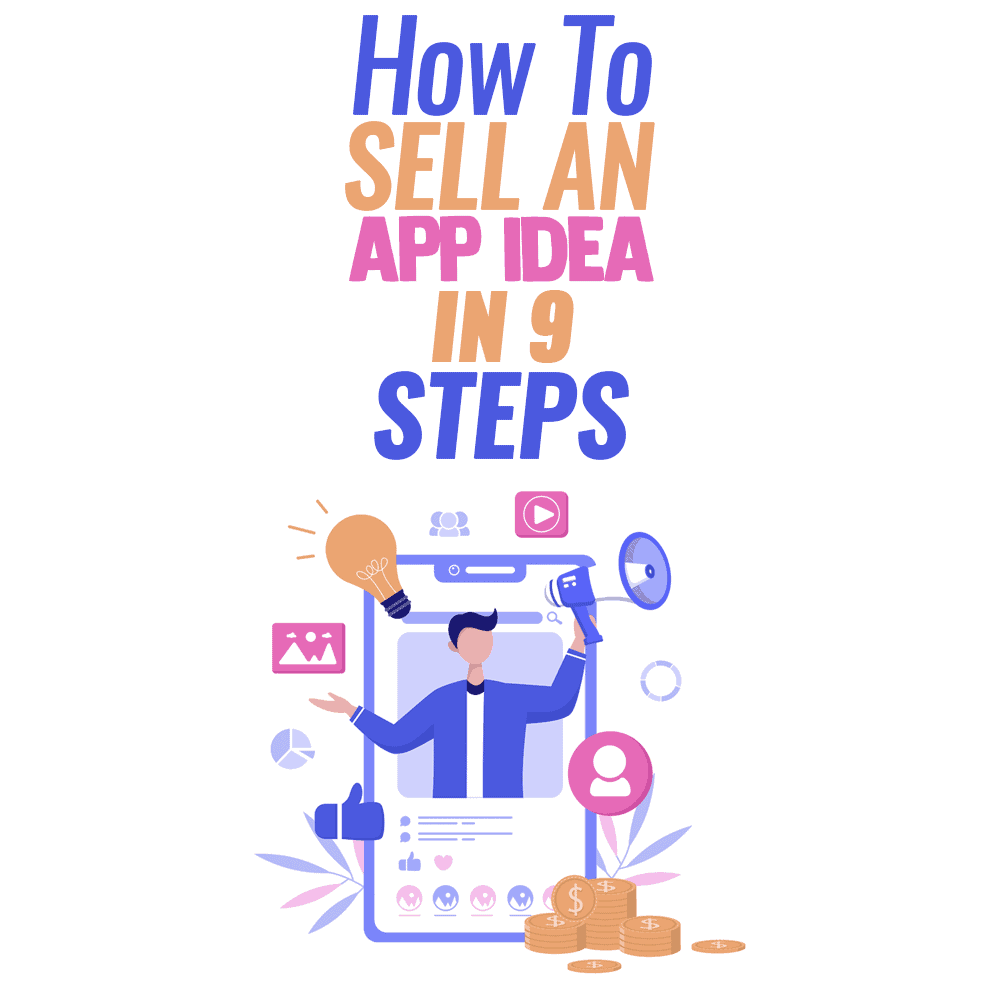 In the market of modern innovations, ideas are as sell-eligible as full-fledged tech products. However, selling an application idea is much more difficult than selling an app that's ready for launch.
The reason should be self-evident: You have nothing to show!
The world is full of ideas, and not all of them are viable. This makes investors and audiences rightly suspicious when all there is to show is a ghostly concept without something tangible.
Despite this challenge, you still can sell your app idea as long as you make sure you have some fundamentals covered.
This is precisely what I'll share with you in this post, showing you how to prepare so you can maximize your chances of success.
Selling Ideas for Apps: The 9-Step Strategy
Since ideas are not tangible, it is quite difficult to estimate their value. Depending on the specifics of your idea, its relevance in the market, its features, and the problem that your application solves, your idea can be worth $5,000 to $500,000.
But first things first. So you have an app idea … What's next? If you are quite sure you don't want to create a full-fledged solution, let's try to sell an app idea in nine steps.
Make Sure Your Idea Is Viable
Before taking active steps on the way to selling an idea for an app, you need to make sure that it is viable—that is, that it will be interesting to potential investors. At this stage, you have to use idea validation techniques such as market research, competitor research, and focus group surveys.
The first step is market research. Get started with a market overview, identifying your target audience: Who is more likely to be interested in your app, and why?
Afterward, proceed with studying your competitors. Compare your ideas to those already realized by your competitors, and ascertain their strong and weak points.
Finally, get in touch with some representative members of your target audience, and ask them to share their opinion on the app you are going to create.
Look for Ways To Improve Your Idea Based on Research
Validating your idea, as I showed you above, isn't just about making sure you have a good idea. It's also about obtaining valuable insight on how to improve your app idea even further.
Take advantage of this opportunity, and reuse your research results to make your app idea even more competitive. It will help you to make it even more attractive to potential investors and tech companies who would potentially like to use your app for their business.
Also, consider mobile app development trends that will be relevant in the near future. On-demand, mobile commerce, AI, and AR-powered applications are on the rise.
Create a Prototype
After you have improved your app idea based on real-world research, you may proceed with creating the first prototype.
At first, you can draw your UI on paper. Then make a digital version with the help of UI design tools. This will help you to visualize your concept, prove it one more time with your target audience, and show it to potential investors along with your sales pitch and business plan.
Write Down a Sales Pitch
A sales pitch is a 30-second story about your app idea that should confirm its value and prompt the desire to buy it.
There are different approaches to drafting a sales pitch, but it should be addressed to your target investors (investors interested in a specific niche), focus on the problem you are going to solve and on the way you will do it, and list the main benefits and values.
Back It Up With a Business Plan
Writing a business plan is a challenging but still essential task. With its help, you will be able to explain to your investors what business opportunities your application opens up for them. For a business plan for an application that is still only an idea, you should pay attention to the following sections:
Project development estimate – The investors should catch the economical feasibility of investing in the idea and in its development, so you should come up with as accurate a project development estimate as possible.
Business model – Try to explain your business model in the clearest way, since this is how your future app will make money. The business model should be legal, industry-accepted, and revenue-promising.
Marketing strategy – Moreover, you should suggest some proven ways to market your app, and back it up with marketing cost estimates. Pay attention to brand development strategy, social media promotion, SEO, and other tactics that may work for your niche.
Register a Trademark for Your App Name and Logo
Creating a trademark for your app name and logo is the next step toward protecting your intellectual property rights. Make sure to do it. Then your application idea will be ready to be presented to prospective investors. Also, don't forget about software licensing for your application to protect it from hackers and pirating.
Get In Touch With the Investors
Now it's time to reach out to potential investors and offer them to consider your app idea. There are several places to look for the necessary people:
Prepare your pitch and business plan. Also, consider creating a demo video for your project. Since the first impression should always be visual, a short explainer video is a great opportunity to explain how your app idea works and what kind of value it drives for the user.
Negotiate Terms and Conditions
How do you sell an idea for an app and get the most benefit out of it? The only answer is negotiating the price and other favorable conditions you may get.
For example, you aren't obliged to sell an idea along with all the intellectual property rights. Instead, you may agree on some kind of partnership according to which you will be eligible for part of the profit.
If your idea is truly fresh and perfectly tailored to the business or users' problem, you have more opportunities for terms and conditions negotiation.
Consider Finalizing Your App Before Selling It
As I have said, it is more difficult to sell an app idea to a company compared to selling a ready-made app. And after you are done with all these steps, you may feel that finalizing your app would be more beneficial than selling a bare idea. Compared to simple ideas, ready apps need more investment of time and money, but they are also more profitable.
So, at this stage, make sure to calmly compare all pros and cons of each of the strategies. If you have the technical expertise to finalize your app, it may make more sense to do it. However, if the costs you need to invest in technical development exceed the amount you may get for the ready-made solution, it could be better to sell the idea and move on to brainstorming the next one.
But perhaps the most profitable strategy is to sell your application at the minimum viable product (MVP) stage. At this stage, you already have a solution that works, you have real insights from the target audience and the audience itself, and you can show investors real business value.
Ideas Can Sell Too
Making money on application ideas is quite a promising way to drive profit. If you are well-versed in the tech industry and intuitively feel where the gaps are, developing ideas for apps may be a prospective business.
Get started with selling your app idea according to the strategy I've shared with you, and earn money by sharing your intellectual property rights with companies that will be able to utilize them in the best way.