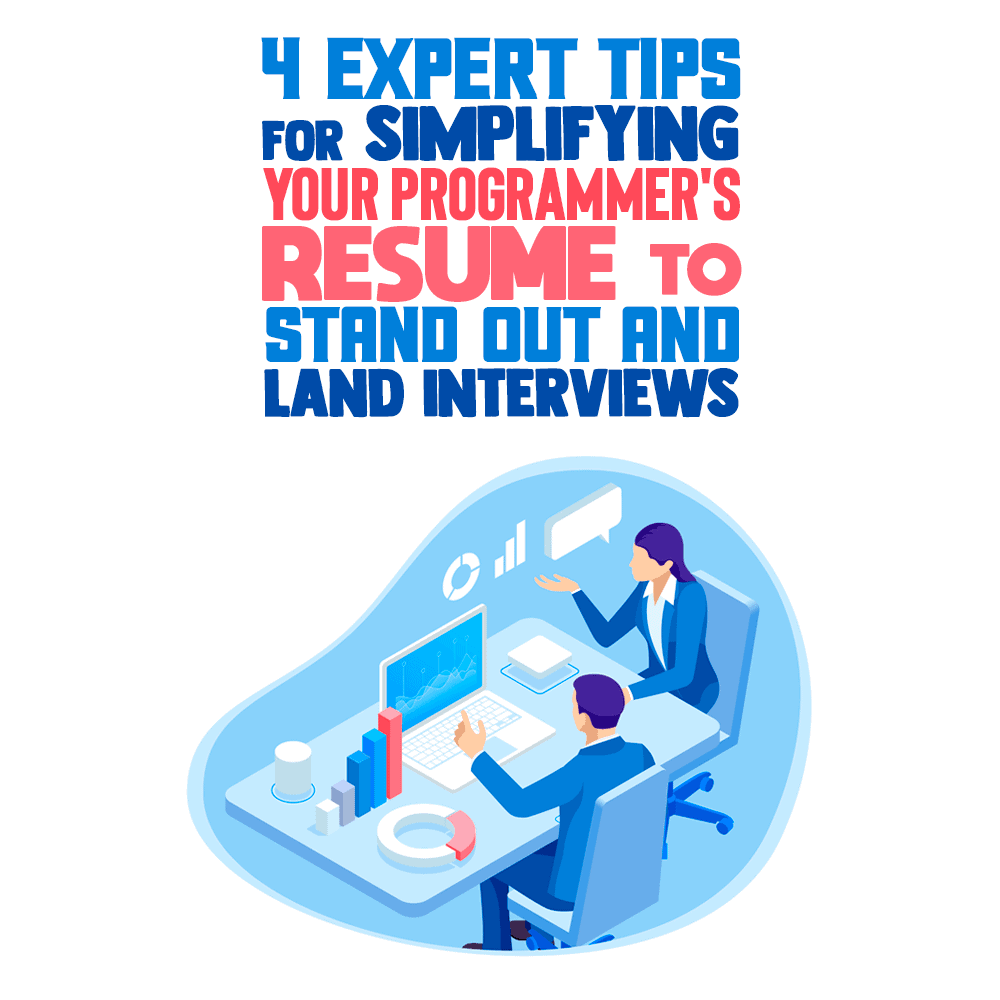 Programmer resumes are often ineffective because they're too long, filled with too much jargon, or just plain dull.
It's crucial to have a resume that stands out from the crowd to get your foot in the door.
If you want your resume to attract the attention of potential employers, you need to simplify it to clearly show why you're the best candidate.
But even in a "candidate's market", landing an interview for a programming job is still not a cakewalk. The high demand for programmers in today's job market is no secret, especially in the wake of the Great Resignation.
In such a complex discipline, a resume is your sales pitch, not a book report on every detail of your whole career. While there are many best practices to follow on your resume, focusing on simplicity will solve many of the most common mistakes that programmers make.
By making the complex simple on your programmer's resume, you'll start landing more interviews. The following four tips will help you write a resume that stands out.
Simplify Your Jargon
It is absolutely essential to include the languages, environments, and other technical terms that are called for in the job posting. This is the only way the recruiter will see that you have the key qualifications they're looking for.
However, if you don't make the effort to naturally integrate these terms into your resume, it's easy to drown your accomplishments in a sea of jargon. Too many programming resumes I've seen are filled with 4-5 line run-on sentences that are so bloated with jargon that it's impossible to understand what they actually mean!
Remember, your first resume reader is a recruiter—it's not necessarily another programmer at the first stage. While the recruiter will be familiar with the terms used in your job, they won't have your depth of technical knowledge. So try to simplify your jargon as much as possible without sacrificing key information about your skills, experience, and accomplishments.
Your technical terms and jargon should always be in the context of specific accomplishments. To do this, you need to focus on how you skillfully used the particular language, framework, etc. to meet a challenge or solve a problem for your organization, not just naming the technology to claim that you know how it works.
That proof of your tangible impact and what you offer the company is what convinces hiring managers to choose you. (Don't forget how important your soft skills are in setting you apart, too!)
In short, if you include too much jargon without context, you run the risk of confusing or alienating your audience. Not only will this make your resume difficult to read, it can also make you look like you're trying to impress them with a wealth of advanced terms instead of your actual skills and impact.
Tools for Finding the Right Words
If you're having a hard time explaining your accomplishments without using tons of technical terms, try using a thesaurus to find common words and phrases that will be easier for non-technical readers to understand.
Another tool you can use is Google's Ngram Viewer. This tool lets you see how often certain words and phrases are used in books, articles, and other publications. This can help you find more common or clear alternatives for jargon-y terms.
Finally, remember that the job posting you're applying to should be your ultimate guide on what words to use. If a term appears in the job posting, use it in your resume, and simplify the language around it.
Categorize Your Skills Section
When it comes to your Skills section—a vital ingredient of your resume—less can be more. Include only the most relevant skills from the job posting for the particular job. Just like with jargon, as I mentioned in the previous section, including a massive list of skills doesn't make you look impressive, it just makes your resume harder to read!
Even after culling the section down, most programmers will still have more technical skills to list than many other professions. Instead of dumping huge word clusters on the page, try to categorize your skills into different sections to make them easier to scan through.
For example, you might want to create a section for "Technical Skills" and another for "Interpersonal Skills." Or you could group your technical skills with categories like programming languages, environments, project management tools, cloud computing tools, etc.
The key is to make your skills section easy to read—or, more accurately, skim. This will help potential employers quickly identify your qualifications with the most critical skills for the job, and it will also make your resume more enjoyable to read.
Emphasize Project Accomplishments
When it comes to your work experience, always provide details about projects. But focus on the accomplishments and not the minutiae.
As I mentioned above, it's your offered skillset and not just your raw knowledge that will get you hired over another programmer. Ultimately, an employer wants to see on your resume how you helped the company make money.
To that end, tech recruiters always want to see specific projects that you've worked on, whether in jobs, internships, or code camps—but you need to be concise in how you describe them. Meaning, focus on the skill, the challenge, and the result rather than detailed descriptions of every step in the full lifecycle of the project.
Lengthy descriptions waste the recruiter's time and can make them miss the important parts of your experience; just give them what they want to see.
If you're having trouble emphasizing your accomplishments, try structuring your bullet points following the VCR rule: Verb, Contribution, Result. Here's an example:
Synthesized 10 different databases and integrated a CRM and various payment systems to create a database application used in call centers worldwide to handle tickets more quickly
Active Verb: "synthesized"
Contribution/Skills Used: "10 different databases and integrated a CRM and various payment systems to create a database application used in call centers worldwide".
Result Achieved: "to handle tickets more quickly"
Keep Your Resume to Two Pages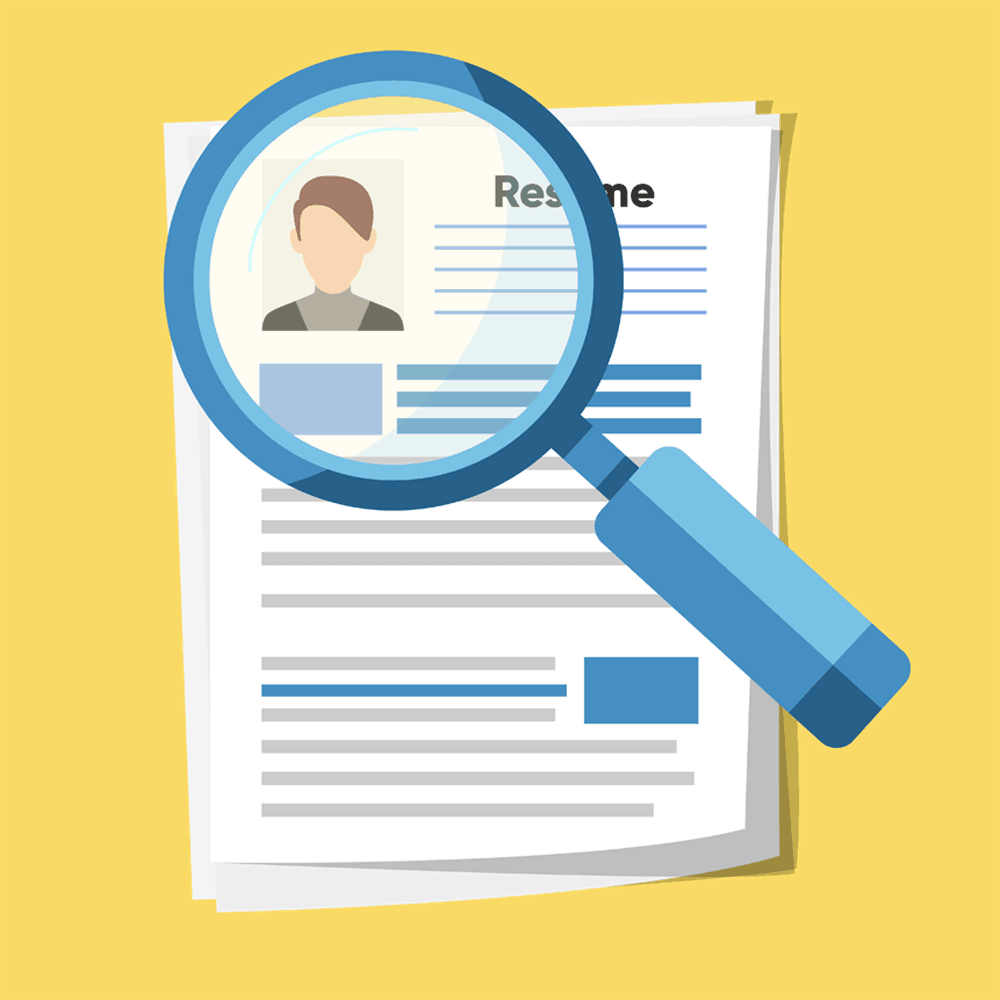 One of the most common mistakes I've seen on programmers' resumes is that they're too long. In almost all cases, two pages will be enough to cover your experiences—and if you're early in your career, one page may be all you need.
An important component to remember is that recruiters have at least dozens, probably hundreds of other resumes to go through for the position you're applying to, so many of the recruiters won't read past a second page. They simply don't have the time, and if you haven't impressed them by the second page, they'll reasonably conclude that there won't be anything important enough to change their mind past that.
No matter how complex you think your job is or how much experience you have, potential employers don't want to wade through pages of information—they just want to see the highlights. So include only what's most relevant and cut out anything that isn't.
Tips and Tricks
Carefully analyze the job posting to find out what is most important for each particular position and company, and then edit each position on your resume to focus on that. Generally, try to stay within 3-6 bullet points for each position depending on how long it was, and keep each bullet point at no more than 2 lines, 3 at the most. (If you're going over either of those limits, go back to tip #3 and simplify your language.)
This also means focusing on only the last 10-15 years of your career if you've had a lot of experience, and shortening the details of your education or your least relevant internships if you're early in your career.
If you aren't sure how to condense this information or whether you really need two pages, check out this flowchart as a starting point.
Write a Standout Resume
You probably got into this field because you heard that companies are willing to pay top dollar for someone who can code as well as you can. And these days, everyone is looking for a good programmer
But just because your skills are in high demand doesn't mean it's easy to land an interview, let alone a job. There are hundreds of qualified applicants applying for every open position, so your experience won't speak for itself—you have to work to make your impact and accomplishments stand out.
If you want your programmer resume to stand out from the crowd, follow the tips I offered you in this post: Don't overdo it with jargon, categorize your skills section for easy scanning, always detail your projects with a focus on accomplishments, and keep your resume to one or two pages depending on your level of relevant experience.
By following these simple tips, you can make sure that your programmer's resume is clean, simple, and eye-catching to potential employers!