Great news!
Early access to my new book Soft Skills: The Software Developer's Life Manual, is on sale today (9/11/2014) only as Manning's deal of the day!
If you've been thinking about getting the book, now is probably the last chance to get it at a discounted rate.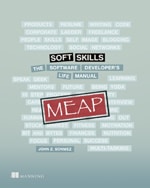 Just use the code: dotd091114au to the get discount on checkout.
I've been getting quite a few questions about the book, so I thought I'd answer them here:
Q.) Is this just a collection of the blog posts on this blog?
A.) No. The book is almost entirely new material. It is around 325 pages of text and even though it has some of the same topics as some blog posts on this blog, almost all of the material is completely new.
Q.) When will the actual final book be released?
A.) The final book is actually done. Or rather all the writing is done, but it still needs to be finalized and have a final round of proofreading. But, the anticipated date is for Dec of 2014. If you purchase the MEAP now, you'll get early access to the book and also get the final released version.
Q.) Why should I purchase the MEAP?
A.) It shows my publisher, Manning, that there is a high level of interest in the book, which increases the size of the print run and distribution. You'll also get access to the a large portion of the content right away and have a chance to contribute valuable feedback to the book. You also have the chance to pick up the book at a discounted rate (at least today you do.)
Q.) Can I get a free sample of the book content?
A.) Yes, just go here to read the first chapter for free. The first chapter will also tell you everything you need to know about what is in the book.
If you have any other questions, just hit the contact me form and ask them.
Just to let you know, I don't have control over when Manning does sales on books, so my book might not be on sale again or at least not for a while, so now is a good time to get it at a discounted rate.