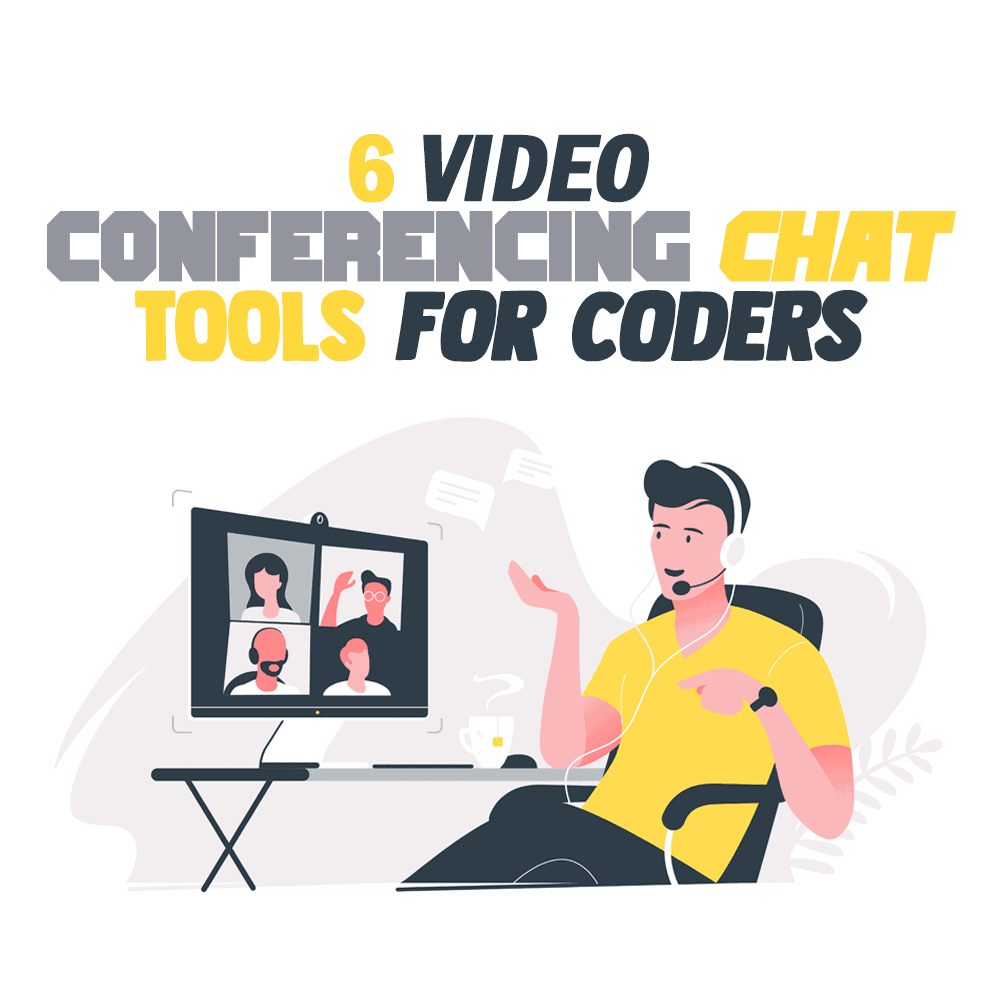 I have some bad news: We are not using holograms any time soon. Bummer, I know. If you are a developer you must desperately need them right about now.
Staying in touch has become a challenge. Unlike other types of knowledge workers (writers, sales reps, marketers, etc.) who can work quite independently and meet with colleagues when there is something specific to discuss, programmers don't have that luxury and need to have active collaboration throughout the day.
Gone are the days when you'd just go to your teammate's desk and ask about the code you are working on. Unfortunately, this could lead to poor communication, as well as a lack of emotional support and trust. Combined, it would affect project quality, specifications, and delivery.
This is where video chat tools come into play (until we get the holograms, that is).
Video conferencing is nothing new, but last year it was transformed from an optional to an essential tool in a matter of days.
A powerful video conferencing tool could help you host effective and successful meetings from the comfort of your home. Online meetings can provide you with experiences that are as good as the meetings in office space.
So, where to start? There are a lot of video calling apps, but have you ever stopped to think about what are the differences between them or which is the best choice for you and your coding buddy?
Here I bring together some of the best video tools out there.
Let's get cracking!
I know I might be biased here, but in all fairness, it is one of the best chat tools with video calling functionality. With its simple interface, it's the go-to app not just for software developers. It's a collaboration platform that combines project management, communication, and automation. Your team can have private or public conversations, one-to-one meetings, share screens, set tasks, and watch media content in-app.
Chanty helps you conduct your meetings as if you were face-to-face, because of the excellent video quality and clear audio. It can also be integrated with apps such as Jira, Asana, Trello, Dropbox, and many more. Moreover, you can have quick access to your chats and files via Teambook.
Another feature programmers would love is the code snippets that let you share blocks of code with your team. All in all, it's really a great app, not just for video calls. You can have a free version with up to 10 participants, or if you wish for an upgrade, it will only cost you 3$ per user per month and you'll get unlimited integrations, 20GB file storage per member, one-to-one video calls, and so much more.
Famous for its security, Brosix helps businesses stay connected while guaranteeing their security and privacy. With Brosix, you'll have audio and video calls, custom chat rooms, and screenshot pasting.
Product owners can use screen sharing during calls to show information about features, they can share files and text the team without any interruptions. It's an administrative and flexible solution. Programmers love it because it's easy to set up and deploy it to all of their desktops, Chromebooks, and mobile devices, and also because of the privacy it provides.
The multi-language support helps the teams across the globe share their ideas in a more efficient manner, which allows them to collaborate and work on different projects with ease.
Brosix offers three pricing levels: The first one is free with up to 3 members but, unfortunately, it does not include the video and audio chat. You can get that with an upgrade to business which is 4$ per user per month, or the premium which is 6$ per user per month. The premium includes everything from the business, but also chat room control, chat rooms for groups, and security levels for user data access.
Zoom became one of the most popular video calling apps during the pandemic. There were even jokes that babies born after the start of the quarantine can be called "Zoomers". However, jokes aside, Zoom is an excellent video tool, especially for software developers. Recent security and privacy issues have tarnished the reputation somewhat, but according to the team behind Zoom, they have fixed their problems.
Daily standup meetings should be quick and should be used as a mechanism for the team to manage itself and to collaborate, making sure that everyone is on track. Using Zoom Rooms for these meetings makes it easy to establish solid grounds.
Team members can use screen sharing during the Zoom meeting to demonstrate their software. You can also record your calls to the cloud and later show the video to anyone you want.
Zoom offers free unlimited 1-1 meetings and meetings under 40-minutes long for up to 100 participants. If you want an upgrade, the pro version is $149.90 per user per year and gets you a 24-hour time limit on group conferences of up to 100 participants and 1GB of MP4 or M4A cloud recording.
Coming from LogMeln's family, GoToMeeting is a great way for you to connect with your teammates in real-time to patch code faster. The built-in video and voice calling system keeps the programmers connected across all devices no matter where they are. GoToMeeting has a slick interface and works well with mobile devices, unlike many other platforms which are struggling in this department.
You can have unlimited video conferences, use in-app messaging and whiteboards, and record calls. GoToMeeting allows you to convert conference rooms into collaboration centers with the "GoToRoom" option, create webinars, and use features like polling, "raise a hand" etc. to make your video calls more intuitive.
All the communication is completely encrypted and secure from intruders or hackers. Depending on the price plan you choose, you can have up to 3000 participants. The prices start from 12$ per organizer per month for 150 participants.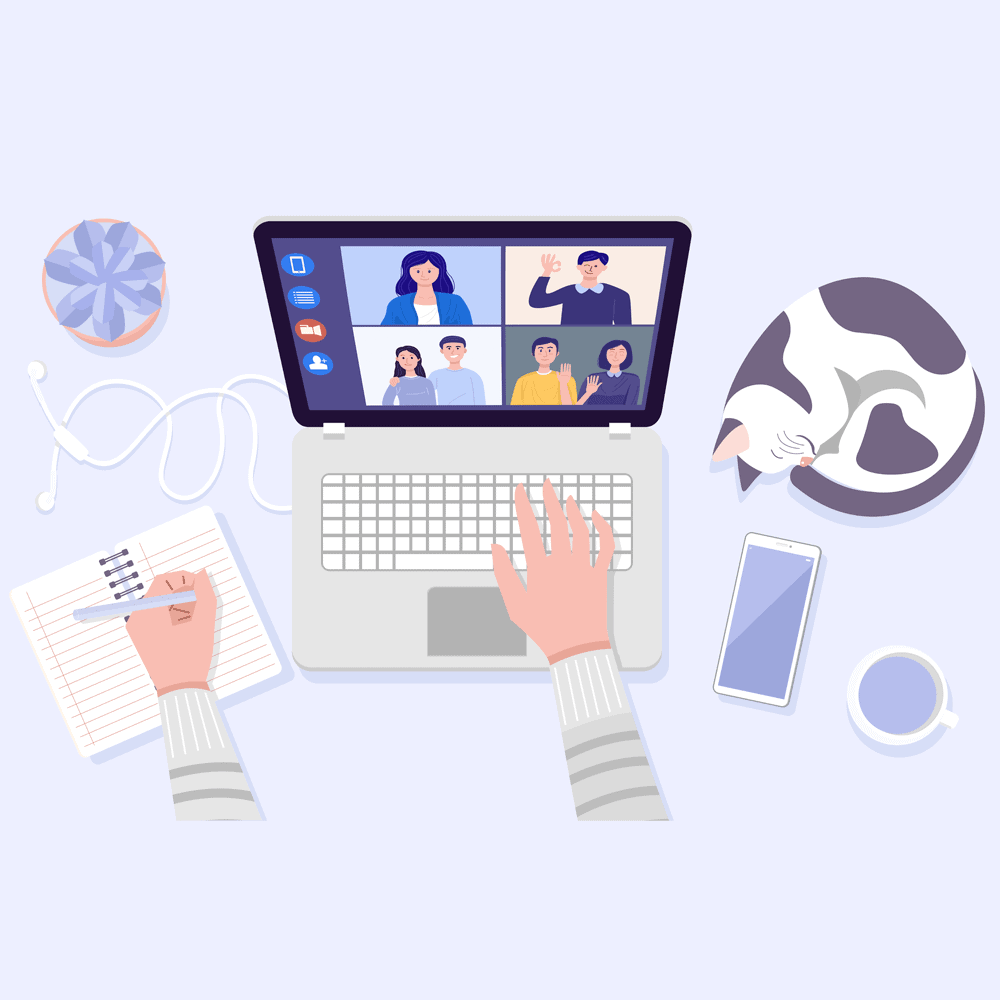 Slack's video calls are just a click away. Not just video calls, but you can also use direct messaging and chat rooms that can be organized by topics. It's an all-in-one communication platform with some of the most impressive features.
Apart from the regular chatting, they also offer sharing files and resources on cloud storage services. You can host your daily catchup calls on a Slack channel to talk about things like what you accomplished yesterday, what you're working on today, and what coding blocks are appearing.
Slack has 60 different programming languages to choose from. This might be handy when you create snippets that let you share code, log files, and configuration files. The plans range from free or up to 15.00$ per user per month, depending on your needs.
As one of the leading manufacturers of video conferencing hardware, Cisco Webex Meetings had to be on this list. It is best known for its flawless clear audio and video calls. Besides all the features you'd expect from a video calling apps, Cisco also offers a virtual whiteboard. When you have your call, you can choose to share your screen as a white page and then use it as a sketching tool.
Moreover, you can have separate whiteboards and navigate them as thumbnails. The best part is that everyone can use the virtual whiteboard at the same time. Naturally, you can have your normal video conference calls too and add chat to your video collaboration via the Webex Teams app.
Presentation tools, record and playback ability, and screen sharing are other trademarks of the software. The free version is a great option for up to three users and 50 participants for 40 minutes––including HD video, screen-sharing, and recording features. You can also have paid plans that start from $13.50 per host per month with 50 participants, and up to $17.95 per host per month with 100 participants.
Pick a Suitable Tool and Enjoy Online Meetings
With remote work becoming our reality, the number of video conferencing apps designed to keep us connected has increased.
However, some video apps are specifically designed with software engineers in mind. They are not just about face-timing your team. A great tool should help you have online calls that are as good as in-person meetings.
The good news is that the technology of these apps is constantly improving, attempting to reduce the friction of a virtual office. Whatever you choose, make sure it fits your goals and the way your team works.
So give it a go. Try one of these and find the best fit for you and your company. Cheers to great online meetings!