Why You Should Be Using React.js for Web Apps/Development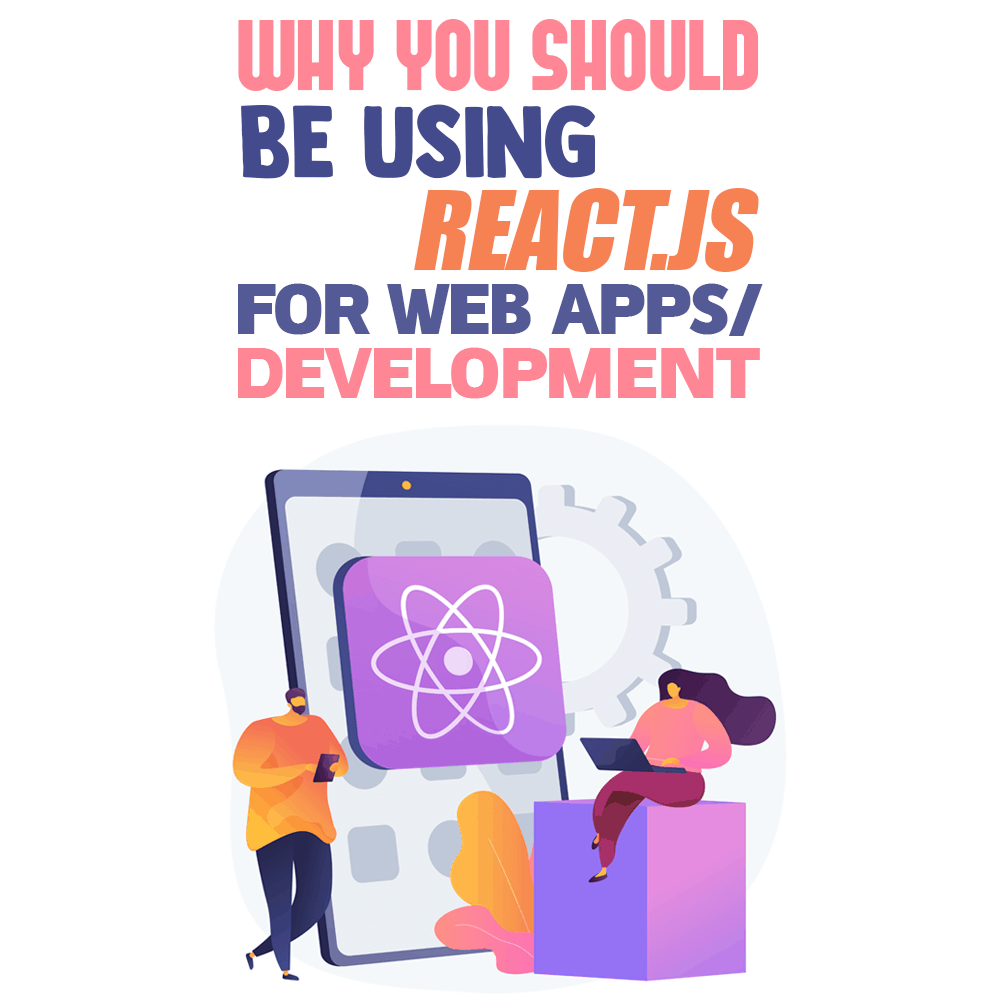 In today's world, time and money are both scarce and precious. Take a Clubhouse-like app, for example. The type of development language and framework you choose for your web or mobile app make all the difference when it comes to the end-user experience (UX).
The truth is, each development language and framework comes with its own characteristics, and if you pick one that isn't optimal for your project, you might end up wasting a lot of money on design, development, testing, etc.
So the real question boils down to how React Native differs from other JavaScript frameworks like Angular.js and Vue.js and, ultimately, which to choose.
In this article, I am going to talk about why React.js is ruling the world of web app development. Without further ado, let's answer your questions by taking a look at the complete guide to React.js for front-end web development 2021!
React.js vs. Vue.js and Angular.js
React.js came into being in 2011 with the advent of Facebook. The purpose of creating React.js was to eliminate problems due to the growing size and complexity of apps while building JavaScript applications.
Several other developers began their journey of adventures through React, which gradually conquered major chunks of the codebase that we know today. Owing to the increased usage of React.js for front-end development, other JavaScript frameworks counterparts such as Angular.js and Vue.js came along.
Today, React.js is used by 2.3% of all the websites, forming a JavaScript library market share of 2.8%, compared to 0.6% and 0.7% (Vue.js), and 0.3% and 0.4% (Angular.js).
But the truly interesting data are those concerning total downloads. Here's what the comparison between React, Vue, and Angular reveals:
This image screams the supremacy of React.js all over! The graph on Angular vs. React vs. Vue is an indication of the strong community that gives React.js the much deserved competitive edge amongst the others over the years.
The curve might be groovy, and the facts might be fascinating, but why? Why is React.js the preferred choice? What gives React.js a spot on the summit?
Efficiency, speed, flexibility, accuracy, you name it! React.js for enterprise applications is the clear winner for building user interfaces.
With highly dynamic, multifaceted, and robust features, React is one of the most popular front-end development libraries that has gained tremendous traction across the world and is most definitely here to stay.
React makes it easier for developers to create interactive user interfaces by allowing them to build on a stand-alone UI component. This includes all the visual elements along with the logic that governs the elements.
React.js can also be paired with other executive technology back ends. This enables React.js to act as a holistic ecosystem of tools and approaches commended for its accuracy in application development—including web, mobile, desktop, and virtual reality as well as static site-building.
Why Should You Use React.js for Web Development in 2021?
The fact that the React.js framework is open-source has garnered a huge caucus of support from developers. A survey in 2021 indicates that React.js is the most used web framework among software developers worldwide.
According to this survey, 40.14% of surveyed software developers reported using React.js, while about 34.43% were using jQuery.
If the stats might not be compelling enough, then I am sure that its unique features definitely will be. Let's dive into what React.js can truly offer:
Less Time Required To Learn
React.js has a simple interface that is very easy to learn. Having just about a decent knowledge of JavaScript will fare well for any developer. The idea behind the inception of React was to make it easier and agile so that users do not have to invest their entire time and effort in learning how to use the technology rather than using it.
This is a major advantage. if you put years into learning a particular framework and then you work on a completely different, off-the-track concept, you would not want to go through relearning another framework. React makes the transition easier for you.
Exceptional Reusability of Components
Customization increases perceived service quality, customer satisfaction, and customer loyalty toward your product or service.
Every developer tries to manifest customization to stand out in a fiercely competitive industry. A recent study by Deloitte reports that 1 out of every 5 customers is willing to pay 20% more for a personalized or exclusive product.
As rewarding as customization may be, there is no doubt that it is an expensive affair. Building components and using them on the applications is well and good, but as the project duration extends, rewriting these components is an unwanted burden.
If you're unsure of what customizations to focus on, use a survey creator to do market research to find out what pain points your customers have and focus your energy there.
To relieve you of this taxing conundrum of coding high-end application modules, React.js allows web developers to reuse their existing components. You can tailor these components as per your ideal project throughout the application. Convenient? Precisely what React.js is all about!
But what if a web application feature breaks and is bugged with an error? Will you have to redo all of your components? Here's what makes you fall in love with React.js.
The components of this framework are independent of each other, so even if any critical feature is broken, these elements remain stand-alone components!
What makes React.js different from the other framework components is that it allows developers to break down complex UI/UX development into simpler components. All the components are intuitive, so you do not have to worry about the entire web application.
In other words, when a web application is functional, each component will act as an individual part. This helps you reuse an element in future changes.
At the same time, if there is a bug, identification becomes easier because you will know which component is affected by the bug, and so you can fix it without having to redo the entire application.
Virtual DOM: Implement SSR Without Updating the Whole View
Imagine having to update the whole view of the UI every time you update. That would have been an agonizing and unavoidable task if it wasn't for React.js.
With the advantages of Virtual DOM in React, developers can implement SSR without having to update the whole DOM. Having a declarative API, whenever the user does any interaction, the Virtual DOM facilitates updating components without affecting other parts of the interface.
Build Dynamic and Engaging Web Interfaces
Bug-free, dynamic, and engaging web interfaces—as well as having a highly scalable framework—is every developer's dreamland.
React is declarative, so you do not have to skim through resources to find how a particular feature works and supports your application. With React.js, you can easily deploy what component has to be created and the framework simply accelerates the pace at which the application is built.
React.js allows several enterprises to craft and build applications with better UI to enhance the UX. These are the best features that React provides, further promoting better user engagement, higher click-through rates, and conversions.
Versatile Ecosystem of Tools for Developers
The overall time that is allotted to work on the simplest functionality can be highly exhausting and time-consuming. All of your work can get redundant whether you like it or not, and this decreases efficiency and effectiveness.
But with React.js there is a ray of hope, as this framework is surprisingly developer-friendly. With a dozen tech-savvy customizable charts, graphs, documentation tools, and modules, you can now choose from a large pool of existing components.
For those of you who want to replicate an application without going through the hassle of redesigning it from scratch or working on a rigid architecture, React.js undoubtedly is your best option.
Moreover, you can easily scale back on the budget for maintenance, which makes it not only the best but the most feasible option.
The Many Benefits of React.js
Making the best decision for your project requires an extensive and in-depth understanding of what fits. And the benefits of React.js are many—indeed, they seem to be infinite!
It's easy to learn, which means you won't have to waste time understanding it rather than using it. It also features exceptional reusability of components, it allows you to implement SSR without having to update the whole DOM, and it's particularly suitable for building dynamic web interfaces.
Also considering its versatile ecosystem of tools and community support, it becomes evident that React.js can be a major element in your coding success. Its state-of-the-art features and functionality are compelling enough to prove the worth and excellent service of React.js!