5 Reasons Every WordPress Developer Should Blog Consistently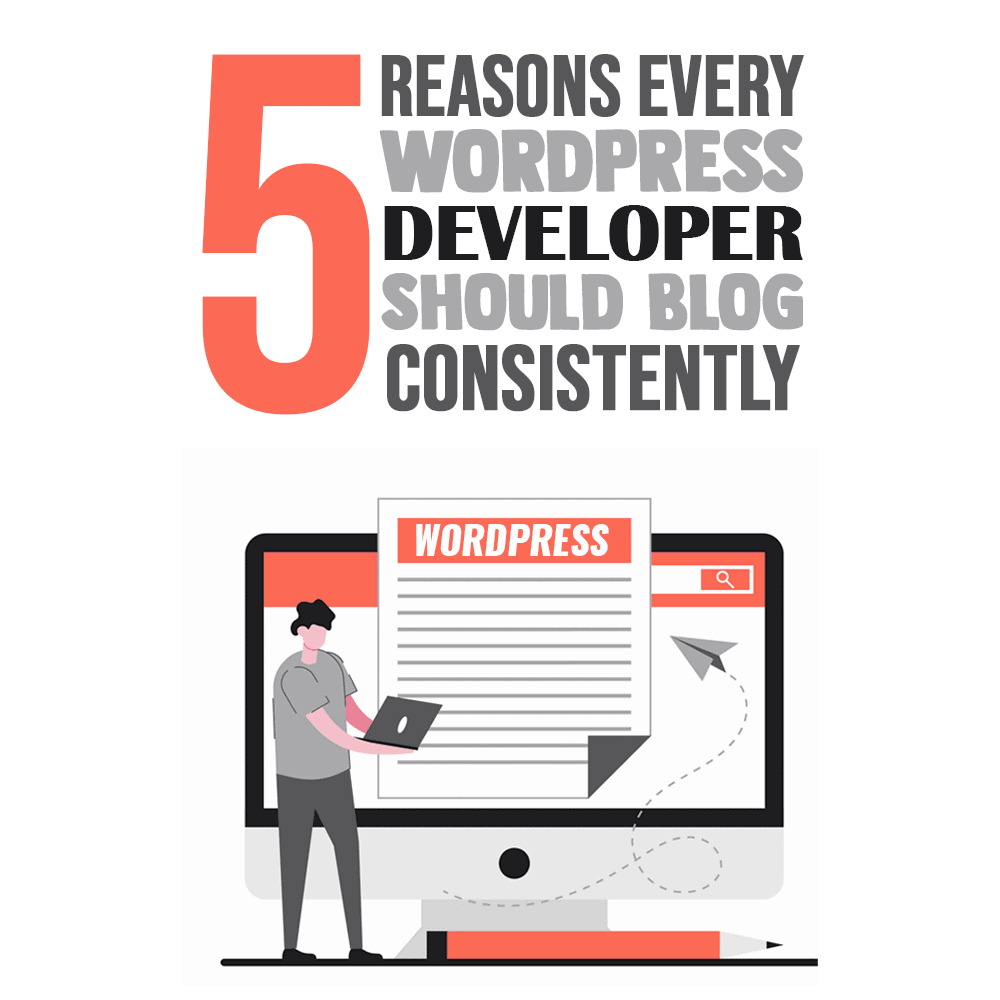 What do you do if you encounter an unexpected coding dilemma? Most of us jump onto Google. What appears in the search results? Blogs!
Most people read blogs to learn something new, meaning they must be written and published by the top experts in their field… right?
Actually, anyone can blog. It's simple, fun, and comes with a ton of great benefits.
A blog lets you connect with thousands of people who want to listen to what you have to say. Through a blog, you share your knowledge with others and learn a lot from them too.
As a developer, you can gain many advantages from blogging. Let me share some of them with you.
Marketing Your Personal Brand
In today's world, having a solid personal brand is important. The internet is home to thousands of developers. Imagine trying to crawl your way to the top without the audience knowing you're even there.
You will notice that most well-known developers have their own blogs to share knowledge and promote themselves.
You also have a skillset, and you can use blogging to meet the needs of those looking for your expertise. If you're worried that you're a better coder than writer, you can get help with the writing side of the process.
Having a simple 9-to-5 coding job isn't the end-all. More than likely, you'll want to advance to a more specific or higher-level position in the future. Blogging lets you tell people why they should hire you, and demonstrate the value you bring. It's attractive to employers, who might even reach out to you with job offers.
Learning New Technologies and Trends
When you blog regularly, you have to find topics to blog about. The constant desire to produce unique and informative content will force you to research more, and help you gain knowledge you might have missed otherwise.
Moreover, if you're into one kind of technology stack, while blog writing you'll likely find yourself interested in something else and could end up writing several posts about it.
And if you get deep into a new subject, you might find another benefit: you might engage with a recruiter who offers you a job you didn't apply for all because they thought your post on that topic was compelling.
Building Relationships Within the Developer Community
When blogging you'll often write about things you come across as an everyday developer. In doing so, you're more likely to strike up a conversation with other members of the community. This is known as networking, and is essential for all developers looking to advance in their career.
If you work for a smaller company, chances are you don't have a large number of developers that you can look up to. If you get involved in the community, you'll have an opportunity to have discussions about problems you face with developers who have real-world experience.
When you publish a blog post you share it with millions of people worldwide, who can connect with you if they like what you have to say.
Along the way, you will meet great people who will be more than interested in helping you out with things you want to achieve in your life.
Sharing Code Snippets
As a developer, you are constantly building things, tweaking things, and writing code. If this excites you, then why not share your beautiful code and let others see what you're working on? Let them learn from you!
If something you are trying to achieve conventionally is challenging, and you have a workaround for it, share those code snippets and solutions on your blog. Many developers around the world may not know or have a workaround for the same problem for which you have the solution. They will benefit from your work, and will, in turn, become your potential audience.
You can also rethink the code you write by posting it on your blog and allowing others to use it or critique it to gain insight.
Remember that receiving feedback from others is always helpful, regardless of how it might make us feel.
Attracting Better Opportunities
Blogs help you showcase your expertise in the field. Blogging is a good sign that you are interested in what you are doing, and enjoy being a developer.
Additionally, it shows that you are good at organizing knowledge which will come in handy when you have to share your ideas and thoughts with new people around you.
It is a fact that communication skills are imperative for a good developer—or any freelancer for that matter.
Despite being a genius programmer, you will not satisfy your manager or, more importantly the end-user, if you lag in communication skills.
Writing blogs improves your writing and even speaking skills, thereby increasing your confidence levels.
Through blogging, you'll learn new skills and make connections, which can lead to better opportunities for your freelance and contractor career.
Become an Expert Developer by Starting Your Blog the Right Way
Blogging is a great way to engage with your community, learn new skills, and maybe even get a new job—but before you publish your first post, here are a few things you should do to start your blog off right.
Have a few posts in the pipeline.
Don't sit on those posts for too long — prepare a queue.
Learn what marketing tools are available, and how to use them to promote your blogs and reach your target audience.
To get the best out of your blog you can also get help from professional WordPress website development services, which could make things much easier for you.
Happy blogging!