Today's corporate websites have come a long way. Before, they used to be more like a business brochure with information limited to the company name, profile, and short descriptions of the products or services offered. That has changed drastically as years passed and the online space grew more and more competitive—so much so that business websites have gone from being merely an option to becoming an absolute necessity.
As programmers, it's become essential to understand what makes for a good corporate website, in order to be able to create one that truly speaks to the business' audience. In this post I'll show you all you need to know to build an attractive, competitive and a high domain reputation corporate website that can promote your career as a developer.
What Makes a Good Corporate Website?
Whether you're an in-house programmer or one that works freelance, it's crucial to understand that a corporate website exists for one major reason: to engage people who you deem important to what you do in a conversation about why your company matters. Corporate websites serve as a place where people can get the whole story about the business. Because when it comes to B2B marketing and communications, your whole story is critical.
As such, it's key to always remember that it's all about user experience. Nothing discourages engagement more than just talking to yourself. Be it in the actual messaging or the visual design, always keep your users' experience in mind. Below are some of the ways you can communicate better through your corporate website.
Responsiveness
As people increasingly view and interact with the web across different devices, you need your website to look and act great on any device—from laptops and tablets, to phones and TVs. As B2B stakeholder communications move from the boardroom to wherever it is they need to be, your site should be as mobile as they are.
Furthermore, remember that your focus as a developer isn't identical to your audience. In other words, if you're only developing desktop applications, that doesn't mean the people waiting to discover your business will necessarily do so using a desktop computer.
In 2020, half of the global web traffic came from mobile devices. So if your website is not yet mobile, you're missing out on a huge chunk of people looking to hear your story and do business with you. This is a simple, yet crucial, growth hacking strategy you need to implement.
Content Structure
You can have the most inspiring story, but if the way you structure your content and facilitate the user experience is lacking, you won't be able to communicate your message. Additionally, valuable content impacts other areas of the business like search engine rankings, conversions, and building trust.
One of the ways you can achieve this is by providing excellent on-site search. One of the easiest ways is to implement Google search on your site. You can even use this feature unbranded for a relatively small fee. If you want to go a step further, you can even integrate the UTC site search, which anticipates what users are looking for and offers suggestions as they type.
It would also be wise to make content findable by utilizing dropdowns and footers to enhance navigation. These multiple pathways encourage continued engagement and can also minimize the number of clicks a user has to make to find what they want.
Well Thought-out Visuals
While it may not be true that nobody reads anymore, most of the time, users would appreciate needing to read less and get to the crux of what it is you have to say. When skimming, users tend to look for images and graphics to serve as guides to point them in the right direction. As such, use your web developing skills to aid in that regard whenever you can.
A Few Stats to Convince You Further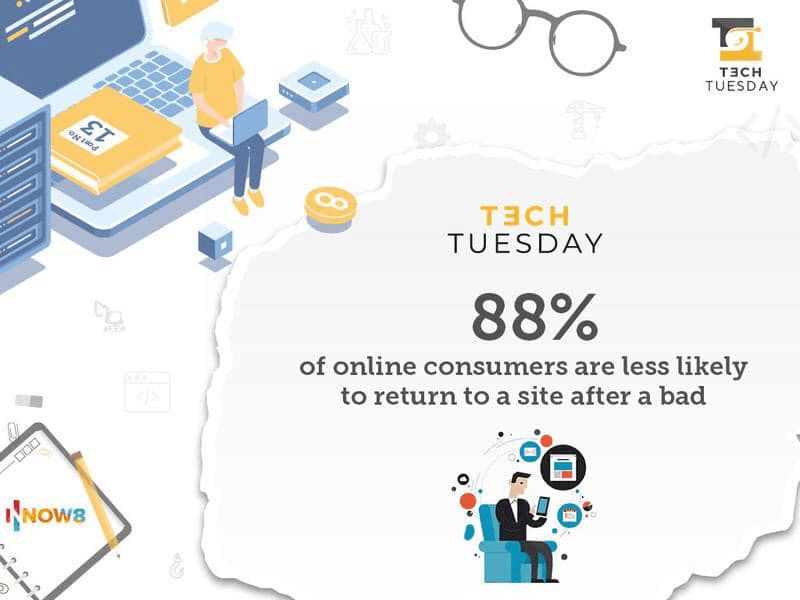 Here are other business website statistics that you should know:

How To Build a Better Corporate Website
Here are a few more tips on how to build a corporate website that positively impacts the entire business.
Understand Your Audience
I have already alluded to this earlier, and for good reason. While the communications and marketing team may do much of the leg work in this regard, as a programmer, it would only help if you share a similar understanding. This would allow you to tailor elements of the website to fit your demographic, reflecting the language they speak, needs, and aspirations.
Respond to the Need for Speed
Some reports have found that 40% of internet users abandon a website that takes more than three seconds to load. This is a massive percentage that negatively trickles down to everything the business wants to achieve—from increasing awareness and getting their message across, to generating leads and increasing conversions.
There are a few simple steps you can take to ensure that your website runs smoothly. These include optimizing image and videos, keeping the software updated, and choosing a website host that can handle your bandwidth demands.
Entice Them to Act
Each page on the website should encourage the visitor to do something. whether it's learning more about products and services, subscribing to emails, or downloading content. The design, placement, and messaging of call-to-action buttons significantly impact visitors' urge to do something on your website.
As an additional note, look to keep your CTAs above the fold so that visitors don't have to scroll before finding what it is you want them to do.
Add a Personal Touch
While corporate websites usually maintain a certain tone of seriousness, it doesn't mean you can't get personal with your audience. This is another area where understanding your audience helps, as it helps create a high-quality online experience that aids brand perception and overall communication.
Awesome Corporate Websites To Inspire You
Curious to see what amazing corporate websites today look like? Check out these websites:
This SaaS provides businesses with a multi-channel platform for accepting payments online, on mobile devices, and in-store. While that may sound like a complicated proposition, the website's navigation menu is presented in a way that helps visitors and potential customers understand what they have to offer and how they're going to go about it.
Additionally, upon entering the site, Adyen's main value proposition is instantly and easily communicated: how to easily collect payments from customers.
In a similar vein, Alteryx is quick to convey what it is they can do for you. The world of analytics may be intimidating to less seasoned business owners but you're quickly dissuaded from feeling so as you visit their website.
The self-service platform allows you to prepare, blend, and analyze data – beyond what Microsoft Excel and other spreadsheets can. When it comes to services that can be quite complex, it's always better to simplify it when communicating with potential customers. Alteryx does just that.
You'll find straightforward communication to be a theme in this list of top-notch corporate websites, and Slack does that as well as anyone (and makes it cool to boot). The web design is clean and simple while the content (despite their wealth of features) is concise. All these result in great user experience.
This is a cloud-based data protection and security service that helps businesses minimize the risks of data loss and provides disaster recovery from unforeseen events. This is a subject that not many businesses may have at the top of their heads, and Code42 does a great job of offering visitors information about endpoint data protection and how important it is for most businesses.
This understanding of how their product isn't as well-known as others is fundamental to the informative nature of their approach to web design.
Go Corporate
When all the industries and most likely all your competition have occupied space in the digital world, it's imperative that you establish your brand online, too. Having an effective corporate website is only the first step but it does open up a lot of possibilities for your business.
If the business you're working for doesn't have a competent website yet, use the above as a guide to making one that achieves its goals.
Creating an attractive corporate website is a product of several factors. From good, responsive design to understanding your audience, and from technical excellence to adding personal touches, there are things you, as a developer, can have a say in. Make sure to exercise your knowledge and experience to provide added value to your company.c