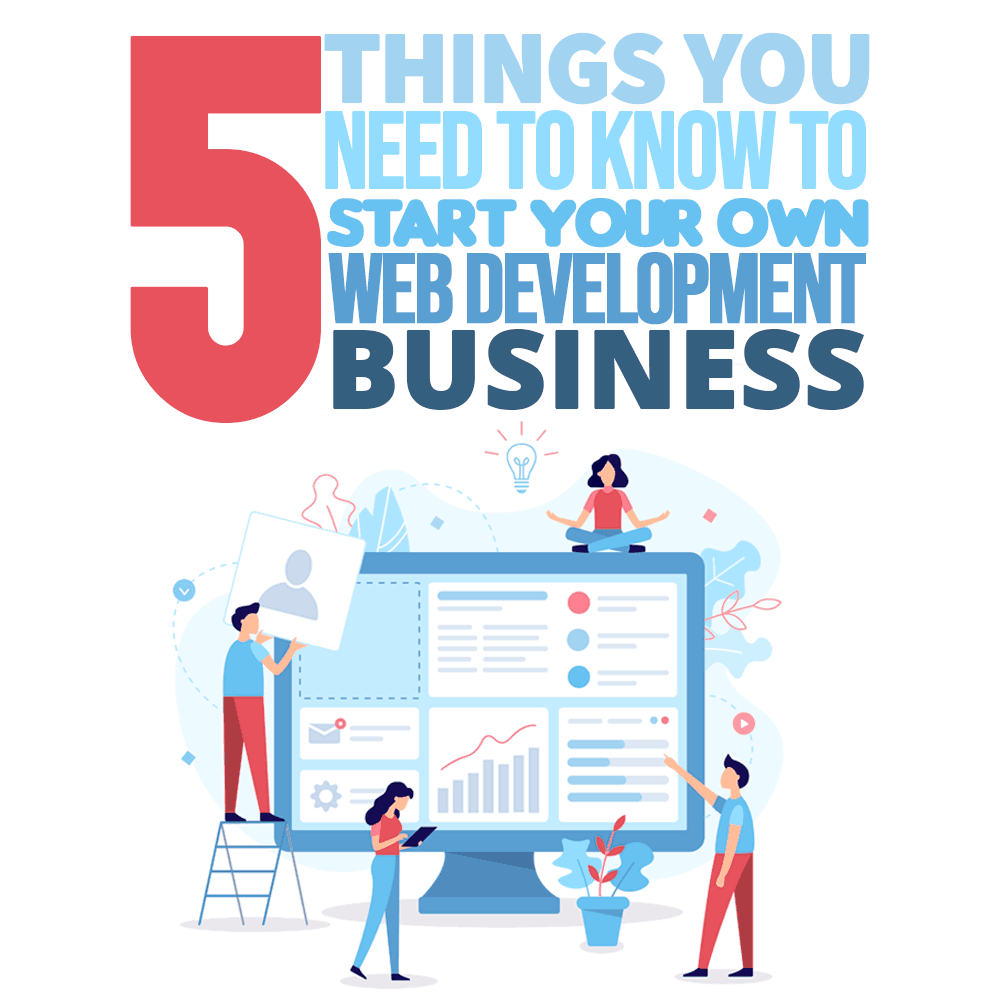 Did you know that a new website costs anywhere between $2,000 and $20,000? That you can charge up to $150 per hour as an experienced freelance web designer, and that even newbie developers charge upward of $30 per hour?
When you consider that the average salary of a web designer in the U.S. is somewhere around $76,000 per year (before taxes), you quickly realize that you stand to make way more money if you can turn that skill into a business. Even if you design just one website per month, which is on the very low end, a web design business could still make you over $100,000 in a year!
If starting your own web development business is something you've been pondering for some time, the time to make the leap is now. Indeed, here are five critical points to consider if you want to build a successful business.
1. Create a Business Plan
Behind every successful business is a bulletproof plan—a plan that maps out, in detail, how the business is run from top to bottom.
The main purpose of a plan is to show you the way. Where do you begin, and where are you headed? A detailed business plan will answer this and many other questions such as how to remain competitive, how to retain customers, and how to budget.
To this end, make sure that your plan covers these four essentials:
Your goals
Your mission statement
Your business model
Your approach
Remember that all business goals must be SMART (Specific, Measurable, Attainable, Relevant, and Time-based).
2. Budget Properly
To start a business, even on the internet, you need some money. For freelance web design, you need to budget for the following:
Computer and phone – A computer in excellent working condition is mandatory. You also need a phone to remain in touch with clients.
Website – Since you'll be working online, you also need a website. Don't forget to budget for domain name, premium theme, and hosting.
Furniture and stationery – Unless you can borrow these in the meantime, an office desk and comfortable chair are necessary. You also need stationery and office space.
Software – Among others, you need web development, time tracking, finance/invoicing, task management, and project management software.
In addition to these four, we also recommend planning for insurance (health, liability), a business license, and taxes.
3. Hire a Web Design Team
It's easy to fall into the trap of thinking that you can do everything on your own. Every business owner thinks this way when first getting started until they discover that a team not only makes work easier but also boosts profitability. The following are a few professionals to add to your team:
Expert coder – You might be a good developer, but hiring one or more full-time professional developers to handle coding and general design while you focus on running the business is the best way to go.
UX designer – User experience designers are critical in web design. They'll help you design websites that users enjoy spending time on.
Accountant – You don't need an in-house accountant right away. But you need help managing your finances. So, here too, consider outsourcing.
4. Price Your Products Correctly
Often taken lightly by some business owners, the amount you charge for your products has a direct impact on the success of the business.
A price too low, which is what many beginners charge, may give the impression that your services aren't of the highest quality. This can turn away potential customers. Also, charging low prices might leave you running short on revenue.
An overly high price, especially when getting started, is also not a good idea, as relatively cheaper but more established businesses would appear a safer bet to those who need a website designed.
The best solution to this dilemma is to use freelancer rate calculators to determine what to charge as you start off. You can adjust the rate down the line as necessary.
5. Start Marketing Right Away
The moment you choose to start your own web design business, your primary responsibility shifts to selling websites, not designing them. The following marketing tips should come in handy:
Develop a sales cycle – A sales cycle is a planned process of finding prospects, turning them into leads, converting leads to customers, and maintaining a relationship with the customers.
Create a Brand – Branding includes, among other things, creating a logo for your business, creating a slogan, printing business cards, and selecting your business colors.
Use aggressive marketing: From search engines like Google and Bing to social media networks like Facebook, Twitter, and Instagram, ensure your promotions can be found on every platform where your prospects are likely to be found. Paid advertisements, influencer marketing, blogging, and email marketing are other strategies to consider.
Over to You
Now, it's time to set up your web development business. However, keep in mind that you should open your doors to customers only after you've carefully thought about and planned for each of the above points. Get out today and do it!