How Much Does It Cost To Build a Live Streaming App Like Netflix?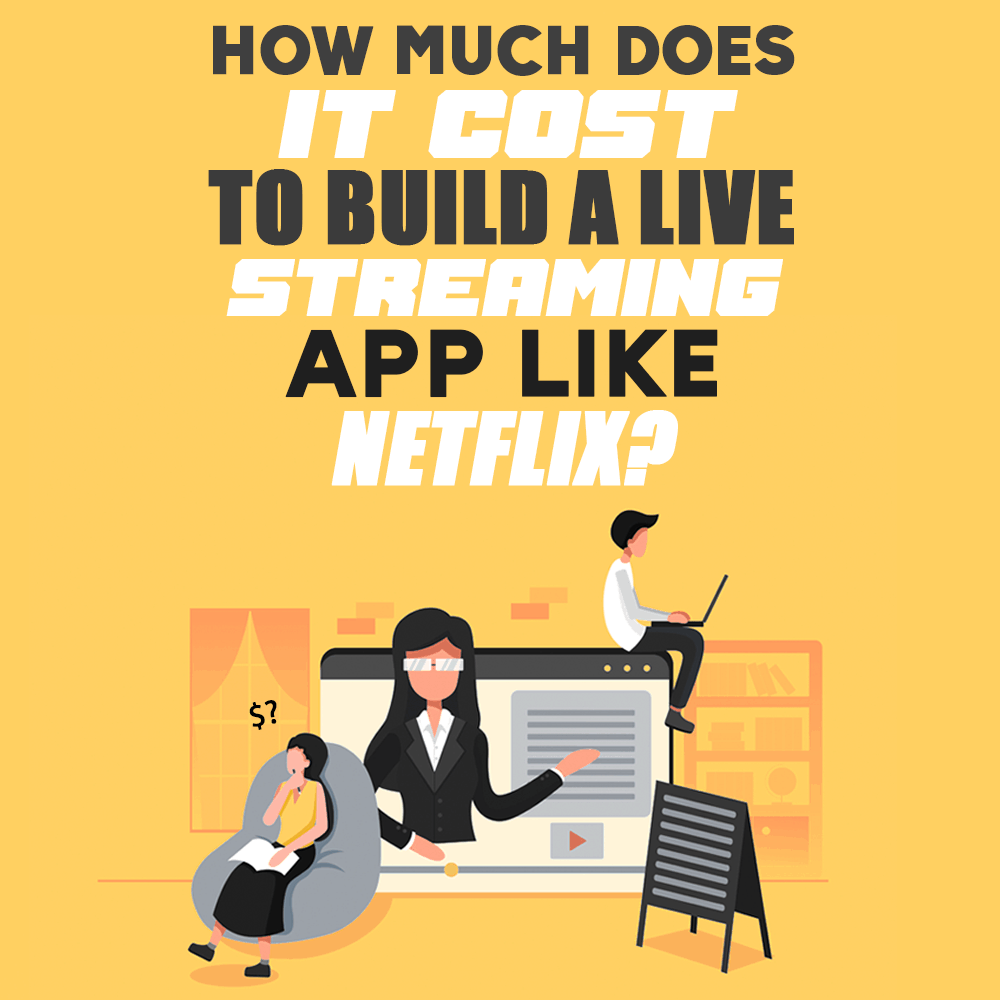 The digital world is continuously expanding the ways to keep us engaged and entertained. Streaming was already gaining momentum before 2020, but it reached another level during the pandemic—and is still expanding.
If live streaming is on your radar as the next big project, you should go deeper to understand the industry from the inside and get an approximate cost. This article is a good starting point to answer your initial questions.
What Is a Streaming Service?
Do you really know what a streaming service is? You think you do, but it's a lot more than just a continuous stream of data. Behind the actual streaming, there is a lot of hard work, like essential features, smart budgeting, and tech stack.
Streaming is basically delivering video content to the user's computer or mobile device through the internet. It may sound simple as pie, but in fact, a streaming service is a more complicated process involving not only a computer and stable connection but a whole ecosystem.
Your first step on starting with a streaming service should be in-depth research of the techniques, trends, and market requirements. To sort the endless information flow, let's focus on crucial information.
Essential Features of a Streaming Service
Netflix can be considered an absolute leader in the streaming service segment, that managed to expand its influence globally and is keeping the highest position. What is the secret of its popularity?
Of course, hundreds of factors contribute to the successful expansion of the service, but the first criterion is the business model. Netflix has a subscription-based business model that gains revenue mostly from subscription plans.
With three subscription plans—basic, standard, and premium (ranging from $8 to $15 monthly)—people buy the service implicitly to access the most extensive library of movies and TV shows. This "simple" business model, though, generated over $7.3 billion for Q2 2021.
Although issues like sensitivity to bandwidth disparities, performance latency, and security are also things to consider, they are outside the scope of this article. Instead, we will talk about the essential elements that will make your service stand out.
Element 1: Knowing Your Customer
Knowing your customer is a moneymaker. Your business should be equipped with all functionalities to store and record billions of user actions. You can get valuable insights from this data—build on them! You will be amazed at how valuable this information is. Data on customers is a source for innovative solutions and firm ground in the marketplace. Treat customer info as secret service data!
Element 2: Offering Access to Vast Content
You may decide to focus on a specific topic to stream, like sports or music. The evidence suggests, however, that those streaming services that have access to vast content are the ones that are more successful. The following is a nonexhaustive list of themes for streaming:
Entertainment
Nutrition
Physical Health
Meditation
Fitness
Religion
Element 3: Leveraging the Power of Surveys
According to Statista, 49% of respondents said "the ability to watch TV shows and movies" is very important and 24% said it is somewhat important. Do you want a secret worth a million USD? That's so simple but very few people would think about it.
The secret is that you have to focus on this 24% who said TV shows and movies are somewhat important. What else is important for them? Find this out!
If you do, you will gain 24% of streaming services customers from an already impressive base of more than 125 million. Do the math yourself and you can convert the number to a subscription fee. You will be impressed by the astounding 6-digit figure! Your company's financial performance will speak for itself if you don't ignore this life-changing tip.
How Much Does a Streaming Service Cost To Build?
Now, let's get to actual numbers. How much should you be ready to spend to start a streaming service? To know, you need to sketch out an itinerary and budget. What you want is not what you can afford. So, knowing the figures is a good start.
Here is what you will spend on:
Market research
Business plan development
Content licensing
Development stage
Marketing and promotion
Feedback gathering and response-building
Seems easy, huh? But each of these stages requires thorough planning and endless efforts. Let's focus on the app development stage and see how much it costs to build an app like Twitch.
Total Streaming Service App Development Cost
Long story short, here is the answer to the question you are asking. The approximate cost for Netflix-like streaming service development is around $10,000 to $65,000 for one platform. The price does not include support and ongoing maintenance.
Naturally, we won't come up with an exact estimate but with an approximate number. The cost of building a live streaming app depends on the number of features, the technology used, the hourly rate of the developers, and much more.
Generally, outsourcing to companies in the U.S., Canada, and Western Europe is expensive. Alternatively, you may want to hire developers in Eastern Europe and Asia. Developers in Eastern Europe charge a lower hourly rate but still offer high quality.
Most probably, the outsourcing company will offer you a price estimate based on an hourly rate. Here is a small recap on how many hours per development stage are spent making your live streaming app work and deliver ROI.
| | |
| --- | --- |
| Specialist | Number of hours |
| Research and analysis | 80 hours |
| Building the prototypes | 80 hours |
| Design | 250 hours |
| Development | 1190 hours |
| Testing | 300 hours |
| TOTAL | 1900 hours |
The cost per specialist in Eastern Europe varies from $30 to $50. Most probably, you will get developers at the $40/hour rate.
Based on the analysis of business plan, project scope, and stakeholder requirements, we have the following graph for streaming service app development costs.
| | |
| --- | --- |
| Development Module | Development Cost |
| iOS App Development | $37,000-$54,000 |
| Android App Development | $38,000-$54,000 |
| Back-end Development | $37,000-$48,000 |
| Front-end Development | $29,000-$38,000 |
| Total Cost | $141,000-$194,000 |
Streaming Service Monetization Model
So, the big question is, how do you monetize a streaming service?
The monetization model is the criterion to help your app not only look good but make money. With a potential of over 80% of the U.S. population using streaming services, it is high time to use it in your favor. So how to do that?
The monetization strategy should be planned in the very first stages of project planning. Thus, you will save much time on trying and testing different models. Here are the top popular ways of monetizing a streaming service:
Pay-per-view (PPV) method – Reminiscent of the culture of tickets to the shows or movies.
Monthly/annual subscription – With an option to terminate the service.
Play Ads – Yes, advertisements are annoying, but they are essential for a business model like live streaming.
Companion Ads – Those banners may appear not while playing the video but at the bottom of the video.
Get sponsorship – During the first months, you may need help, so sponsorship is an excellent way to kick-start your business.
Driving traffic to the website – Last but not the most minor type of monetization model to generate revenue is raising brand awareness by directly interacting with the target audience.
The right choice will depend on your particular requirements and circumstances. As we saw, when you're just starting your business, sponsorships are a good option. If you've already advanced a bit, you could consider ads, perhaps supplemented by a subscription option for those who don't want to see ads. And finally, you could offer the service only to subscribers. Let's see some of the options in more detail.
Subscription Billing
Most of the streaming services choose subscription as a type of monetization. Monthly subscription makes your customers feel comfortable and free of any responsibility to keep paying a whole year. For annual subscription services, offer discounts and lower prices so when a customer has tried for a month, they can always change to an annual plan.
According to the Statista survey, 17% consumers think $15 is too much for streaming services (it is the average price for most channels). The majority of consumers are ready to pay $20-$35 monthly. The trick is to make your customers ready to pay for the service and offer a reasonable price.
Now the question is how to make customers subscribe to your business in the vast market of live streaming business? The answer is that you should be as welcoming as no one else when hosting your customers into your club. Offer them some perks, like access to online multiplayer gaming, exclusive discounts, cloud storage for game saves, MasterCard eligibility for cashback, etc.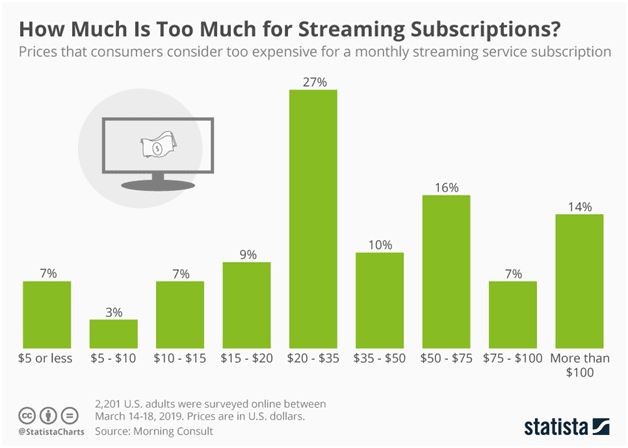 Ads
With ads, you provide advertisers with access to your audience. Advertisers sponsor ads or pay for placement within your streaming content. This is particularly popular for the brands that align with your business. For example, companies may promote workout gear or supplements to a fitness audience.
The most important thing is not to annoy your customers. To do that, give them an option to opt out from ads if they choose to. Alternatively, you can make a plan for a click per ad as a discount from the membership or subscription fee. This tip is worth a million dollars if you deal with it smartly.
What Are the Prices for Streaming Services?
The average price for a monthly subscription is around $7 with a seven-day free trial. The prices may range up to $65 (Hulu Live TV, fuboTV). Here is a brief chart of the most popular streaming service prices.
| | | |
| --- | --- | --- |
| COMPANY | MONTHLY FEES | MULTIPLE STREAMS |
| Netflix » | $8.99 and Up | Up to 4 Screens |
| Amazon Prime Video » | $8.99 and Up | Up to 3 Screens |
| Disney+ » | $7.99 and Up | Up to 4 Screens |
| Funimation » | $0 and Up | Up to 5 Screens |
| Hulu » | $5.99 and Up | Up to 2 Screens |
| HBO Max » | $14.99 | Up to 3 Screens |
| Peacock » | $0 and Up | Up to 3 Screens |
| Crunchyroll » | $0 and Up | Up to 2 Screens |
| Paramount+ » | $5.99 and Up | Up to 3 Screens |
| Apple TV+ » | $4.99 | Up to 6 Screens |
Streaming Is a Trend
Streaming is becoming a trend, especially after the COVID-19 pandemic, with new opportunities and a wide audience. Investing in the live streaming industry is smart, as this may generate revenue that you can't even fathom today.
Yes, an idea must come first. But remember, a tree will not produce fruit if it is not cultivated with care first. With a proven live streaming business strategy, ambitious ideas backing the plan, and engaged stakeholders, your idea is set to take on the world.