How To Handle Finances as a Freelance Developer (Tips, Apps, and More)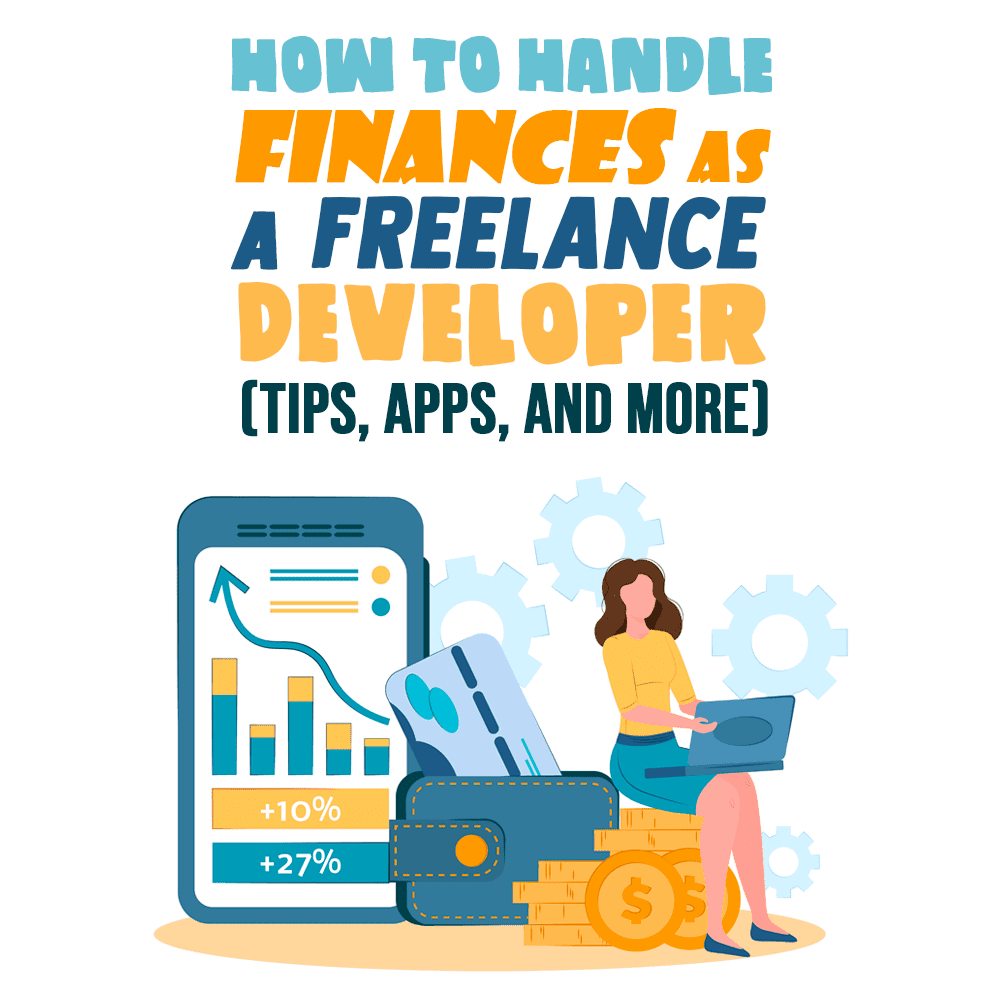 Are you switching from a corporate, nine-to-five job to freelancing? Or have you already been a successful freelancer, and now you would like to lift your accounting to the next level? In both cases, you probably realized or heard from fellow freelancers that bookkeeping can be boring in the extreme.
However, it doesn't have to be like that. It is true that freelancing brings some financial difficulties that you don't have when you're traditionally employed. But if you are careful and properly informed, it can go much easier than you would think. In this article, you will learn the basics of handling your finances as a freelancer. Knowing that will help you avoid unnecessary penalties and save you some time and energy you can invest elsewhere.
Revenue Questions: Self Check-In
When working as a self-employed software engineer or JavaScript developer, it can be hard to figure out what business expenses you can claim. For instance, you are working remotely most of the time, which can confuse you when defining what to write off as "personal" and what's "business."
There are some questions that can guide you through your tax-related chores. Answering these should become a regular practice, since it is a simple procedure that can save you from a lot of trouble.
The two most important revenue questions are as follows:
How much money did you earn?
Have you borrowed any money or invested in something? If so, from whom and for what?
After these questions, you then have these expense questions. Questions relating to expenses can look something like this:
Have you paid anyone else besides yourself? Yes, an IT architect.
Have you categorized your expenses?
Usually, the largest portion of our regular expenses are the salaries of our employees. There could be multiple reasons why you might need to hire someone, even if it's only temporary. Let's imagine you are launching a test version of your software. The product began gaining momentum, but then the system stopped. You needed an IT architect, so you hired one to resolve the issue and ensure such things won't happen again.
In case you haven't categorized your expenses, you should do that ASAP. Doing this is essential to understanding your financial flow. There are many types of expenses, but most of them fall into the following three categories:
Fixed (expenses you have every month, such as rent, phone, utilities …)
Variable (expenses you can't really predict, such as commissions, supplies …)
Periodic (expenses you have regularly, but not so often, such as annual subscriptions, vehicle registrations, etc.)
Once you classify your expenses like this, many things will become clear to you. For example, you will be able to see where you lose more money than you would like. Thus, you will cut any unnecessary expenses and improve your balance for the next month.
Tax Write-Offs for Freelance Developers
Taxes are usually calculated based on your gains. And your gains are calculated simply as a difference between your expenses and your total income. Therefore, you want to include each and every expense you had (the so-called write-offs) in order to reduce the tax amount you have to pay in the end. In order to justify the write-offs, you will need to keep the bills in case you are asked to verify your expenses.
Here is a list of the possible write-offs you may claim.
Electronics
If you had to buy any new electronics related to your job, such as a computer, keyboard, cellphone, printer, mouse, monitor,  you can count those as write-offs.
Software
You can write off any software resources your job requires. These include a yearly subscription, a software purchase, and so on.
Office Supplies
Stationery, photocopies, and monitors are also tax-deductible.
Website Expenses
Website hosting fees, stock photos, plugins, and themes are tax-deductible.
Phone Bill
Your monthly phone bills might be expensive, and the good thing is the cost is partially deductible.
Travel
Working as a freelance developer usually doesn't involve much traveling, but you can claim expenses traveling from your usual workplace to meet a client, for example.
As a freelance developer, there are many different tax forms you need to keep track of, but never miss a chance to write off all expenses and get some cash back.
Bookkeeping for Developers
Pro tip: Track your income and expenses consistently.
Once tax filing deadlines get close, freelancers have to drop everything to get their bookkeeping in order. Many put off bookkeeping, pulling together all details only when they have to file taxes. This can interrupt normal workflow on the one hand, and cause mistakes in tax filing, which can have serious consequences. Therefore, regularly tracking income and expenses is crucial because you have to know how profitable your business is to make the right decisions.
For example, if you realized your income had dropped, you could take on more client work. Also, check out the best ways to earn more as a developer without getting new clients.
Save Your Invoices in a Proper and Safe Place
Avoid one of the common mistakes developers make when freelancing—not being organized. The last thing you want is to wait for tax season unprepared and start searching for past invoices that were paid or sent out.
Think of dedicating a particular place to hold all of the invoice files. This can be a digital storage place like Google Drive or Dropbox or a physical location. The key is to know where your invoices are so you can access them the exact moment you need them. Actually, these files are so important that you want to have multiple copies so that you can't lose them. Probably the best solution is to have both digital and hard copies or at least multiple digital copies.
Investing in tools that will keep you well-organized can be a lifesaver. Some developers need a digital planner, some a subscription tracking app, and so on. There are various software solutions available online that can help you save time and stay on track.
How To Invoice for Development Services?
An invoice or a bill is a document you send to your clients, containing crucial billing information: the amount, the deadline, the exact services provided, the sender and receiver's info, etc.
You can send invoices in two ways:
Send the invoice before the work starts: There are specific situations in which sending an invoice to a client prior to delivering services makes sense. Prepayment is reasonable when:

The client has a history of delayed payments, so it makes sense to request a prepayment and protect your time, energy, and business.
Additional equipment and material purchases are necessary in order to complete the tasks.

Send the invoice after the work is done: Invoicing when work is completed is the most common practice.
Pro tip: Break down your services clearly.
Being a developer means working on many different tasks, from coding to testing and troubleshooting. Clients sometimes don't realize how much time and energy project work takes, so make sure to break down freelance services clearly and get them to understand what they are paying for when they work with you.
For example, one of the best invoicing procedures would be to list tasks more specifically, such as "Analysis & Planning," "Testing," and "Deployment & Support," instead of putting "App development" in your invoice.
You can also use a developer invoice generator and make a list of your most commonly-used services. Then copy and paste them into your invoice.
Some Accounting Software You Can Use
As a developer, you probably know very well that machines can never replace humans, but they can certainly help us out.
QuickBooks
QuickBooks is a fantastic way to stay on top of taxes, as this accounting software tracks income and expenses through a link to bank accounts. QuickBooks also estimates taxes quarterly and can do so from a phone app. The self-employed version is free for 30 days, and then it costs $8/month for the first six months.
The app easily separates personal and business expenses. Additional benefits are that you can track mileage deductions, complete HMRC self-assessments, and sort receipts, making this an excellent option to use for yourself and your freelance work. Thus, QuickBooks is a great solution when you don't need all the features and want to de-stress paying tax.
One of its downsides is that, unfortunately, it can't create invoices or reports.
Mint
Mint is a free budget tracker. It was originally created to help the average person manage their home budget, but freelancers can also benefit from this app. It will categorize all your expenses automatically, create budgets, track all your expenses, pay your bills, set budget goals, but not much more than that. The greatest downside is that it doesn't make much difference between your personal and business transactions.
The features are simple, and the software is free in the Google Play store and the iTunes App.
Therefore, it is a great temporary solution before you decide on a premium version of an app providing you with more features.
Databox
This is a multifunctional software application. It integrates various tools that answer different needs a business might have. It automates your reporting through dashboard building and performance tracking. In order to do so, Databox calculates metrics, tracks goals, has KPI alerts, and more. The app also has a rich database of templates.
It is free for up to three data source connections, while premium plans start at $72.
You can track profit and loss in one place from financial management tools like QuickBooks and the library of pre-built templates.
Paying Taxes
You would think that the biggest concern for any freelancer would be how to handle big clients, but there are many other things to be taken care of—like paying taxes.
One of the main reasons people are reluctant to become freelancers is their fear of handling federal income taxes. Those working for employers have no idea how the application of taxes works.
You might be a developer with or without a degree, but you will have to pay taxes as a freelance developer in both cases.
Before paying taxes, there are a couple of things you need to do and know. First of all, you will have to be fully up-to-date with the current legislation. The freelancing industry is still young, and the laws keep changing in order to adequately grasp the needs of freelancers. Therefore, it is a good thing to either consult a professional and experienced accountant or a community of freelancers (local or online) that can give you firsthand information.
Secondly, when you learn about tax legislation and approximate costs of freelancing, you should decide whether that is worth the effort and estimate your risks. For example, do you have enough savings to survive the initial period (i.e., pay for taxes and other business and private costs) before you establish a stable client base?
Finally, there are several ways you can structure and report your business—as LLC, S Corp, or something else. This is probably the most difficult part to figure out, as each particular case has to be evaluated separately. At the same time, your tax liability will depend on this as well.
Do Freelance Developers Need Accountants?
That entirely depends on you. There are freelancers who keep their books by themselves, but they need to dedicate some extra time and attention to it. On the other hand, hiring an accountant you can trust does cost, but they can help save a lot of time (and potentially money, as mistakes and misunderstandings with the IRS usually cost).
If you decide to hire one, it would be best to find one with previous experience working with freelancers in your niche. Asking a trusted colleague for a recommendation is probably the best strategy for finding one.
Conclusion
The world of freelance development is a profitable career. A number of industries are in need of developers to implement a variety of tasks. With so much demand for mobile applications and web software, you can find clients in various industries.
But unlike a content marketer or SEO specialist working for a company, being a freelance developer also means you are your own boss, which comes with added responsibilities … like managing business expenses.
However, the key to developer success is to take care of all the tasks involved in running a business, and paying taxes and sending invoices are a part of it.
Finally, developers are not the only ones working remotely. For those who prefer staying at home, there is a range of digital marketing jobs for introverts as well as data analysis, translators, graphic design, and so on.
Therefore, people from many industries sit for hours at their homes, working hard to provide value and settle their finances and taxes. The vast majority of these people still manage to earn enough and keep a good work-life balance. So there is no reason you couldn't do the same.