Top 10 Mobile App Trends That You Should Definitely Follow in 2021
Mobile technology developed rapidly in the new millennium. Smartphones have become our faithful companions, as the average time spent on a mobile device has been growing steadily for years, and is expected to continue to grow in the future. According to TechCrunch, apps alone are capturing approximately 4.2 hours of our attention per day.
Moreover, mobile app development is rocking the business ecosystem, as organizations strive to create the best apps for their customers. Consequently, businesses are following every new trend of mobile app development. The app market has only continued to grow in 2021, and we can observe many recent mobile app development trends that simplify users' lives.
As a result, knowing mobile app trends is crucial for any programmer who is planning to develop their career in the app industry and create amazing experiences for the end-users. So, let's look at what this year is most likely preparing for the mobile apps market.
Subscription-Based Services
Subscription-based business models have been among us for years: Netflix, Spotify, Google Workspace. We are all familiar with them, and there's no surprise they're prospering.
What will happen now is that more companies will jump on this trend and provide access to their product via a subscription-based model, potentially even in sectors we don't expect.
If you gain knowledge on how to implement subscription-based services, you will be in a huge demand as a developer. We recommend paying particular attention to fintech, media and entertainment verticals in this regard.
5G
The introduction of 5G technology will significantly impact the trends in mobile app development in general. According to Statista, the number of 5G connections worldwide is projected to grow to 1.1 billion by 2025.
Undoubtedly, 5G is going to change the way apps are used and created. If you want to learn more about mobile app trends, we highly recommend reading the book "Mobile App Trends in 2015 : For Mobile App Marketing." Yes, it was written in 2015, but this resource is excellent if you strive to understand app development dynamics and different generations of technologies for mobile networks.
Mobile app programmers have to pull up their socks to implement this high-end technology because it significantly helps with connectivity—up to 1 million devices with 5G!
Artificial Intelligence and Machine Learning
It is no wonder that we can expect the significant influence of artificial intelligence on mobile app development in 2021. Thanks to cloud computing, which has brought a tremendous amount of the strength needed for creating AI models, smart gadgets can benefit from this technology without draining their processors.
Advancements such as modern search engines, virtual assistant solutions, marketplace, business automation, and identifying user preferences are now extensively incorporated into the smartphone economy.
Some of the advanced tech organizations use AI and ML to create their own products. For example, a company called Devtorium decided to build Marquettè®, an AI-based platform to help clients get a sense of the emerging trends and adopt them into their businesses.
With the help of AI and ML, clients can get more value and increase their engagement with the platform. This instance may give you food for thought on how to translate your company's or your own expertise into a product with the help of AI and ML.
Blockchain
According to Hiscoxgroup, there are around 65,000 attempts to hack small to medium-sized businesses in the UK every day.
Not everyone knows about Blockchain recording proof of ownership, confirmed transactions contracts, and stores to make this data extremely difficult or impossible to modify or hack such a system. All the records are referred to as 'blocks,' meaning creating these blocks in the form of a linear and chronological 'chain' of records.
The future tendency of Blockchain technology will likely focus on anti-piracy, securing public elections, transparent betting, robotics, and Blockchain as a Service.
Wearables
Wearables have already made a great wave among consumers. They are accessible in the market in the form of smartwatches, smart jewelry, display devices, etc. The best aspect of such wearables is that users can engage with them via mobile apps.
Nevertheless, with IoT, they can manage the devices from remote locations as well. We may observe more ideas for apps for wearables in 2021: mind-reading glasses, virtual assistants in contact lenses, virtual keyboards through nail polish, etc.
Augmented Reality
Remember when it first came out? Everyone was like, "Ooh, that's kinda funny. Pointless, but funny. Oh, what's this? Snapchat filters? Say what…"
Thankfully, the technology matured and constantly shows more and more potential for implementing it into many businesses' day-to-day operations. We can already add a background image and create it to hide the mess of working from your home, very often without even getting out of bed.
For example, AR is helping retailers to grow their brand positioning by strengthening customer engagement. The more customers interact with the product, the more fun they get during the shopping. In addition, with the help of AR apps, users can scan goods and get more details about them.
Internet of Things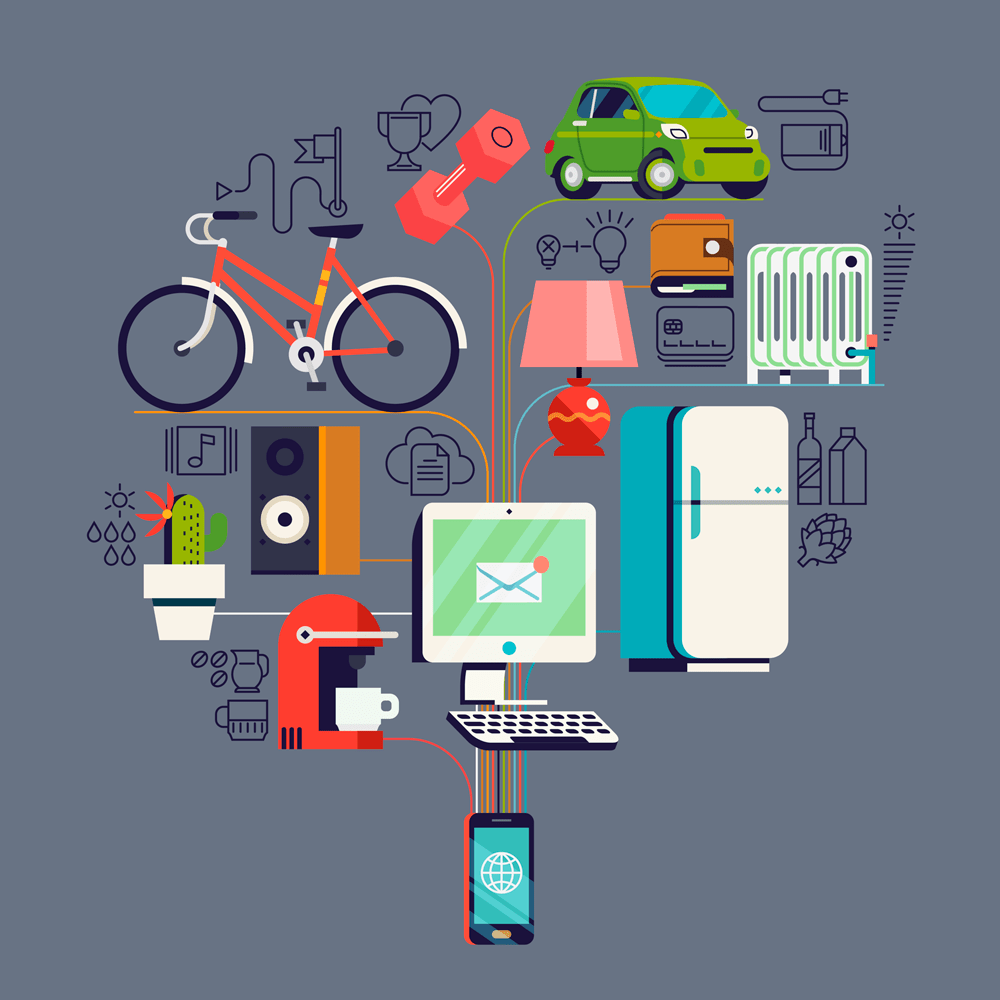 The Internet of Things is taking our world rapidly. This advanced technology is simultaneously one of the closest to the people, impacting how they interact and even how they live.
The most prominent field of IoT's impact will definitely be smart home automation. More and more smartphone users are controlling their home electronic devices with apps. Forecasts indicate that by 2030 around 50 billion of these IoT devices will be in use worldwide, creating a massive web of interconnected devices spanning everything from smartphones to kitchen appliances.
Beacon Technology
Beacon Technology makes use of Bluetooth Low Energy signals, and when your phone accesses a beacon zone, the application will receive the signal and provide appropriate notifications and guidance for the users.
For example, a customer finds a dress online but wants to try it physically. On the way to finding those clothes in the stores, the app on your mobile phone shows the shops selling your desired goods and prices and specifications.
Developers can significantly benefit from this trend by adding beacon-based projects into their portfolio. The technology itself has huge potential both for businesses and engineers.
Folding Display
Folding Display is one of the most significant mobile app development trends on which mobile app development companies must be focused. This tendency may reign in the forthcoming years as curved displays are gaining traction among users, and businesses are open for innovations that offer better design solutions.
The folding display will open a significant challenge for mobile app developers. It will have an instantaneous change in the screen's size, which will be based on user actions. The mobile applications should be altered as per the screen.
App Clips
The key idea of app clips is to allow users to preview and even use an application without downloading it on the device. The number of users turning to apps instead of websites designed for e-commerce or restaurant and grocery store delivery increases.
This fact, combined with post-pandemic habits of contactless purchases, mobile payments, and mobile wallets being firmly in use, will definitely influence the development of the App clips feature. This feature definitely counts as one of the biggest mobile app trends of 2021.
What Trends Will You Follow This Year?
The trends above are certainly worth following, as they should be among the leading app development trends for 2021. It goes without saying, but all mobile apps have to be secure, robust, and primarily scalable. You can find out more about building scalable mobile applications in this book, "Building Mobile Apps at Scale: 39 Engineering Challenges". It is a decent collection of the main challenges that mobile developers face building iOS and Android apps at scale and the best ways to solve these.
Of course, these trends above are not the only ones, as the technology world is quickly adapting to the post-COVID era, coming up with many new solutions to boost our user experience and break through the limitations that the global quarantine has shown us.
On the positive side, this is a good thing. Though the pandemic is—hopefully—nearly over, technology will stay and make our future even better.