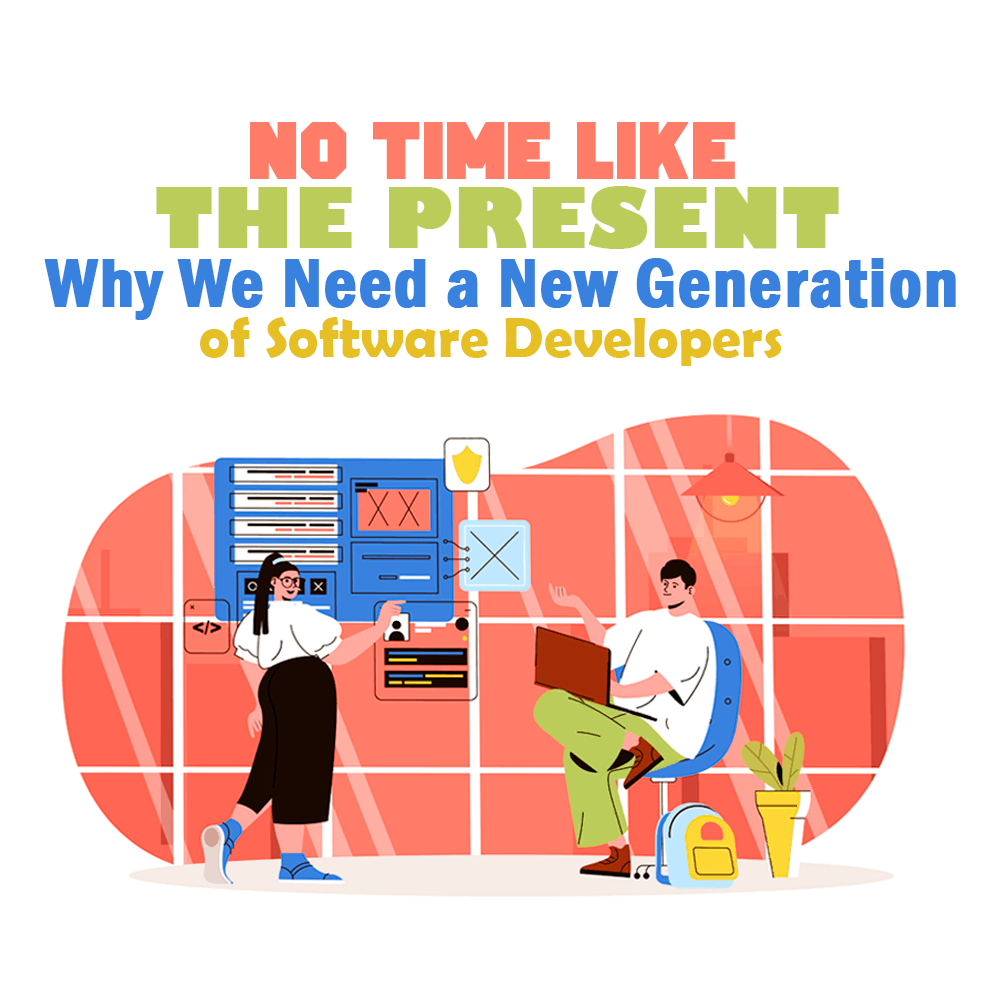 Bespoke software development has had a strong and lucrative journey since its general inception in the 1970s. Software development as we know it now began to take form over half a century ago, and in that time, it has progressed in giant leaps. What was deemed unimaginable 50 years ago is now possible to code and create in the blink of an eye.
Due to the massive technological advancements that have been taking place in recent times, it should seem obvious why there is such a demand for software developers and why a new generation of coders is needed now. Whenever a solution is needed in answer to a tech problem, bespoke software developers have always come to the rescue. That fact isn't going to change anytime soon.
In this post I'll take a deeper look at the growing need for a new generation of software developers, and I'll offer some possible ways to address this need.
How Recent Developments Drive the Need for Software Developers
There was already a great demand for the services of custom software developers and tech companies before the onset of the COVID-19 pandemic. However, the tumultuous events of the past 18 months have only dramatically increased the need for bespoke software development companies and freelancers alike.
In particular, there was practically an overnight explosion in the need for software developers to support the impending digital transformation, triggered by the pandemic. The aid of custom software developers would allow so many companies to continue operating through the various national lockdowns.
Bespoke software developers have always been poised and ready to step up to the plate to provide digital answers to physical problems. Software and technological innovations will need the backing of software development companies to lay down critical stepping stones for the future of the looming tech era.
Yes, there are millions of multi-talented developers and coders all over the globe. But there is still not enough manpower to meet the current (and still rising) demand for bespoke software solutions.
The volume of digital problems is still growing and are only set to become more complex as society's expectations and needs evolve. In correlation with this, the tech and software industry needs a new generation of developers—however, it was very much needed yesterday.
What Can Be Done To Address the Need
Over the past decade, it has become much simpler for individuals to teach themselves to code. In today's digital society, there are a lot more free online resources, tutorials, and guides to help people embark on a software development career. However, many still don't know where to locate these resources or are not given the encouragement to actively do so.
New teaching pathways and outlets need to be provided within the bespoke software development industry; in turn, this will inspire a new wave of developers to join the software pool.
The Role of the Education System
To support this, better education regarding tech skills, coding, and software development is required within the school systems. This is where the imaginations of so many future generations of bespoke software developers could be captured and cultivated. Having already been coined "digital natives," those born between the late 1990s and early 2010s have been shaped by the tech advancements surrounding them.
Tech and software is already a big part of their identity. So in some ways, it only makes sense that they embark on roles within the software development industry, pursuing job opportunities that possibly didn't even exist when they entered into the world.
Since 2014, children as young as 5 have been able to explore IT skills in school classrooms due to the change in the UK's teaching curriculum. This appeared to be a very daunting prospect for many parents and guardians of the children being taught these abilities.
One reason was perhaps the worry of young children having access to high tech and being exposed to it at a vulnerable age. Still, another reason was because many adults have not been taught sufficient IT skills themselves. This may cause some naivete regarding the subject matter and in turn opens up the knowledge gap further due to not understanding the importance of tech skills in today's digital society.
Lack of encouragement from older generations may cause lack of enthusiasm to learn and discover more about the world of bespoke software development from an impressionable age. This can be a problem, as software and technological skill bases will become vital in the coming years whether a career in software development is pursued or not.
Benefits of Starting Young
Despite an arguably outdated outlook, there are countless benefits to introducing younger age groups to new avenues of technology and potential software development.
A lot of people don't consider coding and custom software development to be a creative outlet. However, this couldn't be further from the truth. Custom software development encompasses so many creative elements and allows children to problem solve in a very expressive way.
It is almost like a way of telling a story or experiencing a digital journey. Allowing children the chance to have a go at coding whilst at school will allow curiosity to be piqued and open the door to so many software development opportunities in the future.
There will be an abundance of development jobs in the not-so-distant future. Children and adolescents currently within the UK schooling systems will be the driving force behind the future of bespoke software development and technological breakthroughs.
If we begin to inspire the next generation of custom software developers now and capture their imagination, who knows what formidable and sophisticated software solutions could be crafted. It is in our best intentions to educate properly now and reap the benefits later.
Changes in the Tech Industry
To further this, encouraging pupils to learn software development skills and nurturing them in the right way will allow employment within the tech industry to appear far less intimidating.
Moreover, it would also allow the industry to become more accessible for women and nonbinary individuals who wish to pursue a career in custom software development. The tech industry as a whole is still very heavily male-dominated, but it is expected that this demographic is likely to undergo a change.
Due to the economic crisis caused by COVID-19, so many people have been left unemployed or have been reassessing their employment situation in general, leaving many craving a change.
This will lead to a significant shift in role changes and complete U-turns in careers. Newcomers into the bespoke software profession will bring with them fresh perspectives and new means of tackling software development challenges. This will create space to expand even further the potential solutions to so many unknown future challenges that the globe is yet to face.
Looking to the Future
Addressing the need for change in the education systems and a readjustment of obsolete points of view in regard to technology access are a step in the right direction. A direction that allows an influx of shiny new software developers to take center stage.
Many developers of the future will begin to appear via "nontraditional" ways and methods as they begin to explore other opportunities and options to enter into the bespoke software development industry. A new wave of homegrown software developers is a very exciting opportunity for the technology to harness and nurture. This is the workforce of the future as working habits turn to a more nomadic and remote process.
However, one thing is for sure. The arrival of a new generation of software developers is needed, and needed now. But when it arrives, the impact will be mighty and the opportunity for revolutionary bespoke software development will be endless.