The Good, Not-So-Good, and Ugly Facts about VPNs
VPNs play a critical role in improving anonymity for businesses and end users. They are all the more relevant in the current remote working era because more often than not, virtual employees and vendors need to update information on the server or gain access to internal resources to support various operations.
VPNs also offer a high-speed connection to help firms operate efficiently and securely. It's no wonder that the global Virtual Private Network (VPN) market size is expected to grow at a compound annual growth rate (CAGR) of 11.3 percent during 2021-2026.
However, not everything is ideal with this popular network type. There are several concerns, misconceptions, and vulnerabilities involved with VPN services. Being aware of all that VPNs have to offer, along with its not-so-good features, will help you get the most out of this network while protecting your company's network security.
Read on to learn more about how you can leverage this type of network.
Bonus! Later in the post, you'll find compelling reasons why programmers should opt for VPN services.
The Good Side of VPN
VPNs can help you secure sensitive information from prying eyes, helping you uphold your privacy. That's why individuals and businesses around the world invest in the best VPN services to protect themselves against privacy violations.
Let's take a look at some of the good-to-know facts about investing in a VPN service.
1. Ensures Geo-Independence
If you or your employees often travel abroad for work, replacing a real IP address with your VPN's IP address (based in your home region or office location) is a necessity. Some countries restrict what you can access—for instance, Facebook and Twitter are still censored or restricted in certain countries.
With a VPN, you or your remote employees can stay connected to your workplace and resume work effortlessly. A VPN ensures that your company emails and communications represent your genuine home base.
2. Makes Remote Working Secure
Remote employees need an additional layer of security to safeguard organizational data. However, with an increasing number of businesses allowing most of their employees to work remotely, it's tough to track the many devices and their activities. That's where a VPN comes into the picture.
The network allows firms to manage the remote workforce effectively. A VPN acts as a bridge between the company network and an employee's device, allowing them to securely access the cloud or physical servers of the firm. The link is secure and the data exchanged is encrypted, making the whole process secure.
3. VPNs Are Highly Affordable
For the benefits they offer, VPNs are surprisingly affordable. You don't have to install any hardware or contact a technician to get started. Just compare the top VPN services available online (NordVPN, ProtonVPN, and SurfShark, to name a few) and choose the one that best suits your needs.
Most VPN services are priced as low as $10 per user per month when bought using a business licensing plan. Some premium services also offer free trials and/or money-back guarantees. Make sure you try plans out before purchasing them.
4. They Allow Anonymity
Most users need their identity to remain unknown. By using the VPN provider's IP addresses, you can ensure anonymity when browsing the internet. This also prevents hackers from tracking your activity back to your device to steal sensitive data. Moreover, it protects the corporate network, dissuading hackers from breaching the entire system.
5. VPNs Offer Great Bandwidth
VPN services help improve network efficiency and bandwidth. Several ISPs prioritize traffic, creating a performance drag. Also, since VPNs ensure anonymity, it helps avoid intentional slowdowns during the encryption process.
The Not-So-Good Facts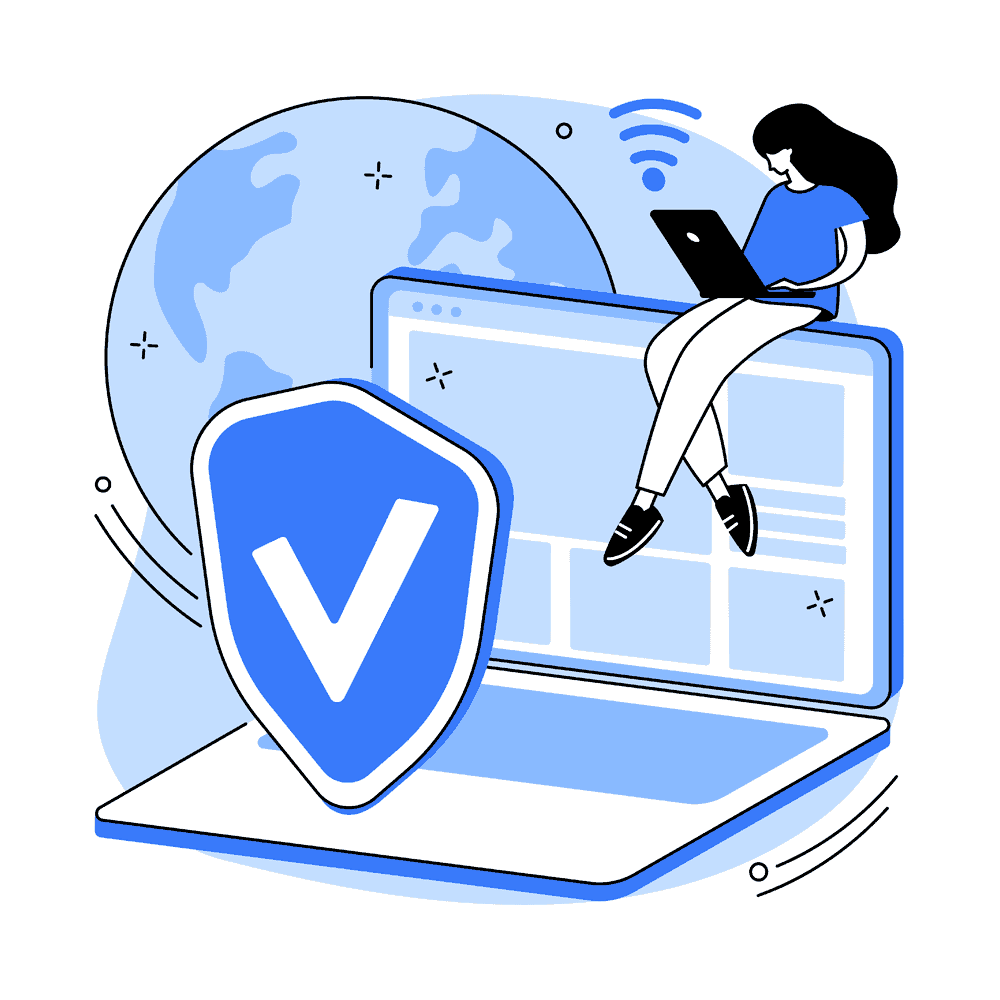 Every good thing has its disadvantages. Without a doubt, investing in a VPN service is a wise decision; yet, it's important to be aware of its weaknesses. Read on to know more!
1. A VPN Connection May Be Rejected
This is a common issue with VPN networks. A VPN connection can be rejected for several reasons. At times, the Routing and Remote Access Service isn't running properly, or the basic TCP/IP connectivity doesn't exist. Rejection could also occur because of a domain name system (DNS) issue where the user is unable to resolve the server's name to an IP address.
2. Lacks Third-Party Accountability
With VPNs, it's impossible to record or monitor each third-party action, as it offers limited or no granular audit records. It isn't easy to have centralized access to all the historical data related to a connection.
In the absence of critical information such as users, applications accessed, and the reason for access, one cannot determine the root cause of a problem if a breach or a vendor-related issue occurs.
3. Remote Users are Unable to Access Locations Beyond the VPN Server
More often than not, users aren't granted permission to access the whole network. This may prevent a remote user from gaining access to a network lying beyond the VPN server.
This issue may also arise due to an underlying routing problem or duplication of IP addresses, especially if you use a dynamic host configuration protocol (DHCP) server to assign them to clients.
4. Inability to Establish Tunnels
Establishing tunnels between a client and the server could be an issue due to either IP packet filtering or the presence of proxy servers between the server and client.
IP packet filtering prevents IP traffic from moving through the tunnel.
The presence of proxy servers between the server and client can make information packets appear to be coming from proxy servers instead of the client. This interferes with the tunnel-forming process.
The Ugly: Increased Risk from Hackers
We aren't done yet! Before you buy a VPN service, we would like to warn you about one last nasty fact about this network. It's nothing that cannot be managed, but it's critical to be aware of it.
You may choose to believe that since it's a private network, VPNs are safe. However, the fact remains that VPNs make it easy for hackers to gain access to company networks.
Hackers often target businesses that have multiple third-party vendors, each with their access to the network. More third-party access will offer a greater number of potential routes to access company information using the VPN traffic. They exploit weak VPN protocols and insecure connections for their malicious activities.
In the past, brands like Target and Home Depot have been victims of third-party data breaches where malicious hackers stole VPN credentials that were paired with an administrative credential on the server running the vendor's software.
Just last year, Quest Diagnostics, one of the largest blood testing companies in the U.S., experienced a data breach. The hacker gained access to the personal information of nearly 12 million patients.
Though they are known to improve operational security, VPNs aren't impenetrable. The security of a VPN is only as strong as the credentials used to access it. So, if you allow weak passwords, the network and corresponding organizational data will be at risk.
Besides having robust passwords and authentication controls, companies should go for advanced security options. For instance, software-defined perimeter solutions can maximize network protection.
Why Investing in VPN Services Makes Sense for Programmers and Developers
Developers and programmers can greatly benefit from VPNs. The development team often needs to connect to sensitive development servers from external networks and when testing geolocation features. VPNs can make the process safe by encrypting the traffic passing through your local network and allowing them to connect as a user from an appropriate destination. All this minimizes the risk of hackers getting access to sensitive information.
Read on to learn more about how developers can benefit from adding VPNs to their current set of tools.
1. VPNs Encrypt Sensitive Data
Data breaches can be detrimental to developers and programmers, as they compromise sensitive client information. Most developers have customer designs, apps, code, and other data that counts as intellectual property. Hackers and competitors often try to steal this information.
VPNs encrypt all of this data, rendering it useless to hackers. That being said, if a developer needs to conduct competitor research, VPNs can help them do so discreetly.
2. Ensure That Resources Work Internationally
VPNs have servers in several locations. Hence, it's a great tool if you need to test an application or website at an international level or rule out time-out issues due to a slow connection in a specific country. VPN services can also determine if there's geo-blocking for the apps they create.
3. Protect Against Threats
Malware and phishing are the two most commonly encountered threats by developers and businesses alike. These security threats risk the data present on devices and the entire company network. VPNs have built-in malware protection that blocks suspicious ads and keeps a watchful eye out for potential phishing activities.
4. Access Geo-Blocked Content
It's not uncommon for remote developers to come across content in applications that are on the geo-blocked list. Thus, a development team operating in a country that practices internet censorship cannot access this content if they approach it through the server based in that country. In these cases, they can access geo-restricted content by using VPNs to connect through a different country.
5. Ensure User Privacy
Developers and programmers often need to mask their browsing activity. This makes VPN a perfect service for them. Since all of the data is encrypted, it's practically impossible for anyone to know their browsing activities. This also takes care of advertising trackers that send targeted ads to developers.
6. Offer Secure Torrenting
If not used properly, torrenting can endanger your privacy, as all the members downloading and uploading a torrent can see your real IP address. VPNs prevent your activity from being monitored and improves the speed of downloads, allowing you to torrent anonymously and securely and encrypt connections for file sharing.
Thus, a reliable, secure, and speedy VPN service can be a great asset for developers/programmers. Before signing up for a service, it's best to check review websites like TheBestVPN that offer honest user reviews and opinions on various VPN services. A little research will go a long way in helping you choose the service that best suits your needs and pockets.
Know Your Network
VPNs are extremely popular today. Yet, there are many aspects of VPNs that people aren't aware of. The network can become your go-to and reliable service for linking private networks across the internet, if you know how to overcome its not-so-good side.
Understanding the strengths and weaknesses of this type of network can help you get the most out of it. We hope the information shared above will help you with all of your VPN decision-making needs!