Catchy Blog Post Tips for Software Programmers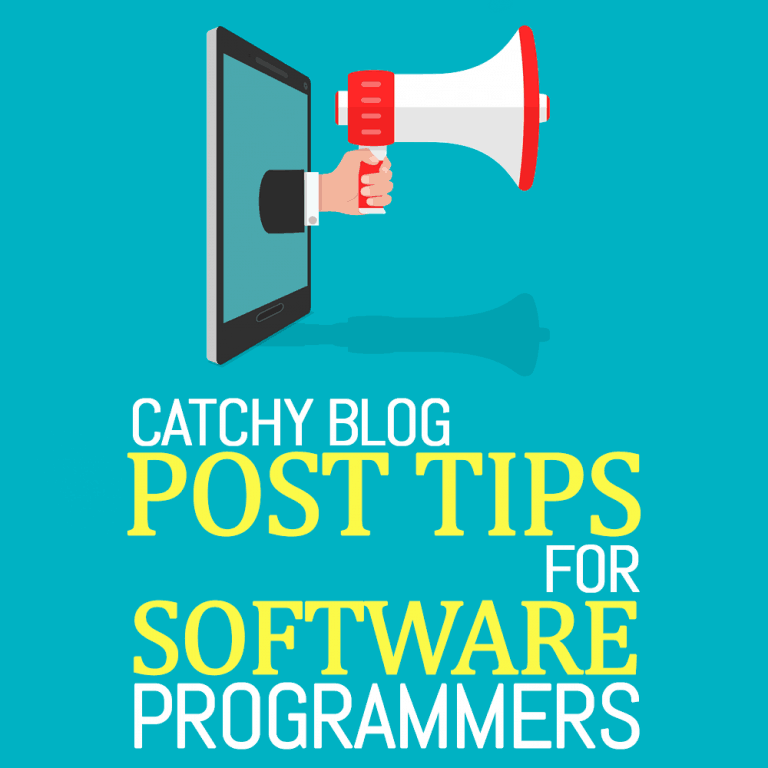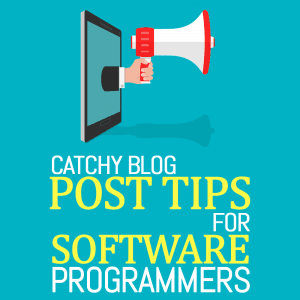 If you are new to writing, now is the time to get started. The best way to build a following, start a business, or share advice online as a programmer is through blogging.
It's an essential way to connect with people online. It can turn into an opportunity offline, a purchase for your services, or a networking opportunity with a reputable programmer in your industry. And, it's a personal effort to connect with the hearts of people in a way that an advertisement or a marketing campaign can't.
At times, programmers find blogging difficult because it strays away from the technical documents that we're more used to writing.
Don't be discouraged. You do not need to be a Pulitzer prize-winning author to master the art of blogging for programmers.
When you decide that you want to dive into blogging, there are several things to keep in mind as the foundation for a successful blog:
Know your audience.
Deliver what your audience needs.
Make it so simple enough for an eighth grader.
Be consistent.
The next time you start to feel frustrated about the blogging process, pay attention to these tips to take your skills to the next level.
Know Your Audience
The reason it is important to understand an audience is in the first few sentences: Most readers are searching for a reason to continue reading a blog. Know the demographics of your readers; age, gender, income, work experience, needs. As a professional blogger, I recommend dedicating at least one hour a day to searching the web to find out what is important to your audience.
How to Determine Your Audience
One way to understand the minds of your potential readers is to send emailed surveys or to monitor conversations online. This can be done by posting surveys on Twitter, reading forums, or paying attention to comments people in an industry post on social media. Here is a list of other ways to learn more:
Conduct a focus group with open ended questions to find out their interests.
Listen to a radio station or podcast that welcomes people to share their perspective on your topic.
The more information you have on the audience such as age, location, demographics, and income, the easier it will be for you to write content. Step in the shoes of the reader, and write content that matters to them.
Focus on a Niche
Blogging as a programmer offers you a chance to focus on writing about your expertise. It is better to be known as a subject-matter expert blogger versus one who writes on several topics. Not having a niche for your blog can potentially cause readers to lose focus and discontinue reading your work.
Here are a few examples of niches that programmers can focus on for their blog:
Career advice in the IT industry
Coding tips for new programmers
Debugging programs
Whether you are writing tips for a student on how to write a computer science personal statement or tips on how to write operating instructions, find out what makes readers tick. Other topics can include coding, app development, or UI and UX development.
Make It Simple to Understand
Textbooks and manuals can lack enthusiasm or creativity, so blogging is the perfect platform to convey an important career-related or skill set message in a way that intrigues readers.
The reason for writing in a general voice is that a programming student or a person interested in starting in the industry might read your blog. This way, they'll also understand the material you're explaining.
When blogging, you'll want to create content that is simple enough for your audience to understand by simplifying complicated ideas. You can do this by writing the way you speak, as if you are having a conversation with a reader except that it is in the form of a blog. For example, include questions with answers, provide details, tell a story in the introduction, or include photos that can further explain your message.
Consistency Is Key to Success
Readers will look forward to reading more of your content. But the moment a programmer stops writing on a consistent schedule, followers will search for another programmer for inspiration.
This can be achieved by creating a content schedule with a commitment to produce entertaining and engaging information on a regular basis. Also, it will make you appear professional and dedicated to your project.
By nature, readers are drawn to instant news whether it is daily, hourly, or weekly. Think of your blog as a news station ready to keep its readers tuned in to the latest trends.
If you are a programmer that runs a freelance business, consistency is a great strategy to attract prospects and new clients.
Remember That Your Words Hold Power
The psychology of words is a topic most bloggers fail to learn. If you understand what makes people click, share, and discuss your content, you will be a successful blogger.
It's a big topic, but there are a few tips that you can put into play right away.
It's a better strategy to write your blog in second person than in third person, as it's more personal and less academic. For example, a software programmer who writes an article on coding techniques should use "you," as I've done here, throughout the content to connect more directly to their readers.
If you are writing a personal story about getting started in the industry, I recommend using the word "I." It will appear as if a story is being told, one where some readers can see themselves in the same shoes.
Here are a few examples of powerful blogging techniques to help you use your words wisely:
Write sentences with less than 15 words. People have a short attention span, so it's important to get straight to the point.
Keep your paragraphs short. Blog posts with a lot of white space throughout are more aesthetically pleasing and make it easier to grasp concepts.
Include bullet points to break up information.
Add eye-catching images to attract the reader's attention.
Finally, be enthusiastic. It'll make a major difference in your blogging skills. It is the reason people will continue to read after the first paragraph, share it, and wait for your next blog post.
Improve Your Blogging Skills as a Programmer
If you decide that blogging is for you, the first step to success is understanding the demographics of your audience. Next, deliver your content in a way that holds their interest. Finally, create a blogging calendar and be consistent, because readers may want to read more of your work. It can help you build a following or attract potential customers to your website to use your services once they are comfortable with your blogging material.
Your blog should be easy to read even if a non-programmer decides to read it, especially if you're a freelance programmer. For example, a potential client who needs your services may not be a subject matter expert.
But the most important thing to remember is that you want to relate to your reader and express your talent through words. Take a chance on your writing and write your first blog today. Don't forget that words hold power, and the psychology behind the words you use will help define your blogging success.