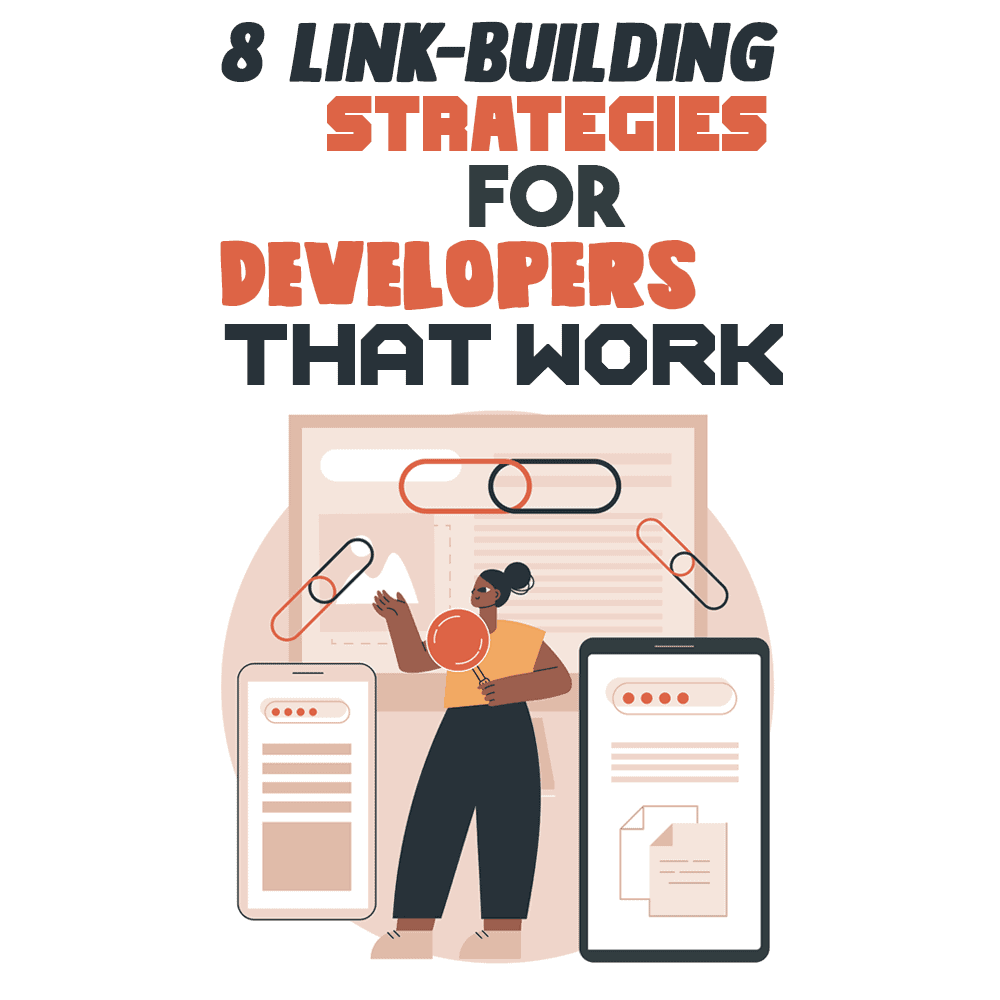 Backlinks are the digital vote of confidence. You need to have credible backlinks pointing to your developer website or portfolio if you wish to rank high on the search engine result page (SERP). If you don't have a portfolio yet, you can always build backlinks to your social profile to build your online presence and credibility. However, to get the most out of the link-building strategies discussed in this blog, it's best to have an online portfolio.
Backlinks signal search engines that a particular website has high-quality, credible information. Hence, they are the essence of off-page search engine optimization (SEO). That's why top-ranking pages in the SERP have 3.8 times more backlinks. However, not all backlinks weigh equally on Google's scale.
So let's see what a quality backlink looks like, and then we'll discuss eight link-building tactics you can use as a developer or a programmer.
Characteristics of a Quality Backlink
Your backlink profile determines whether Google ranks your developer or programmer website, portfolio, or social profile highly or not. Here are a few properties possessed by a quality backlink:
Relevance: It needs to come from a relevant website.
Domain and Page Authority: The higher the domain authority (DA) of the linking website and the page authority (PA) of the linking page, the more the weightage of the backlink coming from it.
Location: Whether the link's originating from the blog body, author bio, blog post, homepage, comments, etc., it also impacts the weightage of the backlinks—homepage links hold the most importance; whereas, comment links have the least impact.
Followed Links: Do-follow links hold more credibility because they transfer link juice more reliably, unlike no-follow or links with other attributes.
Anchor Text: Though it may sometimes be beyond your control, it's better if the anchor text is relevant to the topic of the page it's linking to on your website.
Link Diversity: A natural backlink profile is diverse. Make sure you're getting a good mix of links such as do-follow, no-follow, high domain authority, low domain authority, links in bio, links in blog body, etc.
Now that you know what a quality backlink looks like, let's see how you can get the most credible backlinks for your blog as a developer or a programmer.
Leverage App Integrations for Backlinks
Developers often have to integrate different applications to achieve a task that otherwise couldn't have been possible with a single app. These integrations are quite common, and many tools mention their integration partners on their websites, often on the homepage or on a dedicated page.
So if you've been skeptical about integrating your apps, or if your integration partner hasn't linked with you yet, you should definitely broach the topic. Some companies also co-market their product, so it can turn into a goldmine of backlinks if such an opportunity presents itself.
You can get backlinks from journos, review sites, and influencers and may even get more opportunities for future collaborations. Integrations are also an excellent way to broaden your reach and get access to your partner's customer base through newsletter or social media mentions as well as joint events and webinars.
Here's a HubSpot integrated app; notice the link to the provider.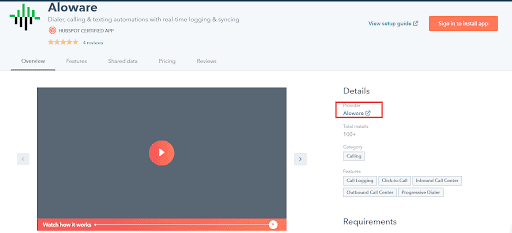 Create Link-Worthy Link-Bait
Most people create infographics or stick to slideshows as link-bait to attract organic backlinks. But being a developer or a programmer opens up a whole new set of link-bait options for you. Think about plugins, themes, tools, games, apps … The sky's the limit.
So how do you get links through link-bait? The process is quite simple:
Find prospect websites and blogs that are relevant to your link-bait, and often link to such products.
Pitch your link-bait to them, and offer to write a blog post or custom intro for your link-bait.
The host blog or website features your link-bait and links to you as the source.
Depending on the link-bait you create, you can use various tactics such as creative link bait (as mentioned below), broken link-building (for resource guides), or the skyscraper method (also for resources) to find the prospects for your assets.
Here are a few link-bait examples.
Create Free Tools
And why not? Identify a gap in your niche, and create a lightweight tool to help people out. Make sure your tool is better or has some unique aspects compared to other similar tools in the market. Now launch your tool on your website, and let your audience know. Approach journos and influencers, and create a buzz around your creation. The backlinks will follow suit.
Create a Fun App or a Game
It doesn't have to be Sugar Rush or Mortal Kombat. Create something as basic as a puzzle or a bubble shooting game, anything exciting to engage people and have them start talking about it. Rafael Caferati has turned his homepage into a game. He dares you to destroy it! Plus, he has some cool snippets in his code laboratory.
Create Free Learning Resources
Developers and programmers are always looking to learn and improve their code. So if you build a resource on your website and make it available for free, it can attract many backlinks on its own. Or you can take up different industry-related topics like Erik Bernhardsson and give your expert opinion about it. He created resources and in-depth guides that position him as an authority in the data space. Another way to attract readers and improve the shareability of your posts is to mix in some humor like Coding Horror, whose unique writing style connects with his audience.
Volunteer To Contribute to Your Company Blog
Tech companies love to have their technical employees contribute to their blog by doing something as simple as being interviewed, writing a piece of content on a technical topic, or answering frequently asked questions (FAQs). It's a win-win for both: The company gets authentic content for their audience, and you get a backlink to your portfolio or website.
Tech companies usually have good domain ratings and a solid marketing strategy. Naturally, their content ranks higher on Google. As a result, your online presence gets a boost too. So, in this way, getting multiple backlinks to your website from your company's tech blog is the easiest way to get backlinks from a high authority website.
David Walsh is a well-known influencer, and here's his interview with Mozilla, where he works as a front-end developer. Notice the backlink to his website in the screen shot below.

Offer Free Themes for Bulk Backlinks
There's a catch in this easy way to get thousands of backlinks without much effort. Similar to creating link-bait, you can make free themes. However, instead of pitching your free resource for backlinks, you just have to add your link in the footer.
Now, let's suppose you create a cool theme, and you get 1,000 downloads in the first week. It means you potentially have 1,000 backlinks from new and old websites. Most of them might have very low domain authority, so these are not high-quality links by any means. Also, the number of backlinks depends on the number of people who left the footer in place after downloading your theme.
Many people don't consider changing the footer for a long time, as they're more focused on other aspects of website building.
Others are afraid to mess up the code and don't dive in. Only a few website owners will change the footer as soon as they implement your theme.
You can set up a complete set of free themes to build bulk backlinks. It's a one-time effort that keeps on bearing fruit with each download, more so as you grow your audience and establish your online presence.
Build Backlinks From Authority Developer Resource Websites
Anyone who has ever written a line of code knows about Stack Overflow and GitHub. There are many resources out there for developers to work on code together and find answers to their questions.
These sites not only have high domain authorities, but they are also immensely reputable, so making a profile and getting a backlink from them is an excellent way to boost your backlink profile. Most of the backlinks from these sites are no-follow until you establish your authority and earn a minimum of reputation points. But remember, as we mentioned earlier, your backlink profile should be diverse, so it doesn't harm to get a few no-follow links as well!
For example, initially, your profile link on Stack Overflow is no-follow. You can get a do-follow link if you have a reputation of 2000 points, and the link in your About Us section matches precisely to the link in the website section, even to the last backslash.
Similarly, you can make your profiles at GitHub, CodeProject, and GitLab, etc.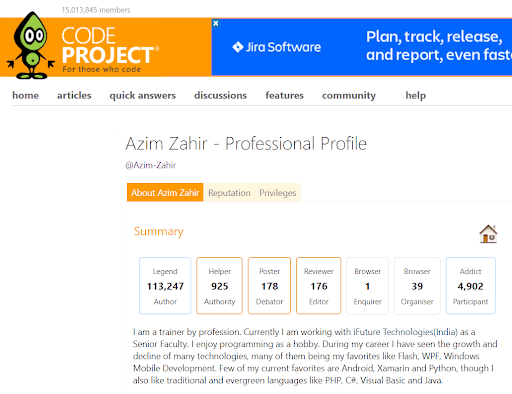 Be a Guest on Relevant Podcasts and Conferences
Admittedly, getting links through podcasts and conferences can take some effort. You will either have to speak at a conference or appear in a podcast. However, it's one of the best ways to establish your authority and win valuable backlinks because of the huge exposure you can get. Podcasts and conferences typically get more media attention too.
So here's how it works:
Sign up to speak at an event, or pitch yourself as a guest on a podcast.
If you're accepted, you will get links from the event website, partner organizations, collaborators posting about it on their blogs, and influencers attending the event and posting about it on their social media.
You can also email your website link to the event organizers to pass it on to the attendees for reference.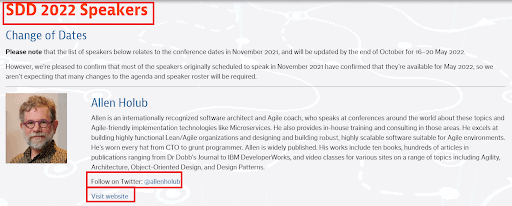 You can search the internet to find conferences and podcasts in your industry. Choose the ones that have a considerable audience and the potential to generate a buzz.
Rate Your Favorite Software and Connect With Industry Gurus
Do you have a set of software and tools you can't live without? Why not write reviews or recommendations such that other bloggers may find them helpful and link to your expert recommendations!
Another way to show your appreciation and get a backlink is to approach the creator and offer a testimonial. These testimonials can land on the homepage, in newsletters, or become part of their social media promotion campaigns.
Whether you get a link from their website or social media, it will help diversify your backlink profile just like a natural backlink profile should be.
Another clever way to get backlinks is by leaving meaningful comments to famous blogs with the intention of building relationships. The links in comments aren't super important in this case. It's your rapport with the influencer that can open up future link-building and collaboration opportunities. Influencer relationships also boost your online reputation.
Be patient and really focus on building a genuine relationship before building links. As Jeff Ferguson says, "Link building isn't a trick, it's public relations. Get to work."
Guest Post on Industry-Specific Publications
As stated earlier, technical websites are always looking for experts to write for their audience. And guest posting is one of the most common link-building tactics. Since you're a technical expert, you can guest post on other publications in your niche to generate links for your website.
Moreover, with guest posting, you can also earn significant brand exposure, get organic traffic from different sources, and build relationships with industry influencers.
However, if you want to succeed at guest posting, you will need to come up with unique content relevant to both your website and the target blog. Then write a high-quality, authoritative blog that connects with their audience to the T.
Here's how you can go about it:
Look for developer websites that accept guest posts.
Pitch them your ideas.
If they accept, write a quality blog with a couple of links to relevant content on your website.
Send out your guest post, and wait for its publication.
Some websites and blogs also add a backlink to your website in the author bio.
Choose websites with high domain ratings (DR) only. (Domain rating and domain authority are almost the same). First, write a few guest posts for websites with medium domain ratings, and build your backlink profile. Then contact blogs with high domain ratings or influential publications in your niche. Lastly, when you send an email presenting your pitch, add the links to some of your best-performing posts. This will build credibility.
Use Backlinks Wisely and Earn More Traffic to Your Site
Backlinks are the most effective of all the SEO techniques and tactics. It's an established fact that a website with a strong backlink profile gets a higher ranking in search engines and receives more organic traffic from Google.
No doubt there are many, many legitimate ways to build quality links. However, the eight link building techniques we've discussed here take advantage of your particular skill as a developer. These tactics will help you build super-relevant quality links and can give you an edge over your competitors.
So what are you waiting for? Go and build those backlinks!