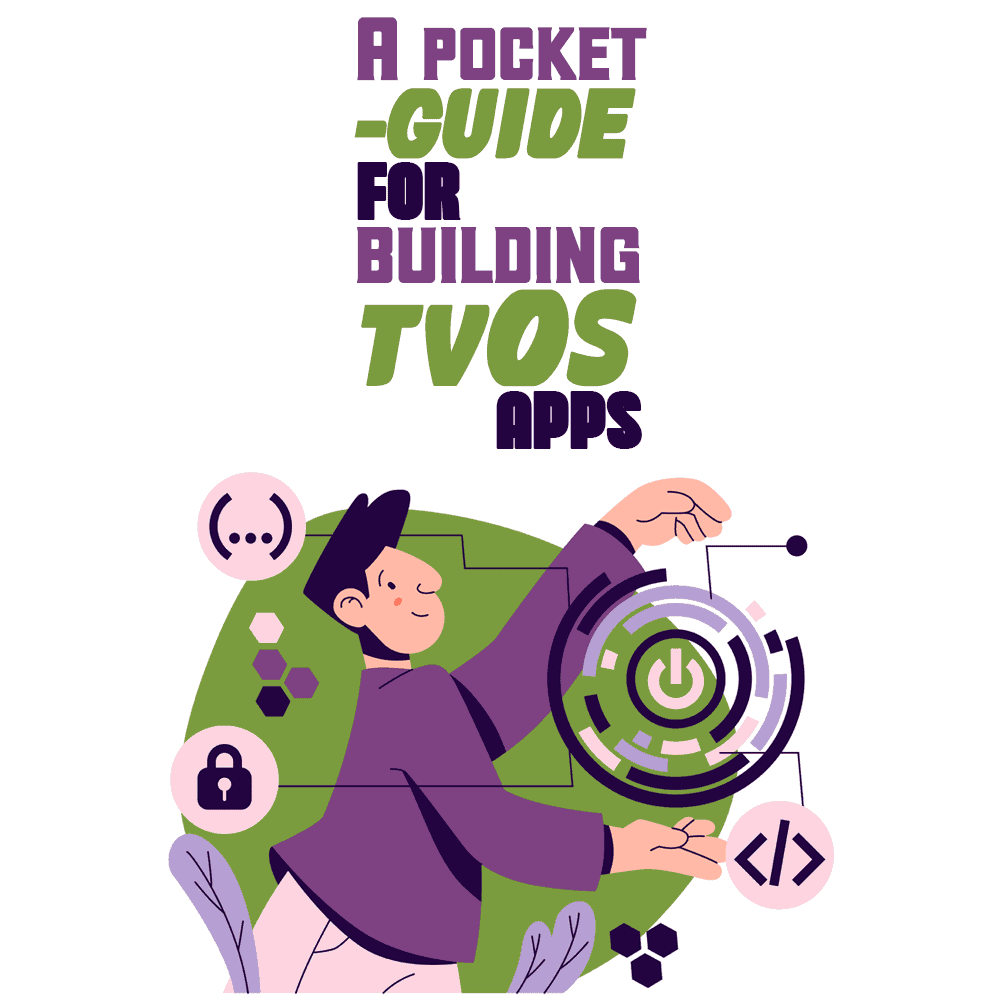 Would you like to be part of a $3 trillion technology—the highest-grossing of 2022? As per reports, Apple was valued at 3 trillion USD in 2022, making it the highest-grossing technology of the year. Creating and launching apps for Apple TV can give OTT apps viewership a great boost!
Then, you might ask, why would you need your own Apple TV app?
I've got you covered because, in this pocket guide, I'll cover all you need to know about Apple TV—why you need Apple TV today, and the top 3 ways for Apple TV tv app development. Plus, I'll share some bonus lists of TvOS features.
Defining Apple TV
The Apple TV is a compact device that can be connected to the television using an HDMI cable. Once it is connected to the television, an individual can easily stream videos on demand created specifically for Apple TV.
In simple words, subscribers of a video business can download tvOS apps to watch it at their convenience. These apps can be related to television channels with distinguished content that can be accessed by subscribers effortlessly.
All in all, Apple TV is seen as the perfect choice for connecting with a tech-savvy audience that includes gen-z, millennials, and tech geeks.
Understanding Apple TV App
Apple TV apps are iOS apps that can be downloaded from the iOS app store, accessed, and streamed through Apple TV plug-in devices. Users get more than 100 preloaded Apple TV apps like Hulu, Netflix, Disney, HBO, etc. Since these apps are preloaded, users can delete or organize them as per choice.
The interesting part is that if the Apple TV device is connected to the TV or iPad, via an HDMI cable, one can view all those apps on the screen without hassle!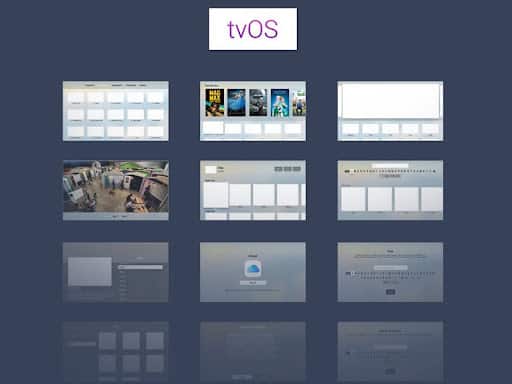 When the OTT app is available on the tvOS app store, it makes it easier for users to access the app and download the same on their Apple TV device. It is essential to note the availability of the tvOS app on the tvOS app store.
tvOS applications are special apps that are curated by iOS developers for streaming shows and podcasts. They cannot be found on the app store for mobile apps.
The Popularity of the Apple TV app
If we talked about the loyalty that Apple has accumulated as a brand, there'd be no comparison. Apple has a global clientele. If you're an Apple user, then you know the difficulty of switching to another brand or technology.
This means that when Apple launches anything in the global market, it catches worldwide attention—colossally so. That's most probably the key reason why OTT app debutants choose Apple TV and reach the mass tech-savvy audience in no time.
As being a brand with praiseworthy repute, Apple always remains atop its competitors in terms of upgrading its technology. This not only assures a seamless user experience but encourages OTT content creators to produce even better content.
And now, after we've talked about Apple TV and the Apple TV app, let's learn more about Apple TV app development for tvOS.
App Development for Apple TV
Using the ways listed below, you can get your video business on the iOS platform for businesses, seeking Apple TV tv app development—and you can do so saving on expenses.
Hire a Professional tvOS App Developer
Some brands are willing to invest to get better outcomes. In such cases, a professional tvOS app development company comes into the picture. Such companies/agencies are backed by diligent tvOS developers and programmers.
Their expertise and knowledge in creating/developing tvOS aids in conceiving the right wireframe and final product as per the requirement. Divulging the details to the iOS developer would help him/her to get a rough idea about the app.
But what would it cost?
Integrating designs, customizations, designs, etc. demand resources. An individual would be investing a major sum of money for Apple TV app development for tvOS. Moreover, the developer would also charge for the expenses such as the following:
Technical support
Fixing bugs
Integrating updates
Beta testing the app
Once the tvOS app has crossed these stages, it is considered ready to get onto the next stage of testing.
Lease a White-labeled tvOS App
Numerous companies are short on budget and leasing a white-label tvOS app is a budget-friendly method. White-labeling in the software industry means the production of software by one company and rebranding it for another company.
You can find various OTT apps providing companies offering tvOS sample apps. With pre-set app templates, the app appears to be freshly constructed.
In addition to this, one will get the following benefits:
Branded video on demand/live streaming app
Access to the OTT platform for managing the app content and users
A package of marketing tools for growing the video on demand business
The functionality of live streaming videos
Using SaaS-based Platform
Turning to a SaaS-based platform is another preferred option to create your own Apple TV app. It's a hassle-free option with multiple advantages. Apple is now positioning itself as a SaaS-based platform. Most commonly, we all know it by the name iOS. The much-loved iPhones, iPads, Mac, etc., are equipped with Apple's own SaaSyness.
Listed below are the advantages that you get using a SaaS-based platform.
Budget-friendly. Using a SaaS-based platform for Apple TV app development for tvOS is a budget-friendly option. Companies offering these services have stocked various templates for creating OTT tvOS apps. With a wider choice of templates available, it becomes easier to launch the app. The individual just needs to choose the template, upload media files and set up monetization.
Saves time. When you use a SaaS-based platform for OTT app development, the entire process goes smoothly. Since the data & designs are readily available, it doesn't take long for the developer to create the app.
Managed by experts. When companies acquire tvOS app development services from SaaS-based platforms, the project is developed by an entire team of professionals. A dedicated team of developers and designers, headed by a project manager, would be looking after the OTT project. Moreover, they remain in touch with the client for implementing recommendations.
Benefits can be enjoyed only through some specific features. Next, you'll read about the features of tvOS.
The List of tvOS Features
In all software or devices, the features offered to the user are what makes or breaks the whole concept. So let's take a look at the new Apple TV OS features.
Siri Remote
We are aware of Siri, the virtual assistant created by Apple and functions just like the Google Assistant. Siri supports and responds to different commands like, What did they say? Who is in the movie? Turn on subtitles, etc.
Multi-user Support
Apple tvOS introduced multi-user support in version 13. This feature enabled the option of switching between accounts without interruption. Owing to this, users can easily access personalized music apps and Apple TV Up without disturbing their accounts.
In version 14, this feature was extended to Apple Arcade. Its inclusion made users resume the game and track game center achievements.
HomeKit
HomeKit is a special software developed by Apple. It acts as a hub and enables the user to operate their devices even while they're away from the home network. Using a HomeKit hub, tasks like setting up daily reminders, alarms, etc., can be done easily.
Any device connected with HomeKit can be accessed by Siri as well. The app shows the feature icon as "Active" when it is being used as seen in the image below.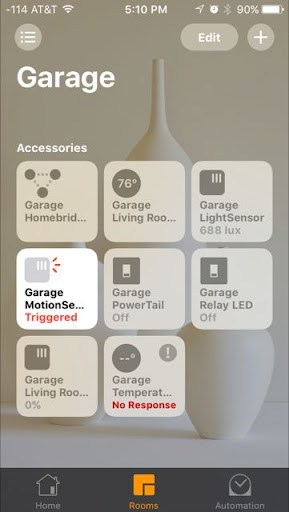 In version 14, Apple introduced the feature of a security camera. When a compatible camera is alerted, it shows the PiP on the screen connected to it.
Aerial Screensavers
The aerial screensavers have been a new feature integrated into the tvOS. All images are shot using 4K HDR equipment. The preference can be set to download automatically when the screen is idle.
tvOS App Development Can Offer New Opportunities
Creating or developing tvOS for the Apple TV can offer new opportunities for your career. In this post, I covered the basics of tvOS, including its key features.
Though major operating systems have locked horns to sustain their prominence in the market, it's beyond doubt that Apple with Apple TV has successfully made it to the third-party platform. The tvOS framework of Apple operates smoothly with iOS-based devices—for example, Apple Watch.
The revamped Apple tvOS SDK gives major operating systems a fresh opportunity to integrate new features that users may expect in forthcoming versions.