Codecademy is the most popular code-learning website and offers dozens of quality courses bundled into a motivating user experience. Still, it's possible that after reviewing what it has to offer, you're looking for an alternative.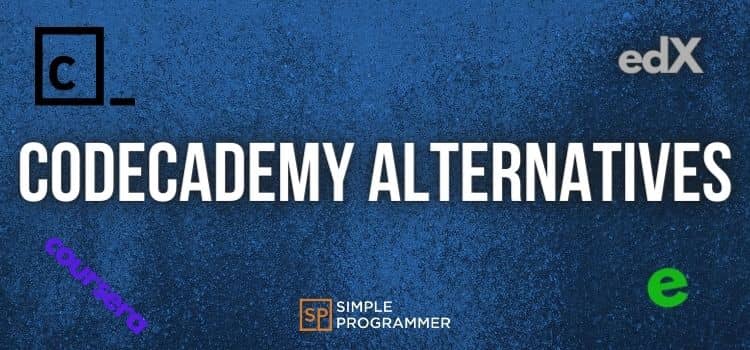 Let's dive into 8 other programming education online platforms giving Codecademy a run for their money:
Viable Alternatives to Codecademy
Edabit is taking Codecademy's approach a step further: It turns learning to code into a fun game which lets you collect XP, level up & unlock new features.
It doesn't provide as many pre-determined learning paths as Codecademy, but instead offers a sheer endless amount of coding problems (10,000+) to keep you leveling up your programming game. Like Codecademy, you get an integrated IDE so you can input your code right there on the platform.
Pricing-wise, if you choose their highly discounted yearly plan, Edabit comes out cheaper than Codecademy's Plus, and especially as their Pro tier.
Verdict on Edabit as a Codecademy alternative:
For complete beginners and young learners, I can recommend Edabit over Codecademy. It will get you started with the very basics, and it's one of the most fun ways to learn coding. Sure, this is the same promise as Codecademy's—but if you're a complete newbie to programming, Edabit will cater to you even more than CC. 
You can read my review of Edabit here.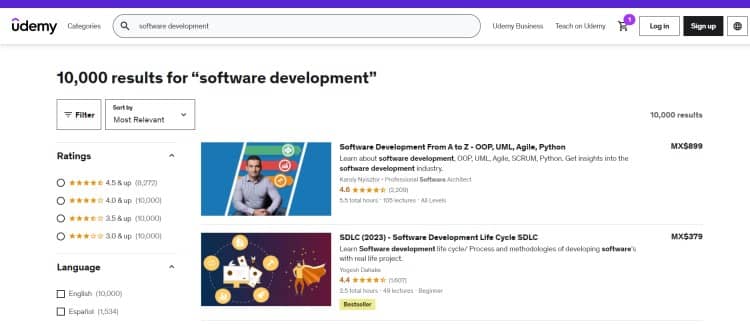 When you compare Codecademy and Udemy, the biggest differences are style of teaching and content delivery. Udemy's courses consist of mostly video lessons, while Codecademy is an interactive code-learning platform where you're learning in a hands-on environment.
Udemy's huge catalog covers even more programming languages and topics than CC does, at different levels from beginner to high intermediate.
One thing to keep in mind with Udemy trainings is their varying quality—which at Codecademy is consistent between all courses. Luckily, there's a user rating system and search filter on Udemy, plus a solid money-back guarantee, all but eliminating the risk of picking a rotten apple of a course.
Verdict: Should you go with Udemy instead of Codecademy? 
Codecademy is a better platform to learn coding, but Udemy is superior if you want to pick and choose a resource or two as reference material, and spend a bit less money in the process.
Like Edabit, OneMonth is another education platform aiming to teach programming to complete beginners. It differs from Codecademy in that its courses don't lead you to an intermediate or advanced level, but focus on getting you to learn to code as much as you can in just one month.
OneMonth's lessons are in video format—as opposed to Codecademy's code challenges that you need to complete in the built-in live editor.
What might make OneMonth a winner for you as an alternative to Codecademy is the personal feedback you can get on the platform. If you send in your homework after you've completed a lesson, they'll get back to you with corrections and tips for further study.
Just like Codecademy, you'll get a certificate of completion after you've successfully gone through one of their courses.
Verdict – is OneMonth a viable alternative to Codecademy?
Yes, OneMonth could be a great alternative option for you, especially if you:
are a complete beginner
prefer video lessons over reading & code challenges
would like human feedback (vs AI-driven) on your progress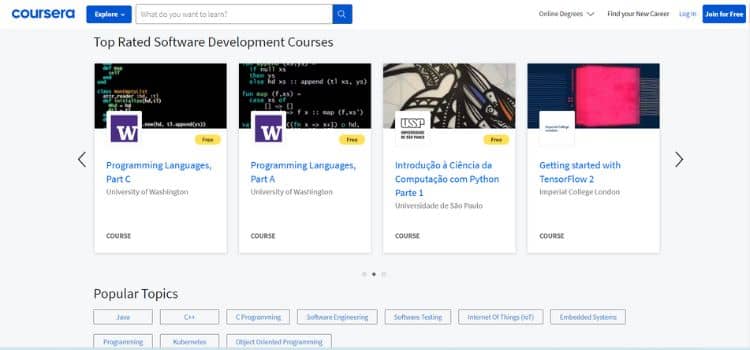 Coursera's higher learning content puts it in direct competition with Codecademy Pro's Career Path options. If you're looking for a Codecademy alternative that's high-quality, in-depth, and reputable, Coursera could be your go-to platform.
Most of their courses are carried out in partnership with major universities and big tech companies, and you can get a certificate to prove to potential employers that you've completed a course with one of these prestigious entities. 
Verdict on Coursera as a substitute for Codecademy
Especially if you're looking for deep dive specializations that get you closer to a career in Software Engineering, Coursera is a good option for you to try in place of Codecademy.
Code-learning might not be as hands-on and fun as with CC. But the quality instruction provided by the professors—plus the reputation conferred by their programs—are a major selling point for Coursera.
While Codecademy does have courses on Data Science, Datacamp is specialized in that field and offers different tiers of trainings to take you from beginner to professional Data Scientist. There's also more videos inside Datacamp, making it a superior choice if you're more into that style of learning. 
Datacamp is more expensive than Codecademy—this means it's best for the most serious learners looking ready to invest more into gaining specialized skills. Accordingly, Datacamp's instruction is excellent and in-depth.
Verdict on this Data Science-focused alternative
I can recommend you look into Datacamp if you're looking to immerse yourself into Data Analysis and Data Science, and don't mind spending more than with Codecademy to gain even more professional expertise.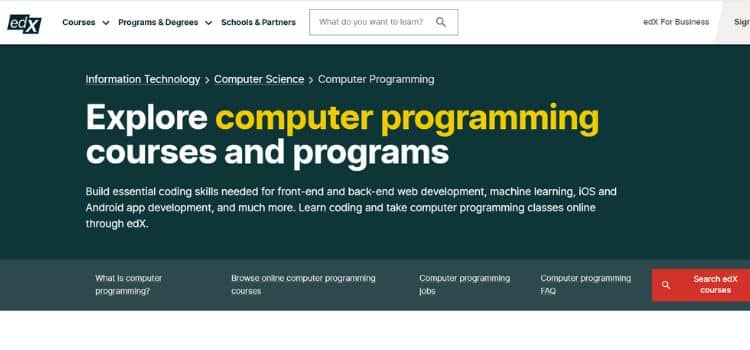 edX is a higher learning platform that also offers programs in Computer Science and programming. In that way it's similar to Coursera.
In comparison to Codecademy, edX' courses are of even higher quality. And because they're carried out by the most prestigious universities, their certificates of completion are worth more than Codecademy's.
While there are beginner-level courses on edX, it could be argued that CC's approach—giving you bite-sized code challenges each step of the way—is superior if you're a newbie to coding. On the other hand, edX' sophisticated, university-level courses are better if you're looking for advanced and professionally relevant programming knowledge.
Verdict – edX as a Codecademy alternative for professional development
edX are seeking to replace traditional college with online education at the same quality. If that's what you're after, be sure to check out their various Computer Science and Software Engineering courses.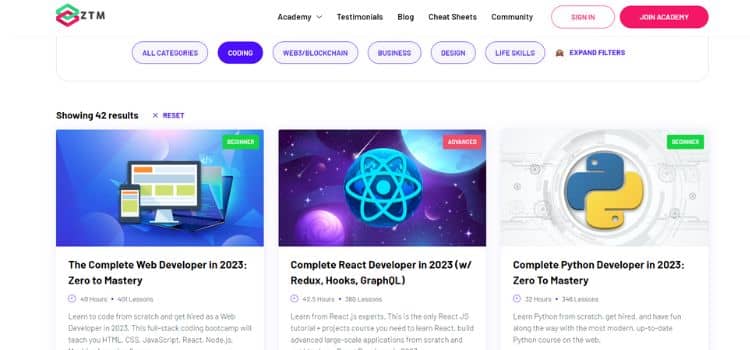 When comparing Zero to Mastery with Codecademy, the first thing you notice is that ZTM relies on video lessons to deliver the course content, as opposed to CC's instructional texts and code challenges.
Content quality is excellent on both platforms: ZTM's Andrei Neagoie is a reputable instructor with tens of thousands of satisfied students. Codecademy's courses are created by a team of experienced Software Engineers, and are constantly being improved.
ZTM is more expensive than Codecademy. On the other hand, they do offer you a 30-day money-back guarantee, while at CC you only have the option to cancel your subscription if you end up not liking their courses.
Verdict – is ZTM a good replacement for Codecademy?
Yes, you could use Zero to Mastery in place of Codecademy to learn programming, and reach your goals similarly fast. In my view, which option you should choose mainly depends on whether you prefer video lessons, and if you need a built-in code editor (which ZTM lacks).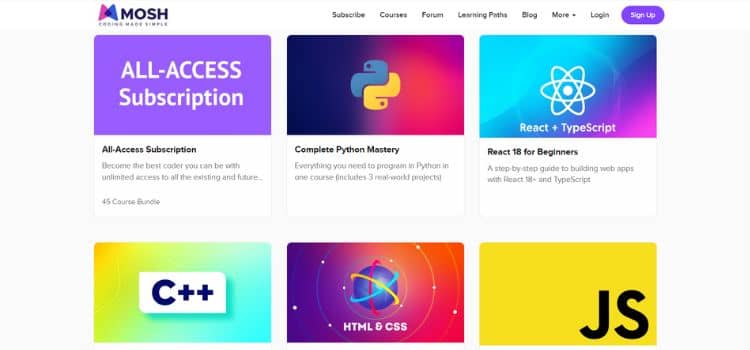 Code with Mosh is a potential Codecademy alternative especially for aspiring web developers.
Mosh is an expert coder with over two decades of experience. One criticism of his courses is that not all of them are up-to-date. Because he is a professional YouTuber, video quality of his trainings is excellent.
You can buy single courses, or do a monthly subscription to gain access to all 45 courses. The monthly fee is more expensive than CC Pro if you compare it to Codecademy's yearly billing option.
Verdict on Code with Mosh as a Codecademy alternative
If you'd love to learn web development and other programming topics from an experienced instructor, in high quality videos, Mosh can be recommended as an alternative to Codecademy.
The best Codecademy alternative for interview prep: Interview Cake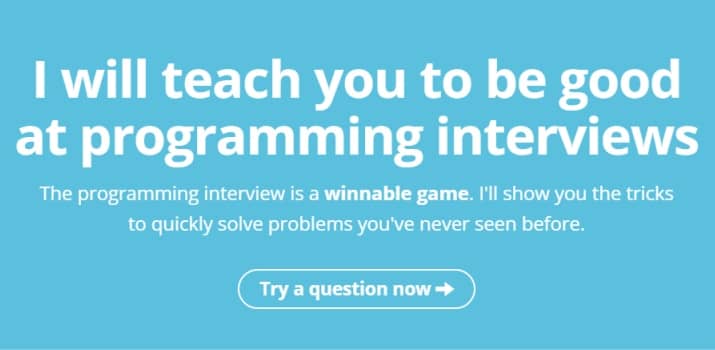 Codecademy has a good coding interview prep course, but arguably there are even more in-depth alternatives out there.
My favorite when it comes to a balance between educational value and pricing—and that has a good reputation among job-seeking software engineers—is Interview Cake.
You get 50+ hand-picked coding questions, along with in-depth explanations and a live code editor to create your solution on site. You can also check out the detailed article I did on Interview Cake to learn more about its features, pros and cons.