As a gamified code-learning website, Edabit is taking a different approach to teaching you programming. Let's figure out if this platform is actually worth subscribing to.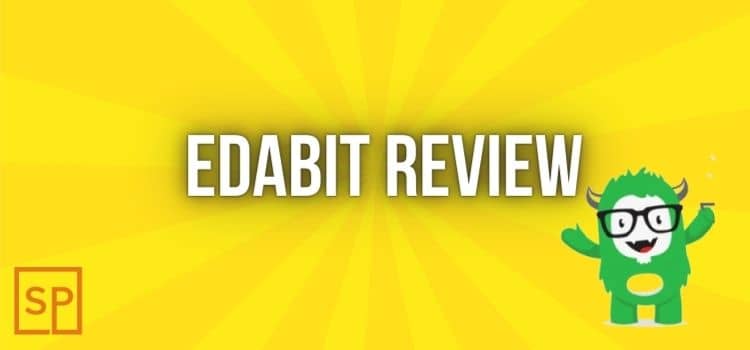 Quick verdict
Edabit's fun learning experience makes it an ideal platform for beginner programmers. The tutorials are well-explained and easy to follow. Considering its enormous wealth of code challenges and its affordable pricing, I can recommend you try Edabit if you're looking for a code-learning resource you can spend a lot of time with without paying too much money.
Quick Pros & Cons
| | |
| --- | --- |
| Pros | Cons |
| + Incredible wealth of code challenges (more than even LeetCode) | – The pre-created tutorials are basic. If you're more advanced, you'll need to work on the individual coding problems if you want to level up your skills. |
| + Great for beginners | |
| + Fun & motivating user experience | |
Review of Edabit as a website to learn coding
Let's have a more detailed look at what Edabit offers you on your journey to becoming a better programmer:
The features in a nutshell
Edabit boasts 10,000+ code challenges of varying difficulty – from very easy to expert.
For each step you've mastered, you get awarded XP to gain achievements and reach the next level.
A code editor is built into the platform. You can create your code right there and you'll never have to switch to another application while learning at Edabit if you don't want to.
You can check your personal performance to see how many challenges you've successfully completed.
Edabit's advantages
You can access the basic Python & JavaScript tutorials for free. 
The platform offers coding problems in 8 different languages – chances are that your personal favorite language is included, too.
You can take up to 15 code challenges before you have to get a subscription to continue. It's nice to be able to try out the platform, its user experience and features before you have to commit to a membership.
With the yearly plan, you save 75% on your membership. The monthly subscription is more costly than Codecademy, for example. But the heavily discounted annual fee makes Edabit the cheapest code-learning platform among all paid options.
Edabit's disadvantages
While you can use Edabit to prepare for coding interviews, it doesn't provide a clear learning path towards interviews. Neither are there company-specific coding questions. If you'd want to prep with Edabit, it does offer you the possibility to create your own catalog of relevant code challenges. 
Unlike at Udemy or Codecademy, there's no certificates for completing a tutorial on Edabit. Yes, the value of those certificates is debatable. But for someone who doesn't have any experience to include in their bio or resume, they're still a nice feature.
User reviews
"I recommend Edabit over Codewars and Leetcode for beginners"
In a thread over at r/programming, Edabit is said to work better for a beginner coder than some alternative platforms.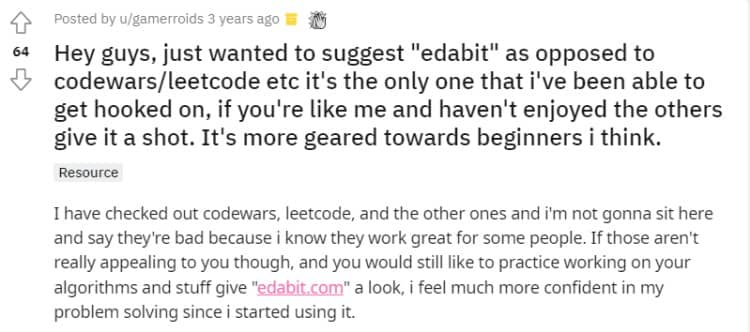 "This is one of the better programmer resources I've review"
Youtuber Jon Vine liked Edabit as a way to learn coding with solving challenges one by one.
"Edabit is a great resource for those who know the basics, but are struggling to take next steps"
This reddit poster liked that Edabit allows him to practice the topics he's still having problems with at a high rate of repetition.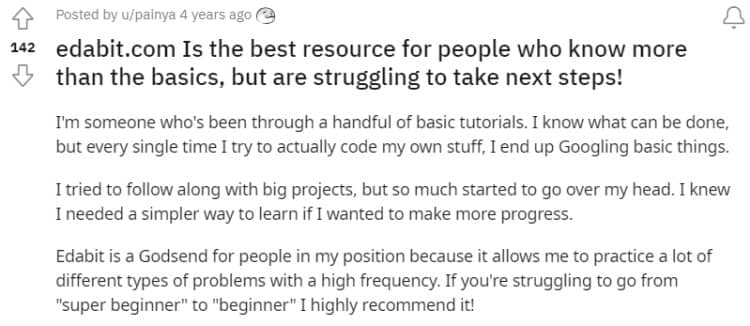 Is Edabit worth it? The final verdict
Yes, I conclude that Edabit is worth it for learning to code. Using a gamified platform that lets you progress step by step is better than trying to patch together your own learning journey from dry documentations all over the web.
In my opinion it's worth investing a bit into having a more streamlined, motivating experience with curated code challenges at your command. Edabit also fares well against competitors like Codewars or Leetcode.
Bottom line: Edabit is worth it, especially for beginners (although you do find more advanced problems inside their huge challenge catalog as well).
FAQ
Is Edabit free?
Edabit is free to a point. You can use the site to do basic Python and JavaScript tutorials, as well as up to 15 code challenges, without having to pay. If you want to access their whole catalog of 10,000+ coding problems, though, you'll have to buy a membership with Edabit. Learn more about what the platform has to offer inside this article.