How To Convince Your Boss To Let You Work Remotely
This is a chapter from the upcoming book "Remote Work – The Complete Guide" which we will be publishing first on Simple Programmer. You can get the book for an EXCLUSIVE MEMBERS DISCOUNT, just click here.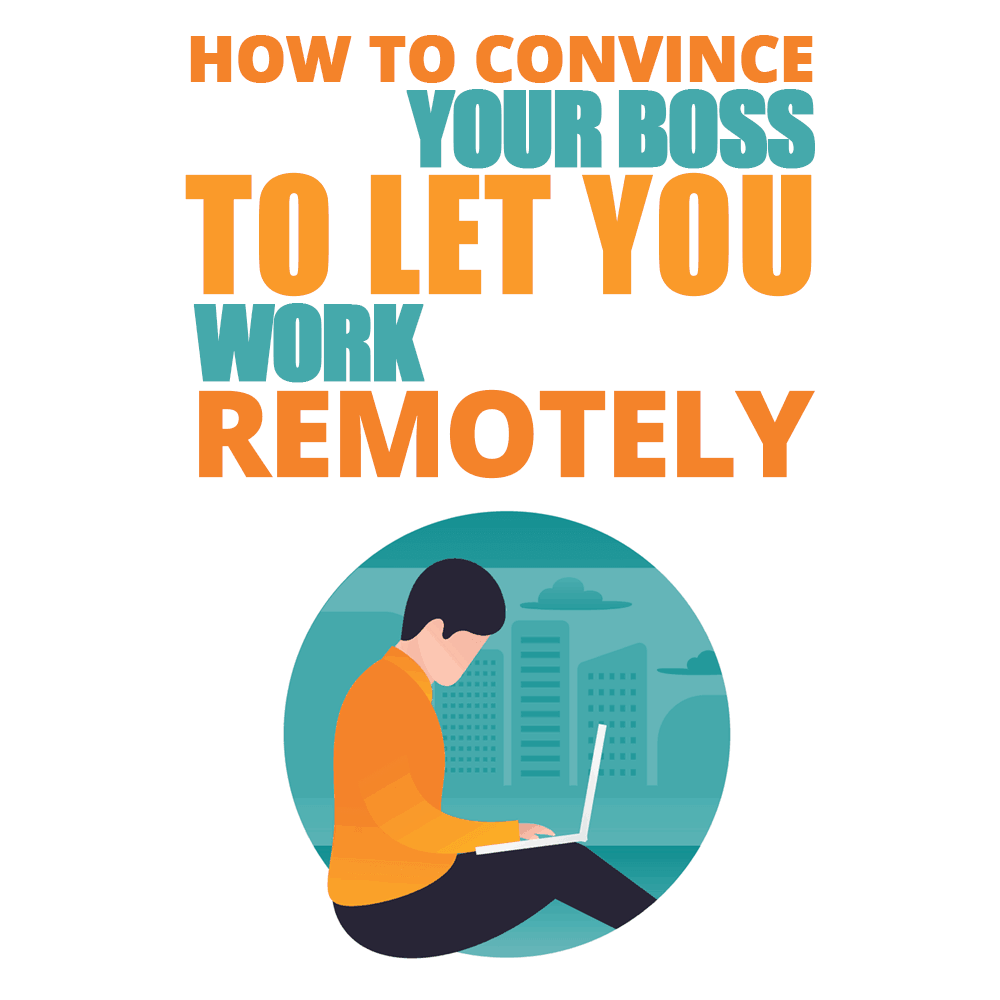 Once you have a reasonable remote work setup and are prepared to counter objections to remote work, you are ready to start trying to convince your boss to let you work remotely.
Convincing Management Is Not Easy
While it's tempting to skip directly to trying to convince management of the value of working remotely, I urge you not to skip the preparation. Losing effectiveness because of a preventable issue will not go down well with management. You'll then have a much harder time convincing them to let you try again.
You should also understand that management is probably not going to let you work in a completely remote fashion the first time you suggest it. You should slowly acclimate them to the idea that at least some people can be effective remotely and that you in particular are one of those people. This is not something that can usually be done quickly.
Getting your boss to agree to let you work from home is a lot like a long sales process. You initially test for indications that they are open to the idea, followed by a very short trial run (or several) in order to build up sufficient proof that you can work remotely.
Doing this with multiple trial runs can also make it easier for you to iron out potential problems that might keep you from being able to work remotely over the long term.
Eventually, once you've proven yourself capable of doing so, you'll pitch the idea of working at home for one or two days a week. This will help you continue building up proof that you can be trusted to work remotely before pitching the idea of doing so more often. The goal is for management to already be comfortable with your remote work before you take the risk of proposing that you do more.
Toward that end, you need to do a little bit more work to make sure that you succeed in convincing management to let you work from home. We'll be discussing how to do this with a sequence of small steps aimed at gradually increasing management's comfort with the idea before asking, and asking in a way that makes it easy for them to say "Yes."
Before the Trial Run
Before attempting a trial run, you need to start feeling out management to determine how hard it will be to convince them to let you work remotely. If you are really lucky, they are already comfortable with the idea, and you will be able to easily proceed to the next steps in the process.
More than likely, though, your management will be resistant and will have to slowly be coached along.
To get a good idea of how management feels about remote work, start by casually dropping hints in conversation. This is probably the trickiest part of the whole process, as it involves knowing your manager well enough to know what might work and what will produce a bad reaction instead.
Below, I've listed some ways to mention remote work to your boss and gauge their reaction. One or two of these will probably work for you, but you'll have to determine which idea is best, based on your managers.
These are conversation starters that will put you in a position to bring up remote work without overtly suggesting that you intend to do it. Remember, you aren't trying to convince anyone to do anything; you are only trying to gauge their attitude, learn about their objections to remote work, and then adjust your plan accordingly.
Bad Weather Contingency
"Hey, what's the plan if there is inclement weather and employees can't get to the office?"
This one is my favorite approach, as it easily segues into a discussion of how to support remote employees without implying that there will be any. Further, the employees are remote on a temporary basis and not by choice.
This question casts the entire discussion as a way to maintain business continuity rather than a method for allowing employees to skip the commute. This is the safest approach, especially if you don't know your manager well.
Company X Does It
"My buddy works over at [wherever], and they've started to let employees work from home a few days a week."
This statement can be an effective way to gauge management's reaction to remote work as well, provided that it seems organically inserted into the conversation at an appropriate time. You have to be careful because if you look like you are forcing the conversation in this direction, this approach will backfire.
Executed correctly, this is a good way to find out what management thinks of the idea of remote working. You might even find that your manager is already trying to figure out how to make remote work a reality.
Volunteering, But From Home
"I'd like to make a branch and try out an idea on [X], but I don't want to do it on the clock. Can I do it from home?"
Sometimes, if you suggest fixing something on your own time, but from home, you can get a surprising amount of insight into why remote work is not the current practice.
This approach will quickly let you know if your employer has security concerns about the idea of remote work. It also has the nice side effect of showing that you are one of the more engaged employees, as not everyone will volunteer to try an idea out on their own time.
Don't make a habit of this, though, because it's easy to volunteer yourself for far more work than you want. This is a tactical, short-term suggestion, not a long-term change in your approach to your job.
Nighttime Issues
"What happens if we have a problem in production at night and you need developer assistance to resolve it?"
While many organizations like to draw a strong boundary between the "production folks" and the "development folks," in theory, this practice breaks down rather quickly when a production system is offline.
Most companies don't want to have a critical system down waiting for developers to drive to the office, so you can often get a rough idea of how management feels about remote systems access by using this approach.
Day Off … Working From Home
"If I have a good reason to be home but am able to work, can I?"
A "good reason" could be anything from a doctor's appointment near the house in the middle of the day, to having work done on your car (or home), to a parent-teacher conference at your child's school.
Basically, the idea here is to find something that you might have to do during the workweek that doesn't chew up a whole day but does take enough time that it would be a bit wasteful to drive to and from the office.
Don't actually schedule the activity yet—the idea is to pose this as a "what-if" and then see the reaction from management.
The Direct Approach
Ultimately, you can also be direct about it.
If you have a good relationship with your manager and they are the sort of person with whom you can be direct, it might just be easier to directly ask them what they think about remote work.
I would generally caution against doing this, even though I've done it successfully myself. Think very carefully because this approach can make some managers defensive.
However, other managers will appreciate you being direct with them and may even be willing to lay out exactly what you have to do to be allowed to work remotely. The latter are some of the best people to work with, but the former are what most people have.
The idea behind these approaches is to probe your manager's impression of remote work so that you can predict their objections for when you later suggest working from home.
While you can just directly ask to work from home, it's often a much easier process to instead try to mitigate their objections before attempting a trial run. Take note of their objections because the next step requires you to know what they are.
Trial Run
Once you have a rough idea of your manager's likely objections to remote work, it's time to start planning a trial run.
The idea behind a trial run is to keep it simple and limited. Instead of pitching the idea of working remotely on a consistent basis, you'll be pitching the idea of working remotely for a single day (or even a half day if you don't want to be too ambitious on the first attempt).
Furthermore, you won't be pitching this as the beginnings of a glorious career of remote work. Seriously, don't even let on that this is an experiment to prove that you can work remotely in an effective manner. Instead, you will be pitching this idea as a one-off. That is, it's just a minor situation that came up that could best be solved by you working remotely for a day.
If you have already done some groundwork to determine your employer's attitude about remote work as outlined in the previous section, you should have a good sense of what objections they will likely raise. These objections tend to fall into a few categories, and you'll want to have good answers to them before asking.
These categories are as follows:
Productivity – Your manager has expressed concern about your ability to get work done while remote.
Communication – Management is concerned about how your absence will impact the rest of the team's ability to get their work done.
Security – There is concern about sensitive data leaving the building or about systems being compromised.
Reliability – Management is concerned about you being unable to do your work due to the possibility of an internet outage or other equipment failure.
Jealousy – Management is worried about how other people will perceive allowing you to work remotely because other people may want to do it who aren't so reliable.
At this point, you should know what concerns management is likely to have. Most of the time, they will have more than one area of concern. While it may seem that multiple concerns would be harder to counter, my experience has been that it is much easier.
I have noticed that when people have an immediate, very negative reaction to something, it tends to be in a single area, while people that cite multiple reasons for something are often trying to convince themselves rather than you.
Before trying to work around someone's objections to remote work, it's important to point out that there is a huge difference between what people think and what people say.
If someone expresses that they really hate an idea for a particular reason, then you need to deal with that reason head on because it is probably their true objection. If, instead, they give you a laundry list of reasons, it's more likely that they aren't entirely convinced of their position and are simply throwing as many reasons at the argument as possible in the hope something sticks.
We will discuss tactics for dealing with broad categories of objections in a minute, but first we need to decide on a strategy based on how many objections your management has.
With a single objection, the entire outcome is entirely binary. Either you are allowed to work remotely or you are not.
When there are multiple objections, you can often address the easier ones first to gain buy-in from management, and then get them to help you with the others to get the rest of the way. This is more likely to yield positive results because management is involved already.
Once you've got an appropriate strategy based on management feedback, you need to figure out how you want to approach management's objections.
Addressing Management Concerns
If management's objection is that your productivity may suffer at home, you need to prove that you are effective at your job. Unfortunately, if you are in the sort of organization that doesn't allow remote work, your effectiveness is probably judged by your presence.
This can mean that you may need to be seen working extra hours. You may also need to increase your level of focus at work. This could be anything from spending less time in idle chatter to very visibly putting on headphones and just working.
Regardless of how you do it, you need to spend a fair bit of time making sure that you are perceived as a hard worker. A word of caution, though: Don't push yourself to the brink of burnout doing this. You don't want to set expectations so high that you can't exceed them while working remotely, and you definitely don't want to deal with burnout.
If management is concerned about communication, you should start actively improving your communication with your team, using the same methods you would use if you were working remotely. The idea behind this is twofold.
First, following these practices consistently will improve your communication with the team significantly—especially if your communication has been on an ad hoc basis before. Secondly, it will establish a communications system that works just as well remotely as it does on-site, which makes it a lot easier to argue for working remotely.
Security is another thing that can really get in the way when trying to work remotely. It's also very likely almost entirely out of your control (and possibly even out of your manager's control).
If one of your manager's concerns is security, you should probably involve them in your planning a bit earlier. You should be trying to get security concerns out of the way long before you start trying to work remotely. Security concerns will waste a tremendous amount of time otherwise and can completely derail you. Try to get them to lay out their specific concerns and what it would take to overcome those problems. The security landscape is always changing, so you'll have to do a lot more work if this is on your list.
However, this work will not only make you a better employee (security is always a concern), but if you ask a lot of security-related questions, you tend to come across as more security-conscious anyway.
With all the security threats out there, overcoming security-related objections is not something you can do just once. You'll have to have an attitude change, and your approach will have to constantly be improving to stay ahead of likely threats.
Your manager may also be concerned by the reliability of your home internet connection, home computer, or other assets required to do your job (such as the speed of your internet connection). This is best mitigated by detailing your backup plans if things go wrong, as described in a previous post. These plans don't really have to be perfect, but they should be thorough.
The goal of having these plans in hand is to change the conversation from being about what could go wrong to how you will handle things if something does goes wrong. The latter is a much easier conversation to have because it assumes that you will already be working remotely rather than being a discussion about whether you can or not.
Management may also be concerned about how other employees will react to you working remotely, even if it is only for a single day. This is also a very tricky issue to navigate, as the jealousy of other employees is really not your problem, even if your manager is trying to make it your problem.
Even worse, any overt plans to mitigate this are likely to backfire because they usually end up tangled with personnel issues above your paygrade. You don't ever want to find yourself in a position where you are saying something negative (even if it is true) about one or more of your co-workers during a discussion of remote work. Your manager may be concerned that morale will break down if some employees work remotely and others are required to come in, so you'll want to set things up where things are less likely to become adversarial.
They may also be well aware that some other employees simply can't be trusted to work from home, as it does seem to be difficult for the unmotivated, the unscrupulous, and the easily distracted.
This problem ties into performance. To get around it, you need to work with your manager to craft a set of expectations that must be achieved while working remotely. If you do this, the manager can point to this list of expectations when other employees approach them about working from home.
This gets rid of an annoying personnel problem for management and also gives them something to motivate the other employees rather than something that introduces jealousy to the team.
There is a common thread in all the approaches to convincing management to let you work remotely: You have to understand what problems the manager is anticipating and why they are anticipating them, and then you have to short-circuit that expectation. You shouldn't approach management about a "trial run" of remote work until you have a good idea how you will counter their objections.
Scheduling the Trial Run
With your answers to likely objections in hand, now it's time to schedule your trial run. Pick a reason for staying home that is plausible. Don't make something up—lying only gets you caught, and it takes a lot more effort anyway. The following are excellent candidates:
Doctor or dentist appointments close to home, but some distance from the office. If you think management might be resistant to this, an appointment for a colonoscopy, "female issues," and other touchy subjects will do wonders to get them to change the subject and go along with you.
Parent/teacher conferences, school registration, school events like plays, or just eating lunch with your kid (if you have one).
Veterinary appointments for your pet (the less outlandish this sounds, the better).
Visiting relatives or friends from out of town who want to grab lunch and will be near where you live.
Showing your house before a sale, doing home repairs, or waiting for deliveries or inspections. If you rent and strangers will be going into your residence, you really should be there. Obviously, make sure that you aren't waiting on your internet provider …
Needing to be home so you can leave early for a long trip.
Being home to prepare for a religious observance (especially if that observance means lots of houseguests, large meals, or restrictions on when you can work) or so you can start early on the cooking for a national holiday. Thanksgiving in the U.S., for instance, is a great excuse for this.
Car repairs.
Jury Duty.
You get the idea. You probably have an opportunity coming up that you can use for your trial run. Trial runs are easier if they are scheduled in advance and both sides understand expectations.
While it can be tempting to try this when you (or your kid/spouse/cat) are sick, it's a lot easier to make a good impression without all the stress. Besides, a sudden illness is not predictable and could occur when you are really needed in the office. For the first time you work remotely, you want to limit what can go wrong.
How To Conduct a Trial Run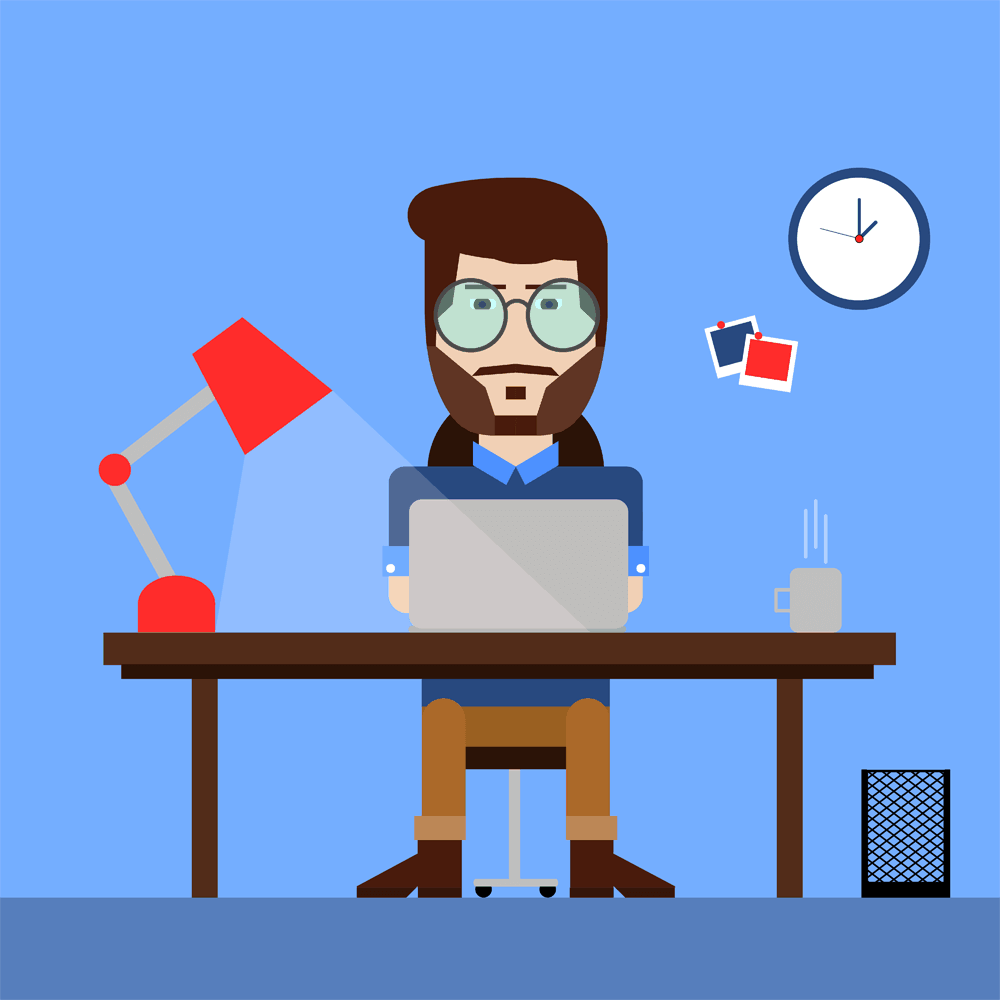 Once you have permission to work remotely, on that day, make sure that you actually get a lot done, communicate well, and that you quickly handle any problems that arise. Not only does this make a better impression with management, but taking the single day trial run seriously will also help you iron out any problems that you didn't know about before working remotely.
While you should have a solid plan, bear in mind that very few things go entirely according to plan no matter how well you prepare. For instance, at my previous job, I was well-prepared to work remotely when I started this process. I was also blissfully unaware of the tiny, cheap network hub that sat in the floor between my workstation and the network jack.
This hub was not on a backup battery and would get bounced several times a day due to small power fluctuations. The short network outages were unnoticeable at the office but resulted in a disconnection of my remote desktop when working from home. In hindsight, I should have known it was there, but these sorts of small issues are easy to miss. You'll probably run into one or two issues like this yourself.
The point isn't to plan to such a degree that nothing can go wrong; you just want your plans to limit the really big, destructive things that can happen. The rest is simply a learning experience. Because you are only doing this for a single day, small problems are probably not that big a deal, and in the worst case, you can usually recover the next day.
When working remotely, make sure that you communicate a lot. It's easy when working remotely to forget about the rest of your team, but resist this temptation. Make sure you stay ahead of any issues that might arise and also that you communicate on a social level as well using whatever tools the rest of the team uses. You want to counter the notion that you are sitting at home watching TV before it ever arises, and being reachable makes a huge difference. This is especially true if you respond quickly, as the pattern for someone who is distracted by TV is one of slow responses if they respond at all.
When you return to the office, try to have a quick conversation with your manager to touch base and find out what you did well and what you can improve. Remember that it's a lot easier to convince someone to let you work remotely on a regular basis when they've had some input on the way that you do it.
Also, make sure that you touch base with your team. In particular, you want to make sure that your communication was sufficient to keep from being a bottleneck but not so overbearing that you got on people's nerves. It's important to get a feel for this, as co-workers can create huge problems for remote workers (and often do). It's far better to have them on your side from the start.
Multiple Trial Run Days
Once you have successfully conducted a trial run and gotten feedback, now it's time to do it again. This next time will be a lot easier than the first time. Not only will you be more comfortable asking, but you've also set expectations for how you will work remotely.
While it's tempting to skip directly to asking to work remotely on a regular basis after a single day of remote work, it's ill-advised for a number of reasons. Most important of all, you really need to prove that you can consistently work from home, both to your manager and your co-workers.
A single day isn't enough to do this, and it's not enough to make sure that you are well-prepared for the realities of remote work, even if you've done it in the past. Before asking to work remotely on a regular basis you need to have a few things in order.
You also need to have at least some experience mitigating the things that will go wrong over a longer period of time. For instance, while you might work a day or two from home without experiencing an internet outage, as you work remotely more often, the possibility that this remains true approaches zero.
You will eventually have a problem while working remotely, and it's better to handle it as part of a "trial run" day than to have it happen after you have already secured regular remote work.
In addition to this, you need to make sure that you can work effectively in your remote space. While you can get away with it for a day or two, a workspace with ergonomic issues will often make itself very apparent if you work remotely often enough.
For instance, I thought I had a pretty good remote work environment for a while, but after working remotely a few times, I discovered that the layout of my office had major problems with glare from one of the windows during the summer months.
I also discovered that my slightly-too-high keyboard was a recipe for shoulder and neck issues. Had I been working remotely on a regular basis, these issues would have harmed my productivity significantly until they could be resolved.
Because I had multiple "trial run" days before asking to work remotely a few days a week, I discovered and mitigated these issues before they could become major problems.
The point of having multiple trial run days spread over a period of months is to find issues like these before you start working remotely. While you may be lucky and not encounter any problems, you are more likely to succeed if you assume that problems will happen and plan for them.
Additionally, you should look for any recurring patterns that you develop while working remotely to make sure that they are congruent with your goal of being able to work remotely.
For instance, if you discover that you frequently are listless and unfocused in the afternoons, you need to deal with this before regularly working from home. You might mitigate this by working harder in the morning or by taking an extended lunch break and working longer in the evening.
Pay careful attention to any habits that look like they may be forming when you are in your trial run period, as these tendencies often become unconscious habits that are hard to break once you are into a routine of working remotely. This can be anything from oversleeping to spending too much time goofing off while you are supposed to be working.
You might get away with these things when working remotely for a single day, but they will be a big problem when working remotely more often.
The final reason to have multiple trial run days is to train your management and co-workers on how to deal with you as a remote worker. Rather than simply leaving the office and forcing them to deal with a sudden change, you can gradually acclimate them to a more remote-friendly workflow.
Unless they are fairly experienced working on a distributed team, this transition is a learning process for them too, and it is best that it be as seamless, painless, and unremarkable as possible.
Above all, you don't want your transition to regular remote work to be a jarring experience for the rest of your team, as such experiences can produce passive aggressive behavior and other problems from your teammates if you aren't careful.
Proving Your Results
Once you have successfully worked remotely a few times and have ironed out all the problems that appeared, you need to start the process of convincing management that you should be allowed to do so more often.
This is a nerve-wracking part of the process, especially for people who tend to be a bit more shy and reserved, as you have to commit to a course of action. Up until now, while you have been slowly moving toward being able to work remotely, most of your moves have been fairly low risk, and it has been relatively easy to recover from mistakes.
However, the stakes are now higher. You want to pitch the idea of working remotely at least one day a week, on a consistent basis. This is far more difficult than the occasional "one-off" remote workday because it will require that other people regularly change their expectations to accommodate you. If you aren't comfortable with being direct (or even confrontational), this can be a very difficult process.
If you've been occasionally working from home with some success, you should have a rough idea of how effective you are. Now you need to get management to have the same viewpoint.
There are a few approaches you can use here. First, when updating management about your progress on remote workdays, make sure that you highlight how much you got done without the time and stress of the commute and interruptions.
You should also make sure that if you are going to work any extra hours that aren't strictly part of your job, you only do those at home. After all, if you have the ability to work remotely on occasion, you can probably do a little additional work remotely. Make sure that you note what you got done with your periodic forays into remote work after hours, and make sure that management knows about it.
You should also be dropping some hints to management that you feel like you are more effective working remotely. Use these hints to gauge their reaction, and see what approaches seem to produce better reactions.
At this time, you should also be trying to figure out how your manager's manager evaluates them. Try to determine how you can express your improved work in terms that help your manager.
It's far easier to appeal to someone's self-interest when asking for things than it is to appeal to your own interest. If you can prove that you are more effective working remotely and in a way that helps your manager, they are more likely to go along with your ideas and less likely to change their mind later (if you don't screw up).
The tricky part with all this is that it is really difficult to directly ask how your manager is evaluated and get an accurate answer. Instead, you are going to have to observe their behavior and see what actually motivates them. Don't ask; observe. Try to form a mental model of your manager's behavior.
For instance, a manager might tell you that they are evaluated based on how stable their team's code is, but under pressure they'll tell you to cut corners to hit a delivery deadline.
In this case, they are more concerned about delivering results quickly than they are about the long-term stability of the codebase, and it shows in their actions. You need to watch your manager's behavior enough to find out what they really value versus what they say they value. Once you know that, then you make sure that you highlight the results from remote working that most closely mirror your manager's real priorities.
Pitching Recurring Work From Home
Once you feel like you have effectively proven to your manager that you are more effective at meeting their goals while working remotely, it's time to ask to be allowed to work remotely on a consistent basis.
Initially, you should try for only a day or two a week unless you really have a good reason. You should also be careful about which days you choose. It's best to avoid weekdays with the following characteristics:
Days where lots of things tend to go wrong. At a previous job, this tended to be Mondays because problems built up over the weekend and had to be resolved Monday morning when support came in. These tickets would filter up to development by midmorning on Mondays.
Days where management tends to have companywide meetings. Because of the problems that often occurred on Mondays and because upper management liked to take Fridays off for golf and the like, meetings tended to be on Wednesdays.
You probably also want to avoid taking Fridays as your remote day, because managers and other employees often assume that you are not really working, but starting the weekend early when you do that.
You probably don't want multiple consecutive remote workdays, at least not at the beginning. Remember that people are still adjusting to you being out of the office; you want that adjustment to be as easy as possible.
As a result of the considerations above, most of the time when I've worked remotely for a few days a week, it has tended to be on Tuesdays and Thursdays.
This means that my remote days didn't interfere with problems that occurred over the weekend and that I was physically present in the office for most large meetings. You'll need to observe your own organization to figure out which days are the best ones to work remotely.
When it comes time to ask, simply ask. Don't beat around the bush, and don't be circumspect. Consider one of the following scripts as an example:
"You know, I've been thinking. Since I'm getting more done remotely, I'd like to try to work remotely one day a week and see if I can't get this project completed more quickly. I was thinking Tuesdays might be good for that, since we don't tend to have many meetings that day."
"Would it be possible for me to start working remotely on Tuesdays so that I can get started a little earlier and get some focused work done before John comes in to the office? That would allow me to get some uninterrupted time for some of the more difficult tasks before he needs anything from me. That would help me have things ready for him to QA before he starts working and would help me stay ahead of him for the rest of the week."
"I'm struggling a bit with the interruptions from Bob when he comes in to talk to John on Tuesdays when they are trying to wrap up QA's sprint. I know the talks are necessary though—would it be possible for me to work remotely those days so that we aren't disrupting each other?"
There are a few things to note in all the approaches above. First, you express why being allowed to work remotely would be a good idea either before you ask or very quickly afterward. Don't give your manager time to come up with excuses not to let you work remotely before you give a reason to allow it.
Secondly, you state the advantage in terms of how it helps the team or productivity. Third, you suggest a specific day for the remote work rather than just saying something general like "let me work remotely on a regular basis." This will help shift the discussion toward which day(s) you work remotely rather than whether you are allowed to at all.
If you've set things up properly, this discussion won't be as difficult as you might think. You've already proven that you can work remotely in an effective manner on an ad hoc basis.
Now, you are just making it official and recurring. If this conversation doesn't work out the first time, keep doing single day trial runs for a while longer, and keep working on convincing management. It may take a few tries to truly convince them, so don't give up too early.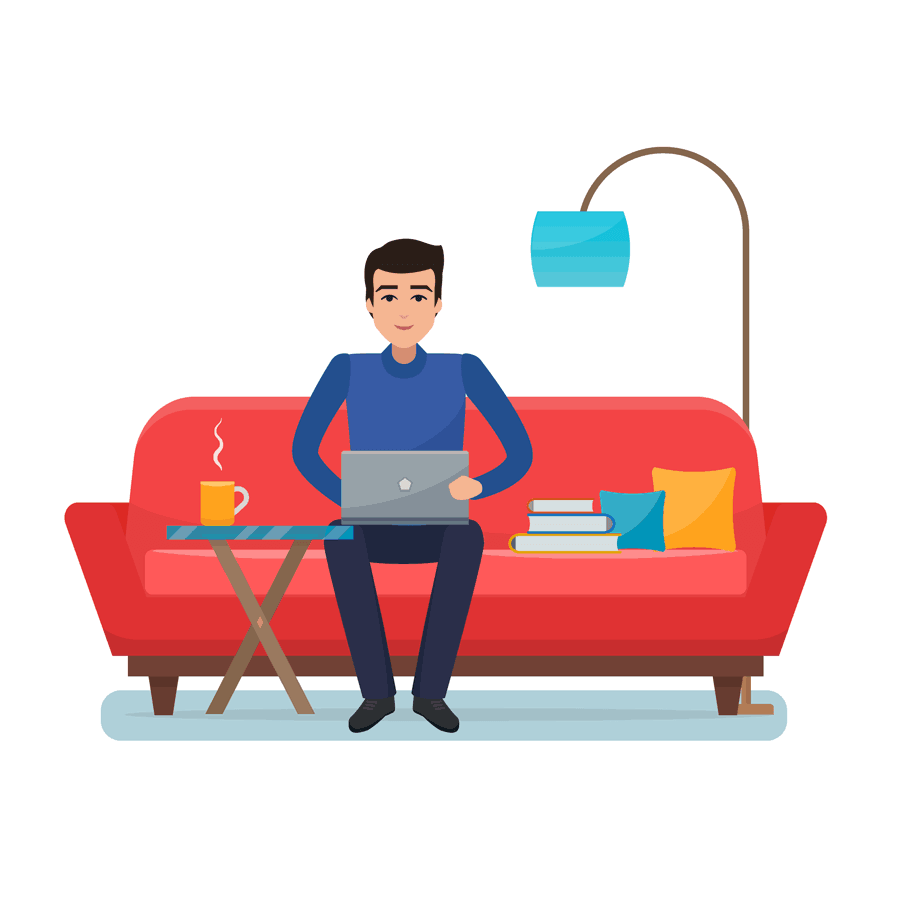 However, you may also find that management simply won't let you work remotely. There could be any number of reasons for this, but sometimes people are just impossible to convince no matter how much evidence you have.
If you find this to be the case, I would suggest that you start applying for remote jobs elsewhere. Life is too short to be stuck in an office, and you've already done some of the leg work that proves that you can work from home. We'll be discussing how to look for remote jobs later.
How To Learn From Failing At Pitching
Like anything in life, if you try to pitch the idea of remote work, it may not work the first time. This is especially true if you aren't particularly good at reading social cues, don't organize your arguments well, or have poor timing.
That's completely fine.
Don't let the fear of failure keep you from trying. Instead, learn how to fail gracefully and recover. You'll get better at pitching ideas more quickly by failing and recovering than you will by trying to avoid failure.
When you fail to convince management to let you work remotely on a regular basis, you need to analyze what went wrong to determine what to do next. There are several likely scenarios related to the management concerns we discussed earlier.
If you failed to convince your manager that you were productive enough to be allowed to work remotely, then there are a few things that could be wrong. First, you could have simply not been productive enough while you were at home. It's also possible that you failed to effectively communicate your productivity to management.
Your boss may simply not like the idea of remote work and is using "lack of productivity" as an excuse. Regardless, you have two things you need to do here. The first is to make sure that you are productive enough and in the way that management is expecting. Secondly, you need to make sure that you are effectively communicating about that productivity.
If you are being sufficiently productive, you should be allowed to work remotely, provided that your boss isn't using it as an excuse. For the latter case, you need to find out what the real reason for their reluctance is and address that.
If they are concerned about your communication, there are two possible scenarios. Either you didn't communicate enough and someone else's productivity was harmed, or you did communicate enough and one of your co-workers threw you under the bus.
In either case, having a copy of the relevant communications on hand is very useful for diagnostic purposes. You should double-check to make sure that you did communicate effectively. If not, you need to correct this before moving ahead.
If, on the other hand, one of your co-workers threw you under the bus, you need to make sure that your manager sees the communications that occurred. As a friend of mine often says, "if they want to throw you under the bus, make sure their head goes under one of the tires."
If this happens to you, make sure that your manager is aware of the facts—it only takes one person like this to make it impossible for you to work from home, and some people have a very nasty tendency to backstab when their co-workers aren't around. Make it apparent to management when this happens to you so that someone covering their own backside doesn't get to impose the cost of a commute on you.
If management is concerned enough about security that they won't let you work from home on a regular basis while they allow it once in a while, something else is going on.
It may be that there are legitimate security considerations that they don't consider to be a major problem when you just occasionally work remotely. If this is the case, you need to figure out specifics about the concerns and mitigate the problem.
Security can also be an excuse, especially if you are already being allowed to work remotely on an ad hoc basis. You'll need to dig a bit to find the real reason for management's reluctance and then address that.
It's also possible that they are concerned about the reliability of your internet connection and home computer. These concerns can usually be handled by simply showing them your contingency plans in the event of an outage.
If you show them that you've considered everything that can go wrong to a degree that exceeds what the people in the office have thought of, it goes a long way toward convincing them.
Management may also be concerned about how your co-workers will react to you being allowed to work remotely on a regular basis. Bear in mind here that management still has to appear to be impartial and can't look like they are playing favorites.
They may have legitimate concerns about one or more of your co-workers working remotely. Even though it "shouldn't" be your problem, it still is your problem. Worse still, if you press your luck with management here, you are more likely to irritate them, which doesn't help your prospects.
Instead, your approach should attempt to help your manager out by more clearly specifying what is expected from a remote employee. When the other party asks to be allowed to work remotely (since you are allowed to do so), they will be presented with these same requirements.
If the other party really wants to work from home, this may force them to improve their own performance. If they are unwilling to do the work, management has a very good answer for why they aren't allowed to work remotely. This answer can deflect most accusations of favoritism before they begin.
Convincing management to let you work remotely is a delicate and long-term dance. It can potentially take years. When (not if) you fail to convince management to let you work from the house, the way you handle that failure can determine whether it is permanent or just a small setback.
It's a Sales Process
When pitching remote work, never forget that while for you it is an engineering process, for everyone else it is a sales process.
It's easy to focus on simply delivering results, but that's almost never enough to really convince other people to let you work from home. Instead, being able to deliver is only a tiny part of a much larger sales process.
You have to convince other people that allowing you to work remotely is both sustainable and advantageous if you want to be able to do it over the long term. Organizing this goal as a sequence of smaller goals of increasing commitment and complexity is the best way to pull it off while limiting the risk of failure.
It takes longer, but it tends to work better.