4 Areas of Knowledge To Increase Your Employability as a Programmer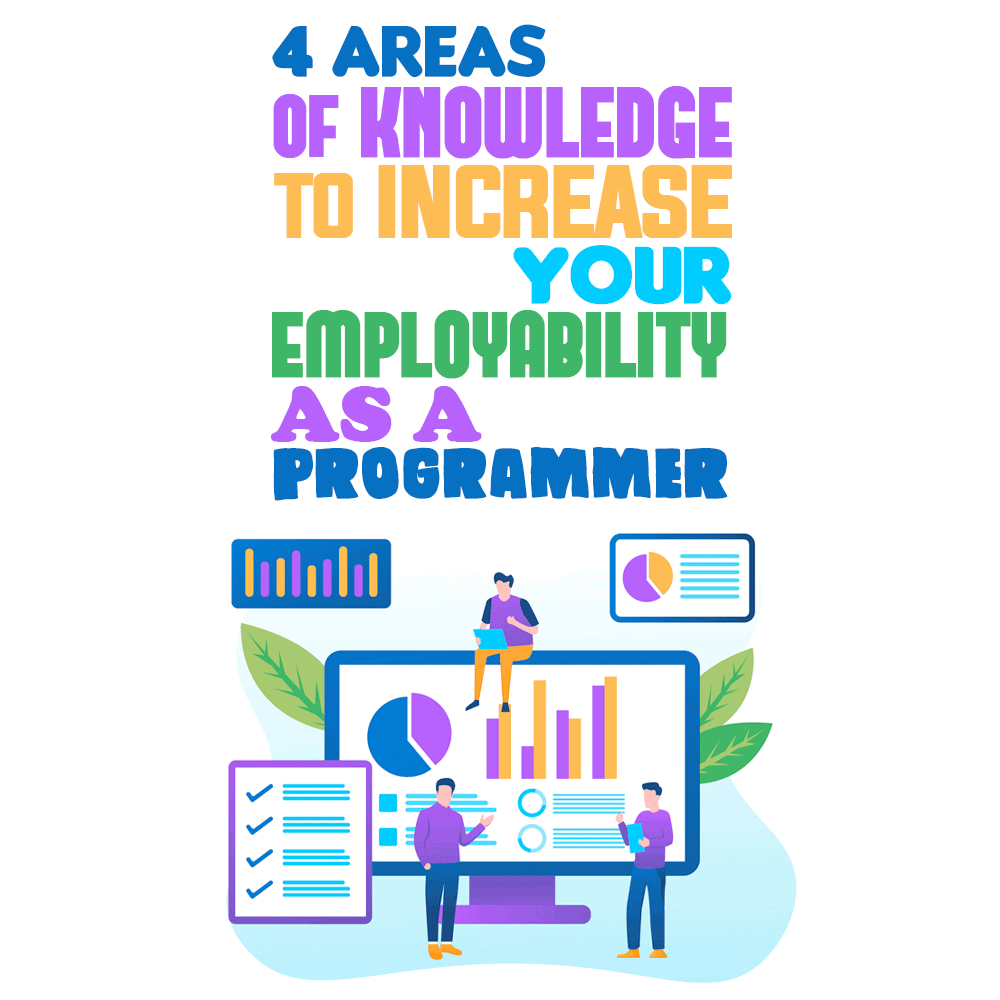 Being a successful programmer requires more than becoming proficient in programming skills. For instance, in order to create a complex software application, a programmer must be able to visualize it first. Moreover, professional success in any business niche depends on a combination of soft skills and technical knowledge.
Research shows that 80% of programmers think that harnessing soft skills will make them more successful—and it's true; soft skills are necessary. However, there are still other skills that can increase your employability as a programmer.
To become a thriving professional in this field, you must also know the employer's vision and goals inside and out, have the capability to work well with a team and communicate effectively, and proactively look at solving complex business problems.
Given how tough the competition is for programmers nowadays, it is important to increase your employability in the market. In this post I will share with you the four areas of knowledge that you can polish to become a more successful programmer
Strengthen Your Expertise in User Experience (UX)
Given that UX plays a critical role in every interaction that users have with a software application, it would help you if you improved your knowledge in this area.
Familiarize yourself with the look and feel, as well as usability of a product, and balance those considerations with broader business goals and the target audience.
For instance, if the end-goal is to build an app that is convenient, provides useful content, and solves the users' problem in general, your application functionality would reflect that.
Plus, UX design skills cannot be automated using any software. The more proficient you are in UX, the better you get in:
Building the app's prototype, keeping in mind the custom-drafted user personas
Communicating the information architecture with an array of stakeholders
Testing, improving, and retesting the app design for a greater success rate
In a nutshell, gaining UX design skills will allow you to have a more holistic understanding of the products you create and the users' interaction with them.
Besides, it also pays you better. According to Indeed, UX designers get an average salary of $99,0270 compared to $75,718 for mere developers.
Talented UX designers/programmers are hard to find in the market. Therefore, take a formal course in UX and increase your chances of getting hired. Make yourself irreplaceable to your employer.
Improve and Optimize Code Efficiency
There is no doubt that many new AI and ML programs can automate software testing and debugging. Still, programmers cannot ignore these skills. You must be able to think analytically about how an application can be put together.
Software testing and debugging are much more than generating lines of code. There are online classes that teach you just that. However, these skills are better learned through practice and experience. The same goes for naming variables.
Every time you write a piece of code, you must also name concepts in that process. When you read code that someone else has created, you get most of your understanding about that code from the name itself.
Putting practice and effort into naming code will help you to become better at doing this in the future. That is also the most visible thing about your code. It is often hard to know if code is efficient or not.
Be Involved in the Business Side of Things
Almost anyone can learn how to code and get good at it. In addition, implementing code is not the most challenging part of the job anymore. However, identifying how an application should flow for a user is essential for ensuring app success.
Trying to retrieve information regarding that from a product manager is not an easy job, as you both speak different languages. However, it would be best if you still meet deadlines, and for that, translating that business logic into code is a skill you cannot ignore.
Only after you understand the application idea and how the business wants it to work can you start with the technical part. It might be worth sitting down with business managers to understand the budget and release cycles.
This will help you get clarity on what is expected of you. For example, suppose they are going over metrics for the user activity or thinking of enhancing the application's security. In that case, you can expect some feature requests, or you can be asked to do more performance testing.
If you know what is happening on the business end, you can be better prepared for the work coming your way. Being familiar with what is going on saves time and money on both sides. Do not work in silos.
Solve Problem Proactively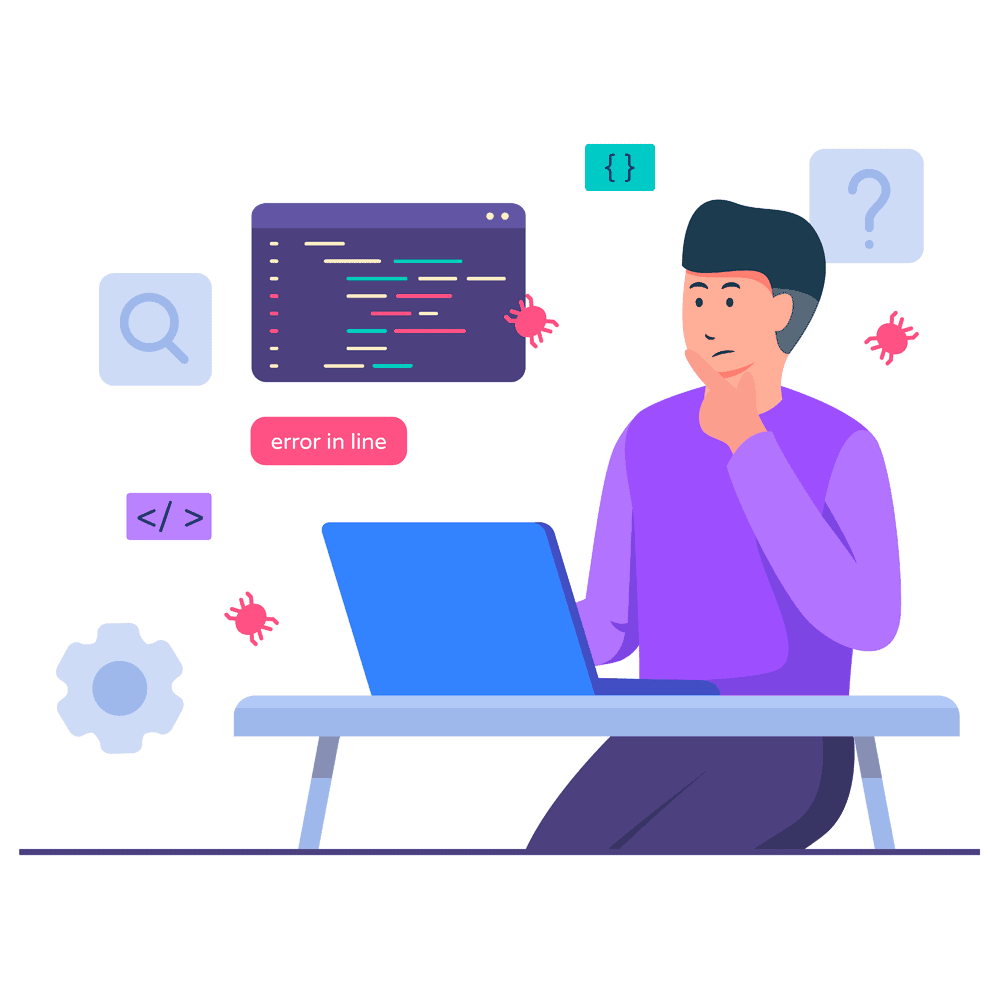 Programmers are problem-solvers by profession. The entire basis of their job is to solve issues by creating solutions for different purposes and industries. Besides writing code and creating programs, they also need to find and fix problems as they may appear.
Even the slightest error can be the reason for an app's failure. Irrespective of the programming language or technology you work with, you would not be very good at developing software applications if you could not solve problems.
Design patterns are effective templates that can be used for overcoming common problems. They are merely descriptions or templates for solving a specific problem, which can be used in many different situations.
For instance, using design patterns promotes reusability, which results in highly maintainable code. This, in turn, helps reduce the total cost of ownership of the application.
Design patterns have quick fixes to challenges that have traditionally acted as roadblocks for programmers. By applying these patterns, you can eliminate solving recurring issues from scratch.
Mastering them takes practice, but doing so will help you increase your efficiency and boost your comprehension of coding concepts.
Being Competitive Requires Multiple Skills
Long gone are the days when a programmer only needed to know how to code. Nowadays, there is a lot more that plays a significant role in landing a high-paying programming job. As a programmer you need—apart from technical skills and soft skills—a number of other skills to increase your employability.
From strengthening your experience with UX to learning how to optimize your code efficiency and from being involved with the business side of things to being a proactive problem-solver, being competitive in the job market requires multiple skills.
Ultimately, no longer can you look at just one or two aspects of your profession. You need to have a 360-degree view of the business, constantly develop skills, and gain the experience you need for a fantastic career in code.